#1 Recommended Shoes by KevinRoot Medical
Sale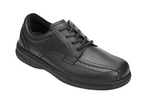 I have been using Orthofeet footwear and foot orthotics for my patients for over 15 years, and I can attest that they offer the best solution for people with sensitive feet, including those with foot pain, diabetes and arthritis. These shoes are designed with unique ergonomic features that cannot be found in any other brand. My patients love them, and in fact I wear them myself daily, as they are the most comfortable shoes I have ever worn.
- Steven Gershman, DPM
ORTHOPEDIC SHOES
DIABETIC SHOES
MONK STRAP SHOES FOR WOMEN
WIDE SHOES FOR WOMEN

Walk Comfort & Pain Free or Your Money Back!
Enjoy exceptional comfort and fit with Orthofeet's Gramercy - Black men's casual shoes that offer a non-binding fit, extra room for toe movement, and maximum protection against pressure points. Their anatomical orthotic insoles and ergonomic soles provide comfortable support and excellent cushioning, making Gramercy - Black superior men's orthopedic shoes for a variety of conditions, including plantar fasciitis, diabetes, neuropathy and arthritis.
Comfortable Orthotic Support - Premium orthotic insoles, featuring anatomical arch support and cushioning layers provide soft, pillow-like support that enhance comfort and help ease pain on the heel, ball of the foot, knees, hips, and back caused by flat feet, overpronation, plantar fasciitis, bunions, arthritis, neuropathy and diabetes.
Like Walking on A Cloud - Light-weight soles with Ergonomic-Stride™ design and air cushioning soften step, enhance stability and add spring to your step.
Superior Comfort & Protection - Soft, seam-free interior lining eliminates friction against the skin, easing pressure on sensitive feet, bunions and Hammer-Toes.
Orthotic friendly design – Extra depth design with removable orthotic insoles (¼" thick in the forefoot area) provide ample space for custom made orthotics.
Adjustable fit - Two sets of removable spacers (1/16" and 1/8" thick). - Allow the adjustment of the space inside the shoe for a perfect fit.
Arch Support
Removable Insoles
Orthotic Friendly
Cushioned Heel
Extra Depth
Deep Toe-Box
Wide Toe-Box
Heel Cup
Shock Absorbing
Soft Uppers
Orthofeet Women's Shoe Sizing Chart
Widths
---
Diabetes
Plantar Fasciitis
Swollen Feet
Metatarsalgia
Ball of the foot pain
Morton's Neuroma
Neuropathy
Flat Feet
Sciiatica
Knee Pain
Heel Pain
Heel Spurs
Over Pronation
Arch Pain
Corns
Calluses
Arthritis
Osteoarthritis
Rheumatoid Arthritis
Bunions
Hammer Toes
Morton's Neuroma
Achilles Tendinitis
Back Pain
Product Care:
For Suede leather: Use a brush and a cloth.
For Full Grain Leather: Use shoe cream.
Material:
Leather

60-DAY WEAR TEST Try Risk Free
FREE Returns & Exchanges
Hassle-Free, 60 Day Return Policy
---
John Rich
"Unlike other dress shoes I've worn, these are as comfortable as my OrthoFeet sneakers. And that says a lot. The Gramercy is comfortable to wear all day, which makes them a perfect dress shoe."
Eugene Kelly
"I work standing in a hotel lobby all day, on marble floors. The shoes I wore were good and had good inserts. Still, by the end of the day my feet were burning and sore. After I sat down for awhile I'd have trouble walking. Since wearing the Orthofeet Gramercy my feet feel 90 percent better. No more burning sensation and no more terrible pain on the top of my foot. I highly recommend Ortho feet shoes."
Daniel Hood
"Got them earlier than expected. Love the fit, your shoes are the only ones l've purchased that feel like they're worn in comfort right out of the box. I'm buying more."
Steve Gray
"One of the most comfortable pair of shoes I have ever worn. I ordered a wide width and they are absolutely a perfect fit. There wasn't a very long break in period so I basically could take advantage of their comfort right away! Awesome shoes!"
Anna Jaworski
"My husband absolutely loves these shoes! He has hammertoes and it's so hard to find good-looking shoes that are comfortable enough to wear all day long. Thanks, Orthofeet!"
Emil Rosseau
"Wish I would have found these sooner, these are a game changer, made a huge diffefence in my work as well as personal life. My advise...get more than one pair, you body will appreciate it!"
Henry Dauterive
"Soon as the shoes arrived I put them on and as I expected they fit exactly as I new they would
Thanks to your shoe company as these are the only shoes that do not hurt my feet. They make
walking as pleasure again."
Anthony Petus
"I was suffering from severe pain due to plantar fascitis to the point where I couldn't walk without pain. The Orthoshoes immediately ended that pain and I can feel the healing process happening where I can walk in my bare feet without anguish. Great product! I often don't trust internet products but this worked and came in a timely manner."
Alred Birnstein
"I didn't expect these shoes to perform miracles. They didn't. I have lower back related neuropathy that surgery didn't correct. I also have lower back fusion. What these shoes did do, is make walking easier and increase my ability to stand in one place for a longer period of time more than 2 or 3 minutes. I'm happy with that. And, yes, based on this I'd buy another pair. Maybe even something similar to a pair of sneakers."
Edward Murphy
"This is the 2nd pair of Orthofeet shoes I have ordered in the last 60 days. They feel broken in the first time you put them on. Pleasure to walk in or just to wear. Needless to say I will be ordering more down the road."
David Boen
"As a BMW Client Advisor, i am on my feet a lot. All the so called walking orthopedic shoes that I purchased in the past do not even come close to the real comfort I experienced with this shoe! It is really a miracle shoe because at the end of the day, I still feel the same as I did in the morning. No aching foot joints, knee joins or ankle joints! Thank you very much!!"
John Bohm
"I recently purchased my first pair of Orthofeet shoes and am very satisfied with them. I was somewhat skeptical ate first have ordered them online. I put them on and was really impressed, I will order again without worry."
John Pauschert
"Most comfortable shoe ever! I have flat feet and always had tired achy feet. I've worked in warehouses on my feet practically all day for over 40 years. I have developed heal spurs and wear orthotics but recently my foot pain has become out of hand. I've been seeing a podiatrist the last few months, but these shoes have given me so much relief that I have my life after work back. I'll definitely be buying another pair so I can start walking again."
David Pease
"This is the best shoe I have ever had. I have diabetes and as a result have very bad nerve pain in my feet. Coupled with the socks I bought with these shoes I can walk and stand better than I have in years. I recommend these shoes and socks to everybody, even if you are not afflicted with diabetes."
Nicholas Hirsch
"This is the second pair of Orthofeet shoes I have purchased. I have plantar fasciitis in one foot that made it painful to walk any distance with any other shoe. Ten miles is no problem with these shoes. I would buy nothing else."
---

The primary focus of the OrthoFeet brand is to offer the ultimate comfortable and functional shoes, orthotic insoles and socks. By combining athletic footwear technology and therapeutic detailing, OrthoFeet footwear offer the highest level of comfort and protection for sensitive feet.

Finding the right pair of shoes can be a tiring process, especially when faced with a foot ailment.

Orthofeet is also offering innovative high heels, which are biomechanically engineered to offer the world's most comfortable heels.

OrthoFeet employs biomedical engineers to build innovative footwear products, designed to alleviate the symptoms associated with various foot conditions, such as Plantar Fasciitis, Heel and Foot pain, bunions, corns, calluses, and neuroma, and products for individuals with diabetes, arthritis and Neuropathy.
Bioheels allow users to customize the support under the arch and to adjust the space inside the shoe, providing a perfect fit and eliminating foot slippage at the heel.

OrthoFeet products have been proven to help millions of people looking for comfort shoes, diabetic shoes, therapeutic shoes, arthritic shoes, orthotic shoes, foot orthotics, removable insoles, seam-free socks, non-binding and non-constrictive socks.