#1 Recommended Shoes by KevinRoot Medical

Sale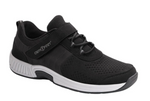 Joelle - Black Stretchable (Women's)
I have been using Orthofeet footwear and foot orthotics for my patients for over 15 years, and I can attest that they offer the best solution for people with sensitive feet, including those with foot pain, diabetes and arthritis. These shoes are designed with unique ergonomic features that cannot be found in any other brand. My patients love them, and in fact I wear them myself daily, as they are the most comfortable shoes I have ever worn.
- Steven Gershman, DPM
ORTHOPEDIC SHOES
DIABETIC SHOES
MONK STRAP SHOES FOR WOMEN
WIDE SHOES FOR WOMEN

Walk Comfort & Pain Free or Your Money Back!
Enjoy exceptional comfort and fit with Orthofeet's Joelle - Black Stretchable women's walking shoes that offer a non-binding fit, extra room for toe movement, and maximum protection against pressure points. Their anatomical orthotic insoles and ergonomic soles provide comfortable support and superior cushioning, making Joelle - Black Stretchable exceptional women's walking shoes for plantar fasciitis, heel pain and ball of the foot pain. Joelle - Black Stretchable are certified by Medicare and are qualified as women's therapeutic shoes under code A5500 of the Diabetic Shoe Bill, offering an excellent solution for those who are looking for women's diabetic walking shoes.
Superior Comfort & Fit - Stretchable design offers a relaxed, comfortable fit and helps relieve pressure on Bunions, Hammer-Toes and sensitive feet.
Comfortable Orthotic Support - Premium orthotic insoles, featuring anatomical arch support and cushioning layers provide soft, pillow-like support that enhances comfort and helps ease pain on the heel, ball of the foot, knees, hips, and back caused by flat feet, overpronation, plantar fasciitis, bunions, arthritis, neuropathy and diabetes.
Easy Gait - Light-weight soles with Ergonomic-Stride™ design and air cushioning soften step and enhance stability. They add spring and comfort to your step for a "Walking on a cloud" experience.
Protective Interior - Soft, seam-free interior lining eliminates pressure points and friction against skin, offering superior comfort and protection.
Orthotic friendly design - Extra depth design with removable orthotic insoles (¼" thick in the forefoot area) provide ample space for custom made orthotics.
Adjustable fit - Two sets of removable spacers (1/16" and 1/8" thick). - Allow the adjustment of the space inside the shoe for a perfect fit.
Arch Support
Removable Insoles
Orthotic Friendly
Cushioned Heel
Extra Depth
Deep Toe-Box
Wide Toe-Box
Heel Cup
Shock Absorbing
Soft Uppers
Mesh
Synthetic
Orthofeet Women's Shoe Sizing Chart
Widths
---
Diabetes
Plantar Fasciitis
Swollen Feet
Metatarsalgia
Ball of the foot pain
Morton's Neuroma
Neuropathy
Flat Feet
Sciiatica
Knee Pain
Heel Pain
Heel Spurs
Over Pronation
Arch Pain
Corns
Calluses
Arthritis
Osteoarthritis
Rheumatoid Arthritis
Bunions
Hammer Toes
Morton's Neuroma
Achilles Tendinitis
Back Pain
Product Care:
Clean with washcloth. Use a small amount of mild soap and water. Air dry. Do not machine wash.
Material:
Synthetic
Collection:
Athletic

60-DAY WEAR TEST Try Risk Free
FREE Returns & Exchanges
Hassle-Free, 60 Day Return Policy
---
Marisela Lopez
"I was having heel pain due to plantar fasciitis. The pain was horrible and started to hurt my back as well. A friend recommended me this shoes and as soon as they arrived , I put them on. Within 3 hours wearing them, the pain heel was gone. I wear the all the time since them and I will definitely order more. I highly recommended this shoes."
Jane Wells
"Fits well plenty of room for my wide feet. Able to stand for long periods of time with not as much fatigue as I had before."
Jean Shyrer
"I have arthritis and neuropathy and have found these shoes to be a good answer to my night time pain."
Elvia Ruiz
"Excellent product, nice material and durable it helps me with my plantar fasciitis problem."
Mary Muldoon
"I love these shoes. This is my 4th shoe purchase and I couldn't be happier. I'm finally walking without pain from hammertoes. Give these shoes a try they're great."
Dana Bostick
"This company is awesome! I got a pair of shoes and wore them for few weeks and they did not fit well. They are taking them back no question asked. This is my second pair of shoes from them!"
Alicia S.
"The best shoes I've owned. These are my 3rd pair of Orthofeet and I don't think I'll ever buy anything else. I am very heavy, my feet are sensitive, Plantar fasciitis, Achilles Tendonitis, Arthritis. Nothing I have purchased before including at the Podiatrist office has been this durable and this comfortable. I know I will buy more in the future as they wear out. If you are thinking about it, don't, your feet will thank you, I know mine have by being painless."
Heather Thompson
"These shoes are AMAZING! My feet are so flat.. the right one has a terrible fallen arch and it's been excruciatingly painful and I could barely put weight on it. Nothing seemed to be working for me. I work 12 hour shifts walking at a quick pace on concrete and since I have had these shoes my feet haven't even hurt. It was a little on my right foot the first day but by the second after some breaking in my feet felt so amazing. I recommend these 100%!"
Jan A.
"Decided to give the Joelle stretchable a try. I suffer from plantar fasciitis in both feet for the last 5 yrs. Have developed some type of neuropathy of unknown origin ( several doc give different diagnosis) AND 2 neuroma's on the same foot. The usual OTC inserts, cortisone injections, FAST procedure 4 yrs ago for the one foot for PF which did work. Well, I put these on and after 2 days all my severe symptoms have disappeared or diminished to a pain score of maybe a 1. Arch support is enough to address PF, the nerve pain disappeared entirely and not one episode for now wks. The neuroma is being treated with a cortisteriod injection but the pressure on the metatarsal area with this shoe is the BEST I have ever experienced. I have used Brooks tennis shoes to the neuroma pain and these are 100 x better. I highly recommend the Joelle stretchable and have ordered 2 more different shoes to try. Hope they work for you with your problems."
Mona Harter
"I had read the reviews for these shoes and thought why couldn't I find something that feels so good on my feet. I had ordered so many other brands that made the same promise but I was sadly disappointed in them when trying to wear them. I did order these shoes and couldn't believe the comfortable feeling and fit of these shoes. I can say I actually found a product that the reviews were something I could say worked for me too!"
Linda Stoneking
"I. suffered for. "55 " yrs with severe foot pain. I feel like I have to be the happiest customer you have. After 20 yrs of serious research & several podiatrists. I started looking online & SAW. a picture of MY FEET !!! I knew immediately that I had found my cure. I couldn't imagine paying that price for shoes but at this point I was 60 yrs old & I knew I Had to do something. The podiatrists wanted to cut the tendons in my arches & I knew I wasn't going to do that. I'm 71 now & I'm on my 5th pair. I will NEVER Wear anything else. I'm on disability & it's hard to manage the price into my budget but I never want to go through that kind of pain again so I make it a priority to cut corners wherever I can in order to buy these shoes. I would like to have a few different styles I've only worn the tennis shoes & the flip flops. Which I've worn for 4 yrs now.
Needless to say. They are the BEST!"
Gena Hill
"There are so many crippling areas of pain. Your back... your knees... and your feet. After years of cowgirl and work boots on paved floors, my feet have been butchered to the point that every movement is agony. I have since tried everything from Nikes to new balances and even Danskos. While relief was somewhat present, I cannot tell you a day where I did not have that agonizing sharp pain and aches. I recently got my hands on OrthoFeet tennis shoes. I am currently working two full time jobs. I have more days than any where I work 8hrs, leave and go work another 6 to 8hrs. Rinse, wash, repeat. So I have already put these OrthoFeet shoes to a lot of work. 3 weeks in these shoes, I have ZERO pain! Just tired but no more sharp, throbbing pain. I ordered a 2nd pair so I can swap them out for longer durability. I HIGHLY recommend them."
Karen Marlette
"These shoes are like walking on clouds!
I have lots of foot issues and needed a pair of shoes that would not hurt my feet and toes. I was able to wear these shoes right out of the box without any break-in period. I walked two miles in them and for the first time in years, had absolutely no pain at all! I love that you can fine tune the fit with the included inserts. I will be back to buy more!"
Sally Block
"Best pair of ortho shoes I have ever owned-work 35 hrs/wk in retail and these have helped me to withstand the pain of having both feet with plantar facitis make it through my shifts. Keep up the great work that you do - service and shipment arrived so fast and I will be ordering another pair shortly."
B. Weso
"First time buyer. Support of shoe really addresses my toe pain. Shoe is very comfortable. Well constructed. Good quality. Would consider buying other shoes down the road."
---

The primary focus of the OrthoFeet brand is to offer the ultimate comfortable and functional shoes, orthotic insoles and socks. By combining athletic footwear technology and therapeutic detailing, OrthoFeet footwear offer the highest level of comfort and protection for sensitive feet.

Finding the right pair of shoes can be a tiring process, especially when faced with a foot ailment.

Orthofeet is also offering innovative high heels, which are biomechanically engineered to offer the world's most comfortable heels.

OrthoFeet employs biomedical engineers to build innovative footwear products, designed to alleviate the symptoms associated with various foot conditions, such as Plantar Fasciitis, Heel and Foot pain, bunions, corns, calluses, and neuroma, and products for individuals with diabetes, arthritis and Neuropathy.
Bioheels allow users to customize the support under the arch and to adjust the space inside the shoe, providing a perfect fit and eliminating foot slippage at the heel.

OrthoFeet products have been proven to help millions of people looking for comfort shoes, diabetic shoes, therapeutic shoes, arthritic shoes, orthotic shoes, foot orthotics, removable insoles, seam-free socks, non-binding and non-constrictive socks.