#1 Recommended Shoes by KevinRoot Medical
Sale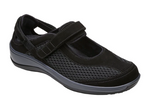 Sanibel - Black Mary Jane Shoes (Women's)
I have been using Orthofeet footwear and foot orthotics for my patients for over 15 years, and I can attest that they offer the best solution for people with sensitive feet, including those with foot pain, diabetes and arthritis. These shoes are designed with unique ergonomic features that cannot be found in any other brand. My patients love them, and in fact I wear them myself daily, as they are the most comfortable shoes I have ever worn.
- Steven Gershman, DPM
ORTHOPEDIC SHOES
DIABETIC SHOES
MONK STRAP SHOES FOR WOMEN
WIDE SHOES FOR WOMEN

Walk Comfort & Pain Free or Your Money Back!
Enjoy exceptional comfort with Orthofeet's Sanibel - Black Mary Jane shoes for women that offer a non-binding fit, extra room for toe movement, and maximum protection against pressure points. Their anatomical orthotic insoles and ergonomic soles provide comfortable support and excellent cushioning, making Athens your first choice for comfort Mary Jane shoes, women's black Mary Jane shoes and the best women's Mary Jane shoes for wide feet.
Orthotic support - Premium orthotic insoles, featuring anatomical arch support and multiple cushioning layers help improve foot and leg alignment, enhancing comfort and easing stress and pain on the heel, ball of the foot, knees, hips, and back caused by flat feet, over-pronation, plantar fasciitis, bunions, arthritis and diabetes.
Orthotic friendly design – Extra depth design with removable orthotic insoles that are ¼" thick in the forefoot area provide ample space for custom made orthotics.
Easy gait - Light-weight Ergonomic-Stride(TM) sole with air cushioning softens step, and adds spring to your step.
Protective Interior - Soft lining with extra foam padding eliminates pressure points, and helps reduce friction against skin.
Comfort fit - soft, non-binding upper eliminates pressure points and enhances comfort.
Heel-Strap enables to adjust the grip around the heel, eliminating slippage, and accommodating both slim and wide heels.
Adjustable fit - two sets of removable spacers (1/16" and 1/8" thick) allow the adjustment of the space inside the shoe for a perfect fit.
Arch Support
Removable Insoles
Orthotic Friendly
Cushioned Heel
Extra Depth
Deep Toe-Box
Wide Toe-Box
Heel Cup
Shock Absorbing
Soft Uppers
Mesh
Synthetic
Orthofeet Women's Shoe Sizing Chart
Widths
---
Diabetes
Plantar Fasciitis
Swollen Feet
Metatarsalgia
Ball of the foot pain
Morton's Neuroma
Neuropathy
Flat Feet
Sciiatica
Knee Pain
Heel Pain
Heel Spurs
Over Pronation
Arch Pain
Corns
Calluses
Arthritis
Osteoarthritis
Rheumatoid Arthritis
Bunions
Hammer Toes
Morton's Neuroma
Achilles Tendinitis
Back Pain
Product Care:
Clean with washcloth. Use a small amount of mild soap and water. Air dry. Do not machine wash.
Material:
Leather & Synthetic

60-DAY WEAR TEST Try Risk Free
FREE Returns & Exchanges
Hassle-Free, 60 Day Return Policy
---
Nancy Austin
"Not one to have much luck buying shoes online, this time I hit the jackpot, with a recent bunion and hammer toe my old shoes hurt , these shoes fit , they are cute , and comfortable for everyday wear, I did switch out the insoles for the ones my Dr has me wear."
Larene Spitler
"I have severe bunions resulting from 40 years of crippling arthritis. These are the first shoes that fit comfortably. I needed an Extra Extra wide shoe, but the shoes fit and they are very cute! I hope the company makes more extra, extra wide shoes. I now own 2 pairs of shoes that I can wear and loving it."
Beverly Ping
"My right heel has been bothering me for a couple of months; supposing Plantar Fasciatis, better some days than others. I wear good shoes so not blaming shoes. Anyway, ordered the Mary Janes and experimented with the inserts for a couple of wearings and have to say both feet feel so much better. Thank you OrthoFeet."
Debbie Estebanez
"My mother fell in love with these. She has bad feet and is getting older. Her dr said she has osteoporosis in her feet and back and these shoes are heaven sent. Will order her more for Xmas!!!"
Elizabeth Danis
"I'm so glad I decided to make this purchase! My feet feel so much better now! The shoes provide excellent support and enable me to walk without adversely affecting my back. And, they're very nice looking-I've received several compliments."
Juanita Farr
"Most comfortable shoe I have worn in a long time. Have brace for left foot, shoe fits very well over brace. Also have gray pair. This shoe is more comfortable than my sneakers."
Susan Kruger
"These are the best shoes I've found to accommodate hammer toe. They are very comfortable, and have an ankle strap for tightening that most other Orthofeet models don't have. I generally wear a size 6.5, but found the next size (7) to be a better fit. Originally, this model came in only two colors. Now Orthofeet offers black. It would be great to have a dark brown choice also."
Mirra Gordon
"Most comfortable shoes I have ever owned. The adjustable fit of the heal and instep of the Sanibel and the foot bed comfort are fabulous!!!"
Frances Vandre
"These shoes are comfortable and true to size. Ordering is easy as the web site is user friendly. Shoes arrived in a timely fashion. Absolutely no complaints from me."
Amanda Brown
"I purchase these shoes to wear after my big toe fusion and bone graph. My podiatrist advised me that I would need an orthopedic shoe after my surgery on my heel and toe..the straps help me adjust the shoe for comfort. I love the comfort and the styles .. blessing."
Judy Fredrick
"I have flat feet and fallen arches. My tendon in my ankle hurt really bad. Since I have "duck" feet, wide at my toes and narrow in my heel, I thought these shoes would be just what I needed. The minute I put them on I could walk without much pain. The longer I wore them the better my foot got!"
Kelly Carlsson
"I finaly found a shoe that fits my extra wide feet. The shoe fits with no pinching or rubbing. It has just enough arch support and I can even wear it on my 10 hour day work shift. Thank you!"
Barbara Pearce
"These shoes were ordered for an upcoming trip where we will do a lot of walking and perhaps standing. They fit perfectly, came quickly and I am delighted. I highly recommend these shoes if you have issues with your feet as I do."
Cheryl Miller-Harper
"My feet have been bothering me for over a year. They ache and I can't stand to have anything touching the top of them. The OrthoFeet shoes I recently got completely took the pain away. And I bought inserts that I put in my favorite shoes., too. They are also very comfortable. I am glad that I took the risk to buy shoes online, without trying them on first. The fit was perfect. I can now spend many hours on my feet without pain. OrthoFeet is a godsend."
Roger Williams
"I had a stroke several months ago, wear a brace on my right leg, and have been looking for a shoe that will fit over my brace, and that I could put on by myself. I have finally found that shoe: the OrthoFeet Sanibel – Mary Jane. It is the perfect shoe for my situation. In fact, I have liked the Sanibel so much, I am ordering 2 more pair."
---

The primary focus of the OrthoFeet brand is to offer the ultimate comfortable and functional shoes, orthotic insoles and socks. By combining athletic footwear technology and therapeutic detailing, OrthoFeet footwear offer the highest level of comfort and protection for sensitive feet.

Finding the right pair of shoes can be a tiring process, especially when faced with a foot ailment.

Orthofeet is also offering innovative high heels, which are biomechanically engineered to offer the world's most comfortable heels.

OrthoFeet employs biomedical engineers to build innovative footwear products, designed to alleviate the symptoms associated with various foot conditions, such as Plantar Fasciitis, Heel and Foot pain, bunions, corns, calluses, and neuroma, and products for individuals with diabetes, arthritis and Neuropathy.
Bioheels allow users to customize the support under the arch and to adjust the space inside the shoe, providing a perfect fit and eliminating foot slippage at the heel.

OrthoFeet products have been proven to help millions of people looking for comfort shoes, diabetic shoes, therapeutic shoes, arthritic shoes, orthotic shoes, foot orthotics, removable insoles, seam-free socks, non-binding and non-constrictive socks.