#1 Recommended Shoes by KevinRoot Medical
Sale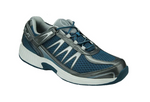 Sprint - Blue, Tie-Less & Heel Strap (Men's)
I have been using Orthofeet footwear and foot orthotics for my patients for over 15 years, and I can attest that they offer the best solution for people with sensitive feet, including those with foot pain, diabetes and arthritis. These shoes are designed with unique ergonomic features that cannot be found in any other brand. My patients love them, and in fact I wear them myself daily, as they are the most comfortable shoes I have ever worn.
- Steven Gershman, DPM
ORTHOPEDIC SHOES
DIABETIC SHOES
MONK STRAP SHOES FOR WOMEN
WIDE SHOES FOR WOMEN

Walk Comfort & Pain Free or Your Money Back!
Enjoy exceptional comfort and fit with Orthofeet's Sprint - Blue, Tie-Less & Heel Strap men's athletic shoes that offer a non-binding fit, extra room for toe movement, and maximum protection against pressure points. Their anatomical orthotic insoles and ergonomic soles provide comfortable support and superior cushioning, making Sprint - Blue, Tie-Less & Heel Strap extraordinary men's sneakers for plantar fasciitis, heel pain, and ball of the foot pain. Sprint - Blue, Tie-Less & Heel Strap are certified by Medicare and are qualified as men's therapeutic shoes under code A5500 of the Diabetic Shoe Bill, offering an excellent solution for those who are looking for men's diabetic sneakers.
Orthotic support - premium orthotic insoles, featuring anatomical arch support and multiple cushioning layers, improve foot and leg alignment, enhancing comfort and help ease stress and pain on the heel, ball of the foot, knees, hips, and back caused by flat feet, overpronation, plantar fasciitis, bunions, arthritis and diabetes.
Tie-Less Lacing System - Innovative design that incorporates laces with tab eliminates the need for tying laces.
Two-Way Fastening System enables fastening on both side of the shoe- a great advantage for persons who cannot reach the outside part of the shoe.

Heel-Strap enables adjusting the grip around the heel, eliminating slippage and accommodating wide feet and braces.

Orthotic friendly design– Extra depth design with removable orthotic insoles (that are ¼" thick in the forefoot area) provide ample space for custom made orthotics.
Easy Gait- Lightweight cushioning sole with Ergonomic-Stride(TM) design softens step and helps propel the foot forward.
Arch Support
Removable Insoles
Orthotic Friendly
Cushioned Heel
Extra Depth
Deep Toe-Box
Wide Toe-Box
Heel Cup
Shock Absorbing
Soft Uppers
Mesh
Synthetic
Orthofeet Women's Shoe Sizing Chart
Widths
---
Diabetes
Plantar Fasciitis
Swollen Feet
Metatarsalgia
Ball of the foot pain
Morton's Neuroma
Neuropathy
Flat Feet
Sciiatica
Knee Pain
Heel Pain
Heel Spurs
Over Pronation
Arch Pain
Corns
Calluses
Arthritis
Osteoarthritis
Rheumatoid Arthritis
Bunions
Hammer Toes
Morton's Neuroma
Achilles Tendinitis
Back Pain
Product Care:
Clean with washcloth. Use a small amount of mild soap and water. Air dry. Do not machine wash.
Material:
Synthetic
Collection:
Athletic

60-DAY WEAR TEST Try Risk Free
FREE Returns & Exchanges
Hassle-Free, 60 Day Return Policy
---
Harry Kunicky
"After suffering for several years with Peripheral neuropathy and working in a Machine Shop I finally had the blessing to find OrthoFeet! I do not use computers and prefer the old fashioned way of living (it's safer these days) however, not at the suggestion of doctors but by my friends I have finally found some relief! Please try this and stop your pain to a minimal level. I wish they could make steel toe shoes for the hard blue collar workers of America Thanks for helping me feel my soles again."
Colm Hoban
"First off, I am 6'4" 300lb diabetic man. Bought these two weeks ago and just got back from 4 days in Disney World after doing about 8 miles per day. The shoes are amazingly comfortable, no pain, no blisters and fit like a glove. I'm about to order dress shoes for work. Love these, can't say enough good things about them. Try them, you won't regret it."
Bernie Doss
"I decided to try these shoes to see if they would help relieve my pain from Peripheral Neuropathy. They are really helping!! They are well made with a great deal of cushioning and flexibility when walking. I wear them all day and find that my feet don't feel tired or ache much when I do a lot of walking. I'm now a believer and will be ordering dress shoes and slippers from OrthoFeet."
Bruce Earnest
"I've been wearing these for a week for our evening walks. My plantar fasciitis has improved so much I can walk twice as far as before. I wish I'd found these a year and a half ago when this plantar fasciitis reared its ugly head. I'm a little concerned about the durability of the Velcro, but as comfort goes, my feet feel great!"
Dale Ramp
"So far I am impressed with these shoes. They fit great, look great and feel great. People I work with have been noticing my improved walk and are asking questions and looking to order for themselves."
Randy Hicks
"My dad always wore a certain style of Sauconys that worked well with his shoe inserts. He is on his feet all day and they discontinued his other shoe and his feet have really been bothering him. I looked online and found these and he loves them. He wasn't sure about the velcro strap at first on the back but loves it. Great shoe. Will be ordering again!"
Rolland Willan
"Love the velcro-lace gizmo. Very easy to put on. Very comfortable. How long they last? The jury is out. Great service from Ortho-Feet. If they wear well, I'll surely be a repeat customer."
Randall Bowen
"Got them one day & wore them the next to work. I'm a teacher and on my feet all day. Fell in love with them immediately! Cool colors and SUPER comfortable!! Didn't want to take them off when I got home! Questioned the price but found out quickly they're worth every penny! Thank You Ortho feet!! I will be back to your site soon!!"
Robert Guard
"I am always careful about buying shoes online. These were a very pleasant surprise. Fit was perfect. They are great for my daily 2 mile walk and during my Silver & Fit classes at the Y. I am planning on a dress pair in the future."
Deron Hutchinson
"I can run faster, jump higher, and chick dig them.
Seriously, they are very sturdy, very comfortable shoes. If you're looking for a pair of shoes that look good, fit well and that provide the orthopedic help that you need--try these shoes."
Steven List
"They live up to their advertising. The soles are soft, kinda like Crocs, which I love. They're comfortable to walk in and support my highly pronated feet beautifully.."
Pam Jewell
"I bought these for my handicapped nephew. He LOVES them. We use the inserts to help his short leg so his walking is more stable and the Velcro straps make it easy for him to get them on and off without assistance. He likes no one knows he can't tie them. I wish there were more colors as he gets tired of the white. We haven't bought any other shoes for him but the white ones in five years. BEST shoes ever (he says)."
Donald Roth
"I have diabetes, wide feet, and flat arches. This dilemma has put me on a lifelong quest for a truly comfortable shoe. My quest has ended at last! These shoes are remarkable! After a full day on my feet, it's like I haven't even had shoes on! My feet have never been happier!"
Arnold Pinstein
"Have recently developed a heel problem that's quite painful. These shoes allow me to be on my feet a good deal longer than before. I will actually be ordering them in gray soon. Excellent shoe. I wear a 101/2 but from some of your reviews I decided to order an 11 and they fit perfectly. So in my case a 1/2 size larger was needed. Suggestion- if you have painful feet you need to try these."
Raynato Castro
"Never had as comfortable shoes like these, i've bought 4 pairs and two pairs of insoles for my other shoes. I will probably buy more soon. The sole and insole supply the perfect support and comfort needed for standing all day and taking a 1.5 mile walk after lunch. Will buy my son a pair too."
---

The primary focus of the OrthoFeet brand is to offer the ultimate comfortable and functional shoes, orthotic insoles and socks. By combining athletic footwear technology and therapeutic detailing, OrthoFeet footwear offer the highest level of comfort and protection for sensitive feet.

Finding the right pair of shoes can be a tiring process, especially when faced with a foot ailment.

Orthofeet is also offering innovative high heels, which are biomechanically engineered to offer the world's most comfortable heels.

OrthoFeet employs biomedical engineers to build innovative footwear products, designed to alleviate the symptoms associated with various foot conditions, such as Plantar Fasciitis, Heel and Foot pain, bunions, corns, calluses, and neuroma, and products for individuals with diabetes, arthritis and Neuropathy.
Bioheels allow users to customize the support under the arch and to adjust the space inside the shoe, providing a perfect fit and eliminating foot slippage at the heel.

OrthoFeet products have been proven to help millions of people looking for comfort shoes, diabetic shoes, therapeutic shoes, arthritic shoes, orthotic shoes, foot orthotics, removable insoles, seam-free socks, non-binding and non-constrictive socks.