#1 Recommended Shoes by KevinRoot Medical
Sale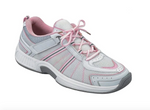 Tahoe - Pink Tie-Less Lace (Women's)
I have been using Orthofeet footwear and foot orthotics for my patients for over 15 years, and I can attest that they offer the best solution for people with sensitive feet, including those with foot pain, diabetes and arthritis. These shoes are designed with unique ergonomic features that cannot be found in any other brand. My patients love them, and in fact I wear them myself daily, as they are the most comfortable shoes I have ever worn.
- Steven Gershman, DPM
ORTHOPEDIC SHOES
DIABETIC SHOES
MONK STRAP SHOES FOR WOMEN
WIDE SHOES FOR WOMEN

Walk Comfort & Pain Free or Your Money Back!
Enjoy exceptional comfort and fit with Orthofeet's Tahoe - Pink women's athletic shoes that feature a unique Tie-Less Lacing System, which eliminates the need for tying laces. What's more, these shoes come with premium orthotic insoles, ergonomic soles, non-binding uppers, wide toe-box, and soft, protective interior, making Tahoe-Pink extraordinary women's sneakers for plantar fasciitis, heel pain, foot pain, and an excellent solution for arthritis sneakers, diabetic sneakers and diabetic walking shoes. Certified by Medicare and qualified as women's therapeutic shoes under code A5500 of the Diabetic Shoe Bill.
Orthotic support - premium orthotic insoles, featuring anatomical arch support and multiple cushioning layers, improve foot and leg alignment, enhancing comfort and help ease stress and pain on the heel, ball of the foot, knees, hips, and back caused by flat feet, overpronation, plantar fasciitis, bunions, arthritis and diabetes.
Tie-Less Lacing System - Innovative design that incorporates laces with tab eliminates the need for tying laces.
Two-Way Fastening System - enables fastening on both side of the shoe - a great advantage for persons who cannot reach the outside part of the shoe.
Orthotic friendly design– Extra depth design with removable orthotic insoles (that are ¼" thick in the forefoot area) provide ample space for custom made orthotics.
Easy Gait- Lightweight cushioning sole with Ergonomic-Stride(TM) design softens step and helps propel the foot forward.
Arch Support
Removable Insoles
Orthotic Friendly
Cushioned Heel
Extra Depth
Deep Toe-Box
Wide Toe-Box
Heel Cup
Shock Absorbing
Soft Uppers
Orthofeet Women's Shoe Sizing Chart
Widths
---
Diabetes
Plantar Fasciitis
Swollen Feet
Metatarsalgia
Ball of the foot pain
Morton's Neuroma
Neuropathy
Flat Feet
Sciiatica
Knee Pain
Heel Pain
Heel Spurs
Over Pronation
Arch Pain
Corns
Calluses
Arthritis
Osteoarthritis
Rheumatoid Arthritis
Bunions
Hammer Toes
Morton's Neuroma
Achilles Tendinitis
Back Pain
Product Care:
For Suede leather: Use a brush and a cloth.
For Full Grain Leather: Use shoe cream.
Material:
Leather
Collection:
Athletic

60-DAY WEAR TEST Try Risk Free
FREE Returns & Exchanges
Hassle-Free, 60 Day Return Policy
---
Kathy Cordeiro
"Having plantar fasciitis since the beginning of the summer I thought nothing would help. The sneakers are great I can finally walk pain free. Thank you."
Connie Sneed
"Haven't worn them too many times but they feel good on and fit well. I think they are going to be what I need. Very fast shipping and easy to deal with when doing an exchange."
Janet
"My feet started thanking me the minute I put these shoes on, and when my feet talk, I listen. They are the most comfortable shoes I have ever owned. I bought them because of a new onset of plantar fasciitis. After only a week, not only is there marked improvement in the fasciitis, but my ongoing knee pain has improved as well. I highly recommend these shoes!"
Dana Butler
"I love these shoes. I am having an arch problem and needed the support I get from them. The fit is good and they are pretty."
Mildred Brazeal
"The shoes are the most comfortable I have ever owned! I have problems with my feet that are too numerous to mention and have had multiple surgeries. I have had Carpal Tunnel surgery and my left hand and fingers are numb. I have no fine motor skills in that hand. I can no longer tie my shoes. I love the Tie-Less shoes! Trust me you can trust OrthoFeet."
Linda Gonzalez
"Wore these shoes, out of the box, put my orthotics in, and walked around 4+ miles a day on vacation. No pain, no sore feet, no blisters! Completely comfortable. Great toe room. I am very pleased!"
Yvonne Andersen
"I love them! I had some severe knee and foot pain and now I am free of pain! I am able to go up and down the stairs without going down one stair at a time! I would highly recommend the Orthofeet product!"
Patricia Vaughn
"I have a hard time finding shoes that doesn't hurt my feet while working. I went through different brands I rate these as one of the best all around comfortable shoes ever. I highly recommend these shoes to anyone who has problematic feet."
Dianna Saunders
"I have been walking with a cane for years or using a scooter. I have 3 pairs and I can walk without a cane now . The Doctors have given me many pills but none worked. Thanks for restoring my life."
Judith Young
"The shoes are very comfortable. I have a problem toe and I seem to be able to walk in these well. My balance is not the best either and I am sure the shoes are helping with that. I have been increasing the number of hours a day I have been wearing them. Thank you Orthofeet."
Valerie Bartlett
"I am very happy with my purchase of two pair for work and play....now am planning which pair to order for more of a dress shoe. I have Psoriatic Arthritis and my legs and feet hurt and cause sleepless nights and back problems. So far these shoes seem to be a big help in relieving a big part of those issues. I am glad I took the chance and ordered the sneaker and the other casual pair. I took the advice and ordered the 1/2 size larger and I am glad I did....fit is perfect!"
Harry Ackermann
"These shoes were purchased for my wife. They were comfortable right out of the box and fit very well. She ordered a half size larger as recommended. Having the extra space for the toes helps with her bunion. Her feet feel better after her walks compared to her old shoes. They are very well made shoes and this is the second pair of shoes we have purchased in the past month and would highly recommend shoes from OrthoFeet. My wife has only had them for about a week, so our opinion is somewhat limited but we are both very happy with our shoes."
Dena Trask
"This is the most comfy sneaker I have ever bought! You name it, I have it: huge bunions, degenerative disc disease, arthritis... I have spent WAY more on orthopedically-correct sneaks that still needed a month of breaking in. Not so with these babies. My previous pair had been European-made so I used the size comparison chart. What I got was perfect fit, perfect width (I bought the widest size because of my ridiculous bunions). Can't wait to buy another style; I know they'll fit!"
Gale Betterly
"I needed a wider toe box to coddle a sore toe. These shoes not only give my feet the needed width, but they did it with style. These really look, and fit, like a woman's shoe. What a joy for my size 12 feet! Thank you so much for making them available."
Susan Rickards
"Walking on a cloud, with support. My shoes have to meet many qualifications. I have multiple sclerosis so I must look for not only comfort for potentially achy feet, but I must also look for stability in a shoe. This is a difficult ticket to fill but have found that in my new white sneakers."
---

The primary focus of the OrthoFeet brand is to offer the ultimate comfortable and functional shoes, orthotic insoles and socks. By combining athletic footwear technology and therapeutic detailing, OrthoFeet footwear offer the highest level of comfort and protection for sensitive feet.

Finding the right pair of shoes can be a tiring process, especially when faced with a foot ailment.

Orthofeet is also offering innovative high heels, which are biomechanically engineered to offer the world's most comfortable heels.

OrthoFeet employs biomedical engineers to build innovative footwear products, designed to alleviate the symptoms associated with various foot conditions, such as Plantar Fasciitis, Heel and Foot pain, bunions, corns, calluses, and neuroma, and products for individuals with diabetes, arthritis and Neuropathy.
Bioheels allow users to customize the support under the arch and to adjust the space inside the shoe, providing a perfect fit and eliminating foot slippage at the heel.

OrthoFeet products have been proven to help millions of people looking for comfort shoes, diabetic shoes, therapeutic shoes, arthritic shoes, orthotic shoes, foot orthotics, removable insoles, seam-free socks, non-binding and non-constrictive socks.