#1 Recommended Shoes by KevinRoot Medical
Sale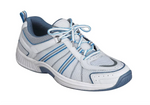 Tahoe - White Tie-Less Lace (Women's)
I have been using Orthofeet footwear and foot orthotics for my patients for over 15 years, and I can attest that they offer the best solution for people with sensitive feet, including those with foot pain, diabetes and arthritis. These shoes are designed with unique ergonomic features that cannot be found in any other brand. My patients love them, and in fact I wear them myself daily, as they are the most comfortable shoes I have ever worn.
- Steven Gershman, DPM
ORTHOPEDIC SHOES
DIABETIC SHOES
MONK STRAP SHOES FOR WOMEN
WIDE SHOES FOR WOMEN

Walk Comfort & Pain Free or Your Money Back!
Enjoy exceptional comfort and fit with Orthofeet's Tahoe-White women's athletic shoes that feature a unique Tie-Less Lacing System that eliminates the need for tying laces. What's more, these shoes come with premium orthotic insoles, ergonomic soles, non-binding uppers, wide toe-box, and soft, protective interior, making Tahoe-White extraordinary women's sneakers for plantar fasciitis, heel pain, foot pain, and an excellent solution for arthritis sneakers, diabetic sneakers and diabetic walking shoes. Certified by Medicare and qualified as women's therapeutic shoes under code A5500 of the Diabetic Shoe Bill.
Orthotic support - premium orthotic insoles, featuring anatomical arch support and multiple cushioning layers, improve foot and leg alignment, enhancing comfort and help ease stress and pain on the heel, ball of the foot, knees, hips, and back caused by flat feet, overpronation, plantar fasciitis, bunions, arthritis and diabetes.
Tie-Less Lacing System - Innovative design that incorporates laces with tab eliminates the need for tying laces.
Two-Way Fastening System - enables fastening on both side of the shoe - a great advantage for persons who cannot reach the outside part of the shoe.
Orthotic friendly design– Extra depth design with removable orthotic insoles (that are ¼" thick in the forefoot area) provide ample space for custom made orthotics.
Easy Gait- Lightweight cushioning sole with Ergonomic-Stride(TM) design softens step and helps propel the foot forward.
Arch Support
Removable Insoles
Orthotic Friendly
Cushioned Heel
Extra Depth
Deep Toe-Box
Wide Toe-Box
Heel Cup
Shock Absorbing
Soft Uppers
Mesh
Synthetic
Orthofeet Women's Shoe Sizing Chart
Widths
---
Diabetes
Plantar Fasciitis
Swollen Feet
Metatarsalgia
Ball of the foot pain
Morton's Neuroma
Neuropathy
Flat Feet
Sciiatica
Knee Pain
Heel Pain
Heel Spurs
Over Pronation
Arch Pain
Corns
Calluses
Arthritis
Osteoarthritis
Rheumatoid Arthritis
Bunions
Hammer Toes
Morton's Neuroma
Achilles Tendinitis
Back Pain
Product Care:
Clean with washcloth. Use a small amount of mild soap and water. Air dry. Do not machine wash.
Material:
Synthetic
Collection:
Athletic

60-DAY WEAR TEST Try Risk Free
FREE Returns & Exchanges
Hassle-Free, 60 Day Return Policy
---
Linda O'Sullivan
"I have been wearing my OrthoFeet shoes every day since I received them. They are extremely comfortable, and I plan to buy another pair soon!"
Kathleen Klos
"Best sneakers I've ever worn. I have hammer toes and have had a hard time finding shoes that don't make my feet hurt but thanks to OrthoFeet I have found the most comfortable shoes. Feels like I'm walking on a cloud. I love that I'm no longer in pain."
Kathy Agard
"My feet are very wide. Broken bones and surgeries haven't helped. Often when I buy shoes, I believe the box would fit me better than the shoes. In true amazement I found that these shoes are WONDERFUL. They have a wide toe box. I don't lose the feeling in my toes...there is room. The insets helped me to get just the right tension at the heel. There is comfortable and squishy arch support. Thank you for creating a shoe for those of us with imperfect feet!"
Penny Maynard
"Where were these shoes years ago. What a great idea to have ties available plus velcro. The shoes are so comfortable and can be in them all day. I ordered a half size larger just like the sandals and they fit perfectly."
Rebecca Phillips
"For the first time in many years ( 20 at least as a Nurse I had endured pain and discomfort ) I m able to walk ,and enjoy vacations now. thank you for such a great product!!!!!!!!"
Lorraine Blanco
"I noticed a big difference in how much more comfortable my feet were, and are. I don't dread wearing shoes now because of the pain. Thank you."
Mysti Berry
"Great for my arthritic knees and hip. I have serious arthritis in both knees and one hip--large, wide feet with some swelling. There's room for my foot in these shoes, the support (arch support) is great, and I noticed some reduction in pain after wearing for just a few days. The laces-with-tabs feature makes it easy to get the shoes on in the morning (bending on one side is very hard). These shoes have more comfort and support (and are lightweight!) than shoes I've bought at twice the price."
Aliza Abrams
"These shoes are the most comfortable I have purchased in years, and that is saying a lot. I have psoriatic arthritis, which affects my feet a lot, and causes Achilles tendonitis and plantar fasciitis. I also have had bunion surgery on my left foot, and am left with residual pain from that. In addition, my feet are wide...and it is often really difficult to find shoes that fit well and are comfortable. I received these shoes a few days ago, and I love love love them! All the different foot issues I am having are absent when I wear these shoes! They didn't even require a breaking in period. I would recommend these for anyone who has similar foot problems - they are well worth the price."
Becky Brooks
"So wonderful to go shopping and my feet and legs not hurt. I have always had problem feet because of high arches so I have to be very careful that my shoes meet my feet needs. I have worn them everyday since receiving them in the mail. I am ordering another color so I can change up. I love Orthofeet shoes. I have ordered several pairs of athletic and casual shoes and they always meet my expectations ( and my feet adores them.)"
Pat Scott
"I bought my Tahoe White Orthofeet to make a long trip possible. I have had foot issues with bone spurs on booth heels and on the sides of my ankles. I also have a metatarsal bone pressing down on the ball of my foot. I had absolutely NO pain in my feet while wearing my new shoes. I highly recommend them for anyone having foot issues. Extreme comfort on all the walking tours! Thanks!"
Shirley Goodwin
"I bought these sneakers and had my doubts as I've bought expensive sneakers before. I broke my right foot and all my arches fell so sneakers or shoes have not been my friend. Put these on and could not believe how comfortable they are!! Took me a few days to get use to the arch support in them but when they say no breaking in period they meant it!!! I will definitely be buying more from OrthoFeet!!!"
Cheryl Seeley
"I love the Orthofeet shoes I can walk again with out knee and hip pain and back pain I will be purchasing another pair and no more planter faciitis I love them and have been showing them to my coworkers they are easy on and off love it."
Gloria Shiers
"I love my Tahoe walking shoes from Orthofeet. Have been walking in them over a week now and they are really helping my feet. I have some bunions and they don't bother me in these shoes. Love not having to tie the laces all the time."
Robin Thornton
"I love my Tahoe shoes. They are well cushioned and very comfortable. They are wide enough to accommodate my bunions and don't hurt. I will order these again."
Vera Berry
"I work in a very busy hospital. It is not uncommon for me to be on my feet for 10 or the 12 hours I work. I have bilateral hip replacements and so being on my feet was causing me a great deal of trouble from plantar' s fasciitis to back pain. I tried Crocs and Drews. In terms of width, they were excellent. But I was still aching after work. These Orthofeet shoes really are ergonomic. Every step is cushioned. They have better arch supports than the Drews and cost less. I hope it continues. Your product is amazing and I am very happy after two nights of work!
---

The primary focus of the OrthoFeet brand is to offer the ultimate comfortable and functional shoes, orthotic insoles and socks. By combining athletic footwear technology and therapeutic detailing, OrthoFeet footwear offer the highest level of comfort and protection for sensitive feet.

Finding the right pair of shoes can be a tiring process, especially when faced with a foot ailment.

Orthofeet is also offering innovative high heels, which are biomechanically engineered to offer the world's most comfortable heels.

OrthoFeet employs biomedical engineers to build innovative footwear products, designed to alleviate the symptoms associated with various foot conditions, such as Plantar Fasciitis, Heel and Foot pain, bunions, corns, calluses, and neuroma, and products for individuals with diabetes, arthritis and Neuropathy.
Bioheels allow users to customize the support under the arch and to adjust the space inside the shoe, providing a perfect fit and eliminating foot slippage at the heel.

OrthoFeet products have been proven to help millions of people looking for comfort shoes, diabetic shoes, therapeutic shoes, arthritic shoes, orthotic shoes, foot orthotics, removable insoles, seam-free socks, non-binding and non-constrictive socks.