#1 Recommended Shoes by KevinRoot Medical
Sale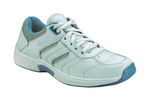 Whitney - White (Women's)
I have been using Orthofeet footwear and foot orthotics for my patients for over 15 years, and I can attest that they offer the best solution for people with sensitive feet, including those with foot pain, diabetes and arthritis. These shoes are designed with unique ergonomic features that cannot be found in any other brand. My patients love them, and in fact I wear them myself daily, as they are the most comfortable shoes I have ever worn.
- Steven Gershman, DPM
ORTHOPEDIC SHOES
DIABETIC SHOES
MONK STRAP SHOES FOR WOMEN
WIDE SHOES FOR WOMEN

Walk Comfort & Pain Free or Your Money Back!
Enjoy exceptional comfort and fit with Orthofeet's Whitney - White women's walking shoes that offer a non-binding fit, extra room for toe movement, and maximum protection against pressure points. Their anatomical orthotic insoles and ergonomic soles provide comfortable support and superior cushioning, making Whitney - White exceptional women's walking shoes for plantar fasciitis, heel pain and ball of the foot pain. Whitney - White are certified by Medicare and are qualified as women's therapeutic shoes under code A5500 of the Diabetic Shoe Bill, offering an excellent solution for those who are looking for women's diabetic walking shoes.
Comfortable Orthotic Support - Premium orthotic insoles, featuring anatomical arch support and cushioning layers provide soft, pillow-like support that enhance comfort and help ease pain on the heel, ball of the foot, knees, hips, and back caused by flat feet, overpronation, plantar fasciitis, bunions, arthritis, neuropathy and diabetes.
Like Walking on A Cloud - Light-weight soles with Ergonomic-Stride™ design and air cushioning soften step, enhance stability and add spring to your step.
Superior Comfort & Protection - Soft, seam-free interior lining eliminates friction against the skin, easing pressure on sensitive feet, bunions and Hammer-Toes.
Orthotic friendly design – Extra depth design with removable orthotic insoles (¼" thick in the forefoot area) provide ample space for custom made orthotics.
Adjustable fit - Two sets of removable spacers (1/16" and 1/8" thick). - Allow the adjustment of the space inside the shoe for a perfect fit.
Arch Support
Removable Insoles
Orthotic Friendly
Cushioned Heel
Extra Depth
Deep Toe-Box
Wide Toe-Box
Heel Cup
Shock Absorbing
Soft Uppers
Orthofeet Women's Shoe Sizing Chart
Widths
---
Diabetes
Plantar Fasciitis
Swollen Feet
Metatarsalgia
Ball of the foot pain
Morton's Neuroma
Neuropathy
Flat Feet
Sciiatica
Knee Pain
Heel Pain
Heel Spurs
Over Pronation
Arch Pain
Corns
Calluses
Arthritis
Osteoarthritis
Rheumatoid Arthritis
Bunions
Hammer Toes
Morton's Neuroma
Achilles Tendinitis
Back Pain
Product Care:
For Suede leather: Use a brush and a cloth.
For Full Grain Leather - Use shoe cream.
Material:
Leather
Collection:
Athletic

60-DAY WEAR TEST Try Risk Free
FREE Returns & Exchanges
Hassle-Free, 60 Day Return Policy
---
Donna Craig
"I'm on my feet all day long on a concrete floor. I've also got an extra wide foot and high arches. These shoes fit perfectly and my feet have not felt this good in a long time."
Estelle St. Claire
"Since my Whitney shoes arrived I haven't worn any of my other shoes. These are so totally comfortable it is hard to wear anything else. Everyone should pamper their feet and wear Orthofeet shoes. I honestly cannot say enough about how pleasing it is to wear these shoes. I own 3 pairs and look forward to all and any new style you offer in the future."
Therese Carey
"I LOVE these shoes. Plenty of room for my toes and my orthotics fit great in them. Definitely worth the money."
Cheryl Jones
"On my feet 12 hour shifts. These shoes provide excellent support and make standing much better. I plan on ordering another type to rotate shoes. I recommend these shoes for anyone with foot pain or problems."
Bonnie Hickey
"Shoe was very well made and cushioned. My feet don't ache when I take them off after wearing them all day and it helps to stabilize my ankle (broke it last year and have residual problems). My next pair will be Orthofeet!"
Ruth Fletcher
"I have been struggling with foot pain for several years. I just assumed it was the beginning of Neuropathy. Finally went to a Podiatrist who set me up for PT. I didn't feel this would really help so started researching other ways to "fix" the issue. After chatting online with Customer Service I ordered the Whitney. I am not exaggerating that I felt dramatic relief within 24 hours. I am a customer for life now."
Evelyn Peters
"The best sneakers for my feet! Long days in a hospital and previous issues with plantar fasciitis. This is my third pair. I will continue to purchase them as long as they are available."
Sharon N.
"I have plantar fasciitis and these shoes have helped me so much. I'm on my feet 8 hrs/day and the pain has decreased considerably. I am ordering my 2nd pair! Orthofeet makes great, quality shoes. Wears this shoe: all day, every day at work, shopping, etc."
Maggie Smith
"My feet require a very wide toe box and support for the ankles and a narrow heels. I purchased the Women Athletic White Lace 940 size 8 XX wide. My foot measures about 7 1/2. These sneakers are the best fit yet! They are attractive, soft, supportive and roomy. I can wear orthotics and padded socks and still be able to wiggle my hammer toes!"
Krista I.
"I have NEVER tried on and worn a shoe this comfortable! It came out of the box, went on my feet, and I've not only not had any breaking-in time, they soothe my poor old feet. For six years, I've looked for a shoe that will alleviate the pain of ""idiopathic peripheral neuropathy""- this is it. My first pair of Orthofeet was the Fisherman, and though it was very comfortable, these surpass it.So glad I found this brand!"
Kathy S.
"I was skeptical about trying another pair of diabetic shoes because I've had no luck with them. This pair is wonderful! I didn't have to break them in. They fit my orthotics. They have a roomy toe area and they are just cushiony enough when I walk. I have gout, plantar faciitis, hammer toes and bunions. To find a pair of shoes I can actually wear is a miracle to me. In fact, I'm ordering a second pair in case they quit making these. Wears this shoe: At home, shopping, and even to Disneyland!"
Loni Lewellyn
"I purchased two pair of shoes at the same time; I am extremely pleased with both of them, I alternate shoes to not wear them out as fast. Both pair are so very comfortable and keep my feet feeling good all day long. I work in a medical office and am always walking to the back of the office, I leave work ready to keep doing walking at the gym, because my shoes have protected my feet all day."
Cheryl Fletcher
"Ordered this shoe because of the pain I get in my feet and back when on my feet for long. Just got back from the store and have to say that I am not in pain after shopping like I usually would be."
Glennii Ferguson
"For years I have been treated for plantar fasciitis, tibial tendonitis, flat feet - you name it. I've had orthotics, braces, etc and not to mention Physical Therapy....to no avail. When I first tried these shoes, I couldn't believe the relief I had. Cannot rave enough about the comfort & fit - I now can walk all day with these shoes and no pain. I feel like a new person. Will be ordering the Verve next. Thank you Ortho-Feet for my great comfort & pain relief."
Mary Brevik
"I have had two pair of special order diabetic shoes, but this one fits the best and is the most comfortable. I have had a pair of slip on (Chelsea) shoes that I wear for work every day and I can stand most days without any problem. I love these shoes and hope to order some dress shoes soon."
---

The primary focus of the OrthoFeet brand is to offer the ultimate comfortable and functional shoes, orthotic insoles and socks. By combining athletic footwear technology and therapeutic detailing, OrthoFeet footwear offer the highest level of comfort and protection for sensitive feet.

Finding the right pair of shoes can be a tiring process, especially when faced with a foot ailment.

Orthofeet is also offering innovative high heels, which are biomechanically engineered to offer the world's most comfortable heels.

OrthoFeet employs biomedical engineers to build innovative footwear products, designed to alleviate the symptoms associated with various foot conditions, such as Plantar Fasciitis, Heel and Foot pain, bunions, corns, calluses, and neuroma, and products for individuals with diabetes, arthritis and Neuropathy.
Bioheels allow users to customize the support under the arch and to adjust the space inside the shoe, providing a perfect fit and eliminating foot slippage at the heel.

OrthoFeet products have been proven to help millions of people looking for comfort shoes, diabetic shoes, therapeutic shoes, arthritic shoes, orthotic shoes, foot orthotics, removable insoles, seam-free socks, non-binding and non-constrictive socks.