#1 Recommended Shoes by KevinRoot Medical
Sale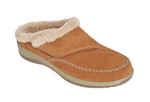 Charlotte - Brown (Women's)
I have been using Orthofeet footwear and foot orthotics for my patients for over 15 years, and I can attest that they offer the best solution for people with sensitive feet, including those with foot pain, diabetes and arthritis. These shoes are designed with unique ergonomic features that cannot be found in any other brand. My patients love them, and in fact I wear them myself daily, as they are the most comfortable shoes I have ever worn.
- Steven Gershman, DPM
ORTHOPEDIC SHOES
DIABETIC SHOES
MONK STRAP SHOES FOR WOMEN
WIDE SHOES FOR WOMEN

Walk Comfort & Pain Free or Your Money Back!
Charlotte women's slippers are designed with anatomical arch support, Ergonomic-Stride sole, and adjustable strap, offering ultimate comfort and helping ease pain on the heel, ball of the foot, knees, hips, and back caused by flat feet, plantar fasciitis, bunions, arthritis, neuropathy and diabetes.
Orthotic support - Ortho-Comfort TM premium orthotic insoles, featuring anatomical arch support and multiple cushioning layers help improve foot and leg alignment, enhancing comfort and easing stress and pain on the heel, ball of the foot, knees, hips, and back caused by flat feet, overpronation, plantar fasciitis, bunions, arthritis and diabetes.
Easy gait - Lightweight cushioning sole with Ergonomic-Stride(TM) design softens step, making every step you take soothing with comfort.
Comfort fit - Soft leather upper, padded interior, and extra foam padding enhances comfort from heel to toe.
Adjustable fit - Hook and Loop strap along with fitting spacers enable to adjust the space inside the shoe to comfortably hug your feet and offer a perfect fit.
Orthotic friendly design - Extra depth design with removable orthotic insoles, which are ¼" thick in the forefoot area, provide ample space for custom made orthotics.
Arch Support
Removable Insoles
Orthotic Friendly
Cushioned Heel
Extra Depth
Deep Toe-Box
Wide Toe-Box
Heel Cup
Shock Absorbing
Soft Uppers
Orthofeet Women's Shoe Sizing Chart
Widths
---
Diabetes
Plantar Fasciitis
Swollen Feet
Metatarsalgia
Ball of the foot pain
Morton's Neuroma
Neuropathy
Flat Feet
Sciiatica
Knee Pain
Heel Pain
Heel Spurs
Over Pronation
Arch Pain
Corns
Calluses
Arthritis
Osteoarthritis
Rheumatoid Arthritis
Bunions
Hammer Toes
Morton's Neuroma
Achilles Tendinitis
Back Pain
Product Care:
For Suede leather: Use a brush and a cloth.
For Full Grain Leather: Use shoe cream.
Material:
Leather

60-DAY WEAR TEST Try Risk Free
FREE Returns & Exchanges
Hassle-Free, 60 Day Return Policy
---
Wendy Bianes
"I have flat feet. Lately the pain in my knees has been nonstop. Since I purchased these slippers, the pain is much less. Some days no pain at all and I believe these great slippers make a big difference for me."
Nancy Cavanaugh
"With plantar fasciitis, a bone spur, and Achilles tendinitis, I'd be in terrible pain without these wonderful Slippers! The adjustable top is perfect for the days my feet swell. Warm, cozy, soft and supportive for my high arches too!"
Roberta Malone
"This is my second pair of Charolotte Brown for ladies ,they are very comfortable I have problems with my feet I really enjoy them very much and I think they are worth the price that I paid for them."
Frances Watkins
"After the day's activities end, I pull off my compression socks and sink my feet into my comfy slippers and feel relaxed for the rest of the evening. My other slippers always gave me sore legs and tired feet. Thank you Ortho Feet!"
Marianne Snygg
"My feet have never felt so good! I purchased these slippers, a pair of sneakers, and a pair of walking shoes. My feet are in heaven. I love this brand of shoes! Don't think I'll ever buy a different brand!"
Bonnie Albert
"I've been looking for comfortable slippers for a couple of years. These are fantastic! I look forward to putting them on after work in the evening. They are SO comfortable. Highly recommended."
Nanny Springer
"I have big feet and heart problems, so occasionally finding a decent adjustable shoe or slipper is very, very difficult. These puppies are wonderfully comfortable, adjust easily, and are even suitable for tromping through the backyard with my dogs. True, they're not particularly feminine and high fashion, but if you're seeking comfort and durability, these are it! True also...I've never spent this much on my own slippers. Worth every penny. I've been wearing them every day all day, except at church. Might even wear them there."
Harry Larry
"I gave my wife these slippers for Christmas. She had been complaining about her feet hurting. As soon as she put on the slippers and she immediately fell in love with them. They are always on at home and sometimes she takes them when we go visiting. Since they had hard bottoms she often forgets to take them off when we leave the house. My wife has already recommended these slippers to friends. She does not complain about her feet hurting anymore."
Karen B.
"These slippers were recommended by my Podiatrist for Plantar Fasciitis. They are so comfortable and warm, I wore them everyday as "house shoes." The inner sole is replaceable but I needed to replace the entire slipper after 1 year. They do not look like slippers and could easily be used as shoes and worn outside. The bottom sole is rubber with a suede upper. The fur lining stays fluffy and does not easily mat down. The slipper runs true to size. These are so comfortable; like walking on air!! I like these more than the Tempur Pedic Brand! Highly Recommend!!!"
Jeanne Ebersold
"What more could you want in a shoe/slipper? This slipper fits true to size; there's enough arch support; they're not bulky and have soft foot bed; plus, they're stylish. Most of All, They Keep My Feet Warm! I would highly recommend these slippers to anyone in search of this type of shoe!!!"
Melanie H.
"These are absolutely the best slippers I have ever owned. I don't have diabetes or any special medical condition. We do not wear shoes in the house, so I wear slippers a lot of the time. These slippers are like wearing a good pair of tennis shoes. They support your feet, are warm, comfortable from the first day, and keep your feet well insulated from cold hardwood floors. I will continue to buy these slippers as long as they make them. They are perfect!"
Virginia Baner
"This is my second pair of Charlotte slippers. My first pair I loved them so much, I wore them out. The Charlotte slippers can comfortably fit orthotics, which I must have to feel pain free in my feet. I have plantar fasciitis and orthotics are a must for me inside and outside the home. The Charlotte slippers are the only slippers I found that I can put my orthotics into and they still feel comfortable. These slippers offer support, they are well made and they last a long time compared to other slippers I previously owned. I highly recommend them to anyone who needs a good slipper."
Lynne Parisi
"these slippers are so.... comfortable. I haven't found another slipper that comes in wide widths. I've been looking around and these were the "best fit" for me. Especially made in USA. And they are functional. I can wear them outside without ruining the bottoms. Very happy with my slippers."
Barbara Amorello
"These are Life Savers for me ! I have Foot Drop on the left and severe Neuropathy on the right . I love that I can make them loose or tight depending on my needs at different times ? This is my 5th pair, and I will continue to wear them forever!"
Catherine Miller
"I've never been able to order online shoes and not return them. Between my shoŕt, wide feet to suffering with RA and the periodic inflammation and swelling, finding shoes that fit is almost impossible. But these slippers fit perfectly, easily, offer good support - but also a lot of cushion. Feels like I'm walking on marshmallows! Love them, even great for running out in the car, running errands and the like. Already telling others about your site!"
---

The primary focus of the OrthoFeet brand is to offer the ultimate comfortable and functional shoes, orthotic insoles and socks. By combining athletic footwear technology and therapeutic detailing, OrthoFeet footwear offer the highest level of comfort and protection for sensitive feet.

Finding the right pair of shoes can be a tiring process, especially when faced with a foot ailment.

Orthofeet is also offering innovative high heels, which are biomechanically engineered to offer the world's most comfortable heels.

OrthoFeet employs biomedical engineers to build innovative footwear products, designed to alleviate the symptoms associated with various foot conditions, such as Plantar Fasciitis, Heel and Foot pain, bunions, corns, calluses, and neuroma, and products for individuals with diabetes, arthritis and Neuropathy.
Bioheels allow users to customize the support under the arch and to adjust the space inside the shoe, providing a perfect fit and eliminating foot slippage at the heel.

OrthoFeet products have been proven to help millions of people looking for comfort shoes, diabetic shoes, therapeutic shoes, arthritic shoes, orthotic shoes, foot orthotics, removable insoles, seam-free socks, non-binding and non-constrictive socks.