#1 Recommended Shoes by KevinRoot Medical
Sale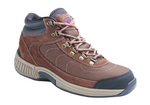 Delta - Brown Women's Boots (Women's)
I have been using Orthofeet footwear and foot orthotics for my patients for over 15 years, and I can attest that they offer the best solution for people with sensitive feet, including those with foot pain, diabetes and arthritis. These shoes are designed with unique ergonomic features that cannot be found in any other brand. My patients love them, and in fact I wear them myself daily, as they are the most comfortable shoes I have ever worn.
- Steven Gershman, DPM
ORTHOPEDIC SHOES
DIABETIC SHOES
MONK STRAP SHOES FOR WOMEN
WIDE SHOES FOR WOMEN

Walk Comfort & Pain Free or Your Money Back!
Enjoy exceptional comfort and fit with Orthofeet's Delta women's winter boots that offer a non-binding fit, extra room for toe movement, and maximum protection against pressure points.
Their anatomical orthotic insoles and ergonomic soles provide comfortable support and superior cushioning, making Delta extraordinary women's boots for plantar fasciitis, heel pain and bunions.
Sandy Stretchable are certified by Medicare and are qualified as women's therapeutic shoes under code A5500 of the Diabetic Shoe Bill, offering an excellent solution for those who are looking for women's diabetic boots and orthopedic boots.
Comfortable Orthotic Support - Premium orthotic insoles, featuring anatomical arch support and cushioning layers provide soft, pillow-like support that enhance comfort and help ease pain on the heel, ball of the foot, knees, hips, and back caused by flat feet, overpronation, plantar fasciitis, bunions, arthritis, neuropathy and diabetes.
Like Walking on A Cloud - Light-weight soles with Ergonomic-Stride™ design and air cushioning soften step, enhance stability and add spring to your step.

Superior Comfort & Protection - Soft, seam-free interior lining eliminates friction against the skin, easing pressure on sensitive feet, bunions and Hammer-Toes.
Orthotic friendly design – Extra depth design with removable orthotic insoles (¼" thick in the forefoot area) provide ample space for custom made orthotics.
Adjustable fit - Two sets of removable spacers (1/16" and 1/8" thick). - Allow the adjustment of the space inside the shoe for a perfect fit.
Arch Support
Removable Insoles
Orthotic Friendly
Cushioned Heel
Extra Depth
Deep Toe-Box
Wide Toe-Box
Heel Cup
Shock Absorbing
Soft Uppers
Orthofeet Women's Shoe Sizing Chart
Widths
---
Diabetes
Plantar Fasciitis
Swollen Feet
Metatarsalgia
Ball of the foot pain
Morton's Neuroma
Neuropathy
Flat Feet
Sciiatica
Knee Pain
Heel Pain
Heel Spurs
Over Pronation
Arch Pain
Corns
Calluses
Arthritis
Osteoarthritis
Rheumatoid Arthritis
Bunions
Hammer Toes
Morton's Neuroma
Achilles Tendinitis
Back Pain
Product Care:
Clean with washcloth. Use a small amount of mild soap and water. Air dry. Do not machine wash.
Material:
Leather & Synthetic

60-DAY WEAR TEST Try Risk Free
FREE Returns & Exchanges
Hassle-Free, 60 Day Return Policy
---
Terri Starr
"I should have come to you long before I did because I kept spending money on shoe after shoe that felt good when tried on in store but when I wore them all day at work my feet were feeling the same thing which was hurting my toes and feet all over all day until I finally broke down and purchased two pair of your shoes. A pair of boots and a pair of tennis shoes! They have made me a believer of your shoes and I will never go buy shoes for my feet anywhere but from you!"
Renee Lightner
"I stand on concrete 12 hours/6 days weekly. Foot pain was terrible, kept me awake nights and led to multiple cortisone injections. These boots are exceptional! No more shots or sleepless nights. I am most definitely going to be purchasing all of my work boots & sneakers from this company. Excellent customer service!"
Honor Murphy
"Love the boots . I have plantar fascia pain on and off on my left heel and my great toe on the right is arthritic and very large . Needless to say I have troubled feet . I was planning a trip to Europe and tried 5 different kinds of boots and ended up choosing these . It's like walking on air! They are light weight , naturally supportive in the arch without orthotics , allow room in the toe box , flexible at the metatarsals , have a slight rocker feel to them and look really nice as well. I walked five miles my first day in Europe and my feet felt great."
Deborah Lawson
"I have RA, Osteoarthritis, Morton's Neuroma, and other challenges. I can be on my feet most of the day, walking amusement parks with the grandkids, and my feet don't hurt! I love these boots and would highly recommend them."
Betty Olson
"I was pleasantly surprised at how comfortable and light these shoes are. I cracked the top fo my foot so if a shoe has a lot of weight it really makes my foot swell and hurt, My foot has not done that at all with these shoes. I will be ordering more for sure. I also purchased insoles for other shoes. They are just as fabulous."
Patricia Williams
"Most Comfortable boots ever I've had !!! I had them on all ALL day and don't want to take them off - I have very narrow feet with plantar fasciitis and arthritic toe and flat feet ! Yikes my feet hurt a lot but these have made such a difference I feel better, my legs don't hurt, my feet don't hurt Ortho feet are wonderful purchase it was actually my second pair I bought slippers the first time I plan to buy many more
I finally found a shoe company that actually cares and listens to their customers and are concerned with the health of people's feet it really makes the quality of life so much better when you are able to walk more and be more active - EXCELLENT."
CJ B.
"These felt comfortable right out of the box. No breaking in needed. These are smart looking boots. I was afraid they would rub on my ankle, but that was not the case. Nicely done, I would highly recommend."
Pamela Burchell
"I absolutely love these shoes! They are a perfect fit and very comfortable on my feet. Before purchasing Orthofeet, I'd finish work for the day and come home exhausted and not able to do errands, now I can go to three stores if I have to after working, and come home and still feel great! I highly recommend Orthofeet to everyone I know with feet issues! I will never buy another brand again! I have tried everything imaginable for my feet and so happy I stumbled upon Orthofeet. If my foot doctor told me about Orthofeet I could of saved so much money trying other things. I like helping my acquaintances, since I've already jumped through all the hoops looking for the perfect remedy. Thank you Orthofeet! Oh and I am on the hunt for a better foot doctor, oh wait, I don't need one anymore!!! I just wish this shoe came in other colors."
Kathleen Treadwell
"The very first time I tried on my new Delta Boots, I swear I heard the angels singing. I knew I was in heaven! Seriously, since wearing these my feet (both of which have had surgery) do not swell and my walking is effortless and pain free! I have already ordered another dressy pair and know my feet are in good hands with Orthofeet! Thank you so much!"
Sharon Shellito
"These shoes are extremely comfortable. I used both inserts to achieve the fit I was looking for, but I love that they can be removed to accommodate heavy socks as temperatures get colder."
Marilyn Raymond
"I have an ankle replacement, flat feet, hammer toes, and plantar fasciitis. I purchased the brown delta tennis/hiking shoes. They are more comfortable than any other orthopedic shoes I own because they give me enough toe room and the support is soft as well as very supportive. I am wearing them now. They enable me to walk further without pain."
Marie Santiago
"If you have foot pain, these shoes are the answer. I can be on my feet all day and I am pain free. I highly recommend this company to anyone who needs foot pain relief!"
Karen A.
"As a hiker and walker I needed a boot! My previous boots don't accommodate the issues with my feet in recent years. These do! Had to order up a half size in length and width. Don't know if that's true for others."
Julie Rose
"I have terrible feet the Drs have been pushing surgery for the past year but then I got sepsis and was near death.NOW since I bought my first pair of Ortho shoes I have been able to control the pressure on my foot and I am not having the pain, swelling, infection and further damage that I was before buying these shoes! I don't know what the future will bring. But I do know that I will buy this brand again and I would advise anyone to do the same! This buy is WELL WORTH IT!"
Susan Hamilton
"What a treat to have a supportive and comfy boot with great arch support and yet the comfort of a slipper too! The width is so nice around my high arch and hammer toes. I will be hiking and walking in such comfort now! I love the look of these boots too. Very stylish and cool with the laces and metal loops instead of just holes to thread into!"
---

The primary focus of the OrthoFeet brand is to offer the ultimate comfortable and functional shoes, orthotic insoles and socks. By combining athletic footwear technology and therapeutic detailing, OrthoFeet footwear offer the highest level of comfort and protection for sensitive feet.

Finding the right pair of shoes can be a tiring process, especially when faced with a foot ailment.

Orthofeet is also offering innovative high heels, which are biomechanically engineered to offer the world's most comfortable heels.

OrthoFeet employs biomedical engineers to build innovative footwear products, designed to alleviate the symptoms associated with various foot conditions, such as Plantar Fasciitis, Heel and Foot pain, bunions, corns, calluses, and neuroma, and products for individuals with diabetes, arthritis and Neuropathy.
Bioheels allow users to customize the support under the arch and to adjust the space inside the shoe, providing a perfect fit and eliminating foot slippage at the heel.

OrthoFeet products have been proven to help millions of people looking for comfort shoes, diabetic shoes, therapeutic shoes, arthritic shoes, orthotic shoes, foot orthotics, removable insoles, seam-free socks, non-binding and non-constrictive socks.