#1 Recommended Shoes by KevinRoot Medical
Sale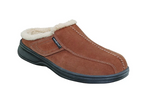 Asheville - Brown (Men's)
I have been using Orthofeet footwear and foot orthotics for my patients for over 15 years, and I can attest that they offer the best solution for people with sensitive feet, including those with foot pain, diabetes and arthritis. These shoes are designed with unique ergonomic features that cannot be found in any other brand. My patients love them, and in fact I wear them myself daily, as they are the most comfortable shoes I have ever worn.
- Steven Gershman, DPM
ORTHOPEDIC SHOES
DIABETIC SHOES
MONK STRAP SHOES FOR WOMEN
WIDE SHOES FOR WOMEN

Walk Comfort & Pain Free or Your Money Back!
Orthofeet Men's Slippers are uniquely designed with orthotic support, Ergonomic-Stride sole, and adjustable strap to offer the ultimate comfort and excellent solution for swollen feet.
Orthotic support - Ortho-Comfort TM premium orthotic insoles, featuring anatomical arch support and multiple cushioning layers help improve foot and leg alignment, enhancing comfort and easing stress and pain on the heel, ball of the foot, knees, hips, and back caused by flat feet, over-pronation, plantar fasciitis, bunions, arthritis and diabetes.
Orthotic friendly design – Extra depth design with removable orthotic insoles that are ¼" thick in the forefoot area provide ample space for custom made orthotics.
Easy gait - Light-weight cushioning sole with Ergonomic-Stride(TM) design softens step, and helps propel foot forward.
Comfort fit - Leather upper, soft interior, and extra foam padding makes every step you take soothing with comfort.
Adjustable fit - Hook and Loop straps enable you to adjusts the slippers to hug your feet.
Arch Support
Removable Insoles
Orthotic Friendly
Cushioned Heel
Extra Depth
Deep Toe-Box
Wide Toe-Box
Heel Cup
Shock Absorbing
Soft Uppers
Orthofeet Women's Shoe Sizing Chart
Widths
---
Diabetes
Plantar Fasciitis
Swollen Feet
Metatarsalgia
Ball of the foot pain
Morton's Neuroma
Neuropathy
Flat Feet
Sciiatica
Knee Pain
Heel Pain
Heel Spurs
Over Pronation
Arch Pain
Corns
Calluses
Arthritis
Osteoarthritis
Rheumatoid Arthritis
Bunions
Hammer Toes
Morton's Neuroma
Achilles Tendinitis
Back Pain
Product Care:
For Suede leather: Use a brush and a cloth.
For Full Grain Leather: Use shoe cream.
Material:
Leather

60-DAY WEAR TEST Try Risk Free
FREE Returns & Exchanges
Hassle-Free, 60 Day Return Policy
---
Clark Calhoun
"It's hard to find casual shoes to wear around the house, especially when you have severe neuropathy. But my search is over... I have found a sturdy comfortable slipper that feels like a regular shoe. Thank you Orthofeet."
Bill F.
"Absolutely the best and most comfortable shoe I have owned. I originally purchased these when I developed planter fasciitis. I ended up buying a pair or dress shoes and the slippers. Great shoes!"
Roman Romero
"My diabetic father needed to wear comfortable shoes for the house and outside. He almost lost another toe because he hit it on his bed post. I bought these shoes for him. He is in love with the style, fit, and comfort."
Joyce Miller
"The slippers are comfortable, easy to put on and remove. They can be worn inside or out because the sole is sturdy and flexible. My husband has Parkinson's, and the shoes meet his varying needs."
Timothy Tynan
"I bought my wife a pair about a month ago and she loved hers from day one. I loved the look, feel, and quality: so I bought myself a pair. I too loved mine from day one, minute one. Considering buying a second pair as an outside only slipper."
Mark McVey
"These slippers work great for me. I have plantar fasciitis in my right foot and after sitting for a period of time, the first 4-5 steps are very painful. With these slippers, the support they offer helps greatly! Those first 4-5 steps are much better now."
Chimo Golf
"I have been suffering with Planters Fasciitis for over 20 Years now. I love my Asheville Ortho slippers. As soon as I get home I put my slippers on. I get a new pair for Christmas every year. Without these slippers I wouldn't be walking as I can now. Now I need a pair of sandals; maybe you can start making those."
Gary Tricarico
"I have had several pair of slippers like this, but this is the best ever. It is everything the seller says they are and more. You can barely see that there are Velcro adjusters on each side of the slipper to adjust the fit. The sizing is spot on. The quality is excellent and the support is way more than expected. Hell, I have shoes that are not made this well or that support my feet as well as these do. Buy them, you will be happy with these slippers!!Especially you old guys, like me, the support and comfort on your feet is unmatched. You will probably ware them everywhere, all day long."
Sandy Buller
"My wife ordered a pair of Asheville- Brown slippers a week before Christmas. They were shipped immediately and arrived with plenty of packing and protected, several days later and in time for Christmas for me. Started wearing them Christmas morning and haven't taken them off. The most comfortable slipper I've ever had on my feet. Warm and cozy, too!"
Diana Hall
"My Husband had been complaining of his heel hurting and had started to limp in the mornings. My cousin had purchased the same shoe and had great results along with the innersoles. He suggested we order them and see how they did. After purchase to see if it would provide any relief, and it did! I plan on purchasing the innersoles and possibly another pair of shoes for him and for myself. He has happy feet now ! Awesome !"
Gregory D.
"Excellent slippers, perfect sizing, warm and comfortable. The quality is fine with superior workmanship obvious. I bought another part away and one for my wife. The right price for the right product."
Daniel Hade
"Very comfortable. My feet feel well supported and warm. I go through a couple of pairs of slippers each year and have tried several brands. None match the comfort of these. I would say, my feet are between sizes and I ordered up. I would recommend ordering down as these slippers are quite long."
Franklin Parkhurst
"I bought these for my father who, in his late 80's, is suffering with swollen feet. This is his second pair. He swears this is the best pair of shoes he has ever had. That is from a very picky man. His normal size is 10, but with the swelling, a 12 fits him perfectly. He loves being able to loosen or tighten them quickly and he wears them everywhere...I mean everywhere."
Lee Parks
"My feet love these slippers. Very well made and fit great. Would highly recommend, if your feet hurt from walking around the house without shoes as I did. My wife was correct and insisted I buy these slippers. Thanks OrthoFeet."
Donna M. Gumfory
"Oh my goodness. Husband has been looking for the right house shoe. He fell in love with the comfort and support. Since there is no back on shoe, he doesn't have to walk it down."
---

The primary focus of the OrthoFeet brand is to offer the ultimate comfortable and functional shoes, orthotic insoles and socks. By combining athletic footwear technology and therapeutic detailing, OrthoFeet footwear offer the highest level of comfort and protection for sensitive feet.

Finding the right pair of shoes can be a tiring process, especially when faced with a foot ailment.

Orthofeet is also offering innovative high heels, which are biomechanically engineered to offer the world's most comfortable heels.

OrthoFeet employs biomedical engineers to build innovative footwear products, designed to alleviate the symptoms associated with various foot conditions, such as Plantar Fasciitis, Heel and Foot pain, bunions, corns, calluses, and neuroma, and products for individuals with diabetes, arthritis and Neuropathy.
Bioheels allow users to customize the support under the arch and to adjust the space inside the shoe, providing a perfect fit and eliminating foot slippage at the heel.

OrthoFeet products have been proven to help millions of people looking for comfort shoes, diabetic shoes, therapeutic shoes, arthritic shoes, orthotic shoes, foot orthotics, removable insoles, seam-free socks, non-binding and non-constrictive socks.