#1 Recommended Shoes by KevinRoot Medical
Sale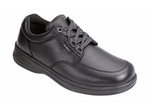 Avery Island - Black (Men's)
I have been using Orthofeet footwear and foot orthotics for my patients for over 15 years, and I can attest that they offer the best solution for people with sensitive feet, including those with foot pain, diabetes and arthritis. These shoes are designed with unique ergonomic features that cannot be found in any other brand. My patients love them, and in fact I wear them myself daily, as they are the most comfortable shoes I have ever worn.
- Steven Gershman, DPM
ORTHOPEDIC SHOES
DIABETIC SHOES
MONK STRAP SHOES FOR WOMEN
WIDE SHOES FOR WOMEN

Walk Comfort & Pain Free or Your Money Back!
Enjoy exceptional comfort and fit with Orthofeet's Avery Island - Black men's casual shoes that offer a non-binding fit, extra room for toe movement, and maximum protection against pressure points. Their anatomical orthotic insoles and ergonomic soles provide comfortable support and excellent cushioning, making Avery Island - Black superior men's orthopedic shoes for a variety of conditions, including plantar fasciitis, diabetes, neuropathy and arthritis
Comfortable Orthotic Support - Premium orthotic insoles, featuring anatomical arch support and cushioning layers provide soft, pillow-like support that enhance comfort and help ease pain on the heel, ball of the foot, knees, hips, and back caused by flat feet, overpronation, plantar fasciitis, bunions, arthritis, neuropathy and diabetes.
Like Walking on A Cloud - Light-weight soles with Ergonomic-Stride™ design and air cushioning soften step, enhance stability and add spring to your step.

Superior Comfort & Protection - Soft, seam-free interior lining eliminates friction against the skin, easing pressure on sensitive feet, bunions and Hammer-Toes.
Orthotic friendly design – Extra depth design with removable orthotic insoles (¼" thick in the forefoot area) provide ample space for custom made orthotics.
Adjustable fit - Two sets of removable spacers (1/16" and 1/8" thick). - Allow the adjustment of the space inside the shoe for a perfect fit. Available in a variety of widths.
Arch Support
Removable Insoles
Orthotic Friendly
Cushioned Heel
Extra Depth
Deep Toe-Box
Wide Toe-Box
Heel Cup
Shock Absorbing
Soft Uppers
Orthofeet Women's Shoe Sizing Chart
Widths
---
Diabetes
Plantar Fasciitis
Swollen Feet
Metatarsalgia
Ball of the foot pain
Morton's Neuroma
Neuropathy
Flat Feet
Sciiatica
Knee Pain
Heel Pain
Heel Spurs
Over Pronation
Arch Pain
Corns
Calluses
Arthritis
Osteoarthritis
Rheumatoid Arthritis
Bunions
Hammer Toes
Morton's Neuroma
Achilles Tendinitis
Back Pain
Product Care:
For Suede leather: Use a brush and a cloth.
For Full Grain Leather: Use shoe cream.
Material:
Leather

60-DAY WEAR TEST Try Risk Free
FREE Returns & Exchanges
Hassle-Free, 60 Day Return Policy
---
P. D. Robinson
"I have a mild case of Charcot foot(Both feet) . I had never found any shoes that were even close to being comfortable until I bought this shoe. I buy a new pair every year. The new ones for going out on occasions when you want to have nice shoes on, and then the old pair for everyday, then those old shoes are used for fishing, and getting into the garden and etc. each pair last three years that way."
John Bedgood
"I have a wide foot and it's been hard to find shoes that fit. My feet have been hurting at the end of every day. My son found these and suggested I get them but said I'm ordering them. This was a great decision he made for the comfort of my feet. These were the most comfortable shoes out the box. I have happy feet now. Thank you for making a shoe that fits my feet like they are custom made. Keep up the great work!"
Erik Von Handorf
"This is about the fourth pair of Orthofeet shoes that I have bought over the past several years since being diagnosed with Type 2 Diabetes and suffering from diabetic neuropathy in my feet. I walk 3-4 miles several times per week for exercise and too help keep my blood sugar under control. I particularly like the comfort of the wide toe box that gives my foot plenty of wiggle room. I also like how each order comes with a pair of extra thin insoles for each shoe, which ensures an individually perfect fit."
Deborah Lunning
"It's been two weeks since my husband started wearing a pair of Avery Island shoes. Well built ,very comfortable foot bed, and large toe box. Perfect for his Morten Neuroma and hammer toes. The enclosed inserts make for fine tuning the fit for feet that are not exactly the same size."
David Gabriel
"The shoes are what I ordered and they are so comfortable. I will be ordering some more soon. Thank you so much for the size and especially the width. All my life I have trouble finding comfortable shoes until I found out about your company ."
Bill McQueen
"I love the shoes! They fit really well with th extra inserts. I have a dislocated left hip with a twisted pelvis and spinal cord as a result. These shoes make it easier for me to walk and get around. I am glad I found Orthofeet! It's almost impossible to find shoes good for your feet and body at other stores."
Deb C.
"My husband works in a hospital at a professional level and due to his responsibilities he may put a lot of miles on in a day walking around the hospital and or stand for long periods of time. He says these were the most comfortable shoes he has ever worn. I just ordered another pair for him as he likes them so much!"
H. Gibbs
"This shoe was purchased for my 32 year old son who suffers from severe foot pain after standing and walking on concrete floors (e.g., at shopping malls, markets, etc.). It would leave him almost crippled by the end of a day. These shoes have made a huge difference in his ability to be on his feet for long periods of time and remain almost pain free. They are also a decent looking shoe, for those who are concerned that their footwear not appear "orthopedic". He would recommend them!"
S. Yungen
"I have been suffering from Planter Fasciitis for several weeks. I ordered these shoes based on the online reviews, but worried about proper size. Happily, though, the shoes fit perfectly and have terrific arch support. While not a cure for the foot problem, they do help relieve some of the pain and are comfortable to wear throughout the day. The styling is very nice, too."
Dennis Lundblad
"It can be hard to find shoes that fit my 8.5EEE feet, but these fit perfectly. I am a teacher and I'm on my feet nearly all day, so I've been looking for shoes that would allow me to stand comfortably for long periods. After the first few days in these shoes, my feet stopped hurting at night. I couldn't be more pleased."
Frank Hranicky
"Wow, as soon as I slipped on the Ortho's, I could tell I was going to like them. And now that I'm wearing them for the first full day, even better. It really feels like I have no shoes on at all...and certainly not like they're brand new. Love them, and have already recommended them to others. Thanks!"
Rhonda Blurton
"My husband has struggled with foot pain from plantar faciitis for months. He has tried several remedies with limited success. These shoes have allowed him to walk without pain again and he is so happy with the comfort!"
David Proulx
"I had been having problems with my feet and knee so I was hunting for some new shoes and I ran across an add on facebook. I don't buy anything on facebook but I decided to look at your site. I ordered and started wearing the shoes the next day after receiving them. They have helped me and now I do not have any problems with my feet or knees. The shoes are great. I used to get Hush Puppies but they hard to find now. I had Red Wing Shoes but they were not helping at all. I am very pleased with my purchase."
Leonard Lewicki
"I've suffered with pain in my knees and feet basically my entire life. I've had orthotics for over 25 years now, but even with them, my feet were rarely comfortable....and if so, it didn't last long! These new Ortho shoes were a hit with me from the moment I put them on, and remained so throughout the evening. I just put in an order for 4 more pairs of Ortho shoes in differing styles!"
Jerry Bridges Jr.
"This is my second pair of the Avery Island in black. When I got my first pair a few years ago, I was amazed at how comfortable they were and how well they have lasted. I'm expecting nothing less from this pair!! You can't go wrong here!!"
---

The primary focus of the OrthoFeet brand is to offer the ultimate comfortable and functional shoes, orthotic insoles and socks. By combining athletic footwear technology and therapeutic detailing, OrthoFeet footwear offer the highest level of comfort and protection for sensitive feet.

Finding the right pair of shoes can be a tiring process, especially when faced with a foot ailment.

Orthofeet is also offering innovative high heels, which are biomechanically engineered to offer the world's most comfortable heels.

OrthoFeet employs biomedical engineers to build innovative footwear products, designed to alleviate the symptoms associated with various foot conditions, such as Plantar Fasciitis, Heel and Foot pain, bunions, corns, calluses, and neuroma, and products for individuals with diabetes, arthritis and Neuropathy.
Bioheels allow users to customize the support under the arch and to adjust the space inside the shoe, providing a perfect fit and eliminating foot slippage at the heel.

OrthoFeet products have been proven to help millions of people looking for comfort shoes, diabetic shoes, therapeutic shoes, arthritic shoes, orthotic shoes, foot orthotics, removable insoles, seam-free socks, non-binding and non-constrictive socks.