#1 Recommended Shoes by KevinRoot Medical
Sale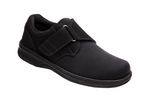 Bismarck - Stretchable (Men's)
I have been using Orthofeet footwear and foot orthotics for my patients for over 15 years, and I can attest that they offer the best solution for people with sensitive feet, including those with foot pain, diabetes and arthritis. These shoes are designed with unique ergonomic features that cannot be found in any other brand. My patients love them, and in fact I wear them myself daily, as they are the most comfortable shoes I have ever worn.
- Steven Gershman, DPM
ORTHOPEDIC SHOES
DIABETIC SHOES
MONK STRAP SHOES FOR WOMEN
WIDE SHOES FOR WOMEN

Walk Comfort & Pain Free or Your Money Back!
Bismarck stretchable, non-binding upper shapes to the contours of the foot, enhancing comfort, and easing pressure on bunions, hammer-toes, as well as swollen feet. Bismarck stretchable shoes provide extra room for toe movement, and maximum protection against pressure points. The anatomical orthotic insoles and the ergonomic sole offer cushioning support and excellent stability, making every step you take soothing with comfort.
Superior Comfort & Fit - Stretchable design offers a relaxed, comfortable fit and helps relieve pressure on Bunions, Hammer-Toes and sensitive feet.
Comfortable Orthotic Support – Premium orthotic insoles, featuring anatomical arch support and cushioning layers that provide soft, pillow-like support that enhance comfort and help ease pain on the heel, ball of the foot, knees, hips, and back caused by flat feet, overpronation, plantar fasciitis, bunions, arthritis, neuropathy and diabetes.
Easy Gait - Light-weight soles with Ergonomic-Stride™ design and air cushioning soften step and enhance stability. They add spring and comfort to your step for a "Walking on a cloud" experience.
Protective Interior - Soft, seam-free interior lining eliminates pressure points and friction against skin, offering superior comfort and protection.
Orthotic friendly design - Extra depth design with removable orthotic insoles (¼" thick in the forefoot area) provide ample space for custom made orthotics.
Adjustable fit - Two sets of removable spacers (1/16" and 1/8" thick). - Allow the adjustment of the space inside the shoe for a perfect fit.
Arch Support
Removable Insoles
Orthotic Friendly
Cushioned Heel
Extra Depth
Deep Toe-Box
Wide Toe-Box
Heel Cup
Shock Absorbing
Soft Uppers
Orthofeet Women's Shoe Sizing Chart
Widths
---
Diabetes
Plantar Fasciitis
Swollen Feet
Metatarsalgia
Ball of the foot pain
Morton's Neuroma
Neuropathy
Flat Feet
Sciiatica
Knee Pain
Heel Pain
Heel Spurs
Over Pronation
Arch Pain
Corns
Calluses
Arthritis
Osteoarthritis
Rheumatoid Arthritis
Bunions
Hammer Toes
Morton's Neuroma
Achilles Tendinitis
Back Pain
Product Care:
For Suede leather: Use a brush and a cloth.
For Full Grain Leather: Use shoe cream.
Material:
Leather

60-DAY WEAR TEST Try Risk Free
FREE Returns & Exchanges
Hassle-Free, 60 Day Return Policy
---
Robert Bissell
"My wife ordered these for me because I was only wearing crocs and my back was hurting . I have a large bunion on my left foot and the stretch in these shoes does not rub. They do not look like old man shoes and I can wear them with jeans and casual pants, looks great. I now have no more lower back issues and I stand taller with a springy walk. Thanks wife!"
Robert Zell
"This is my second pair of shoes from Orthofeet. I purchased these for weekend wear as my first pair is for work. These are by far the best shoes I've ever worn from any manufacturer when it comes to relieving foot pain and discomfort. The padding, arch and heel support are like nothing I've ever felt in any other brand of shoe. Now, in spite of foot pain from a botched operation in one foot and the residual effects of a fork lift running over my other foot, I can once again tolerate being on my feet for extended periods of time. Truly glad I found this brand!"
Horst Mahr
"My elderly dad has swollen feet due to medical conditions. These were perfect. Adjustable velcro closings made the shoe easy to put on, rubber soles prevent slipping. All-in-all best purchase that suited his needs!"
Barry Nash
"These shoes were able to fit over my bandages. They got me through my healing process. They also employ a velcro closure which is a bonus if you have some swelling. I don't work for Orthofeet, however, I feel compelled to say that this company makes shoes that are well made, light on your feet, have extra depth, and run in sizes up to 16-6E. Walking in these shoes is like walking on a delightful cushion with stability."
Mimi Henderson
"We got these shoes for our fathers's 91st Birthday. Because of swelling due to diabetes Dad has been wearing slippers for years. Finally, he has proper shoes that are not only comfortable, but actually offer support."
Sandy T.
"I have bunions that have been a source of pain for my entire adult life. These shoes not only have eased my bunion pain, but has also have relieved my chronic knee pain. My husband has commented that I'm not limping anymore!"
Jock R.
"These shoes are more than I hoped for. I have very flat feet and R. Arth.,they cushion my feet. The straps are great for my sore fingers. You can't go wrong with these shoes. I had taken the laces out of my tennis shoes, now with this velcro strap, I'm a happy man."
Krish I.
"I have a problem with my legs muscels and need shoes which can accomodate my braces and make me feel comfortable and confident while walking. These shoes are excellent. They are not only comfortable but I can walk relatively long distance without feeling my feet tired. They are soft and can be put on and removed easily. I bought two pairs to make sure I have these shoes for a long time even if the model gets discontinued in the future."
Dewey Burson
"I just got these shoes and they are perfect, they have a good arch, which my doctor has been pestering me to get, they are comfortable, and I ordered triple wide, and they are indeed triple wide (EEE). I've never had velcro close shoes before, the closure is easy, and still looks good. The only color available is black, but that is fine with me, and the shoe looks nice for an adults casual shoe, it has style in the classical mode while obviously being a modern shoe. In all, this was a good experience and I consider my money well spent!"
Miss Dee
"These shoes helped my sore, achy feet and legs a lot! After almost 2 years, I'm just now ordering a replacement pair. I have to be on my feet a lot for my job, so these shoes are a blessing."
B. M. Fleming
"These shoes were perfect for my loved one who gets swollen feet. We had him measured at a local medical store and then I ordered these from this seller. Very happy with purchase and seller shipped out these shoes promptly. Would buy from this company again. Thank you."
Kathy N.
"I bought these for my husband when he had been bed-bound for several months and was just learning to walk again. His poor feet were so swollen, he could barely get into his old shoes. I got these 1/2 size larger than his usual size. They have been absolutely life-savers. The generous size and multiple insoles made it easy to get exactly the right fit. They were very supportive and totally non-slip even on wet floors. I have zero complaints about these shoes."
Donald Brown
"This shoe will never win a style award, but who cares. This is the most, I repeat, most comfortable shoe I have ever worn. I highly recommend this shoe for anyone who stands or walks a great deal during the day. Bottom line...you'll love this shoe. I looking forward to ordering others in the future."
Walter Leveille
"Wearing these shoes to work, and they feel and look great! Thank you for making these shoes, and allowing them to be customized with the inserts. Very smart, and very accommodating. Highly recommend!"
Thomas Keane
"I will now continue to order from your company from this day forward. I was ordering from another company but they discontinued carrying the shoes that my father desperately needs. Ordering for your company was not only easy through the computer but the delivery was very very quick. And my father had his new shoes in less than 2 days. Keep up the good work."
---

The primary focus of the OrthoFeet brand is to offer the ultimate comfortable and functional shoes, orthotic insoles and socks. By combining athletic footwear technology and therapeutic detailing, OrthoFeet footwear offer the highest level of comfort and protection for sensitive feet.

Finding the right pair of shoes can be a tiring process, especially when faced with a foot ailment.

Orthofeet is also offering innovative high heels, which are biomechanically engineered to offer the world's most comfortable heels.

OrthoFeet employs biomedical engineers to build innovative footwear products, designed to alleviate the symptoms associated with various foot conditions, such as Plantar Fasciitis, Heel and Foot pain, bunions, corns, calluses, and neuroma, and products for individuals with diabetes, arthritis and Neuropathy.
Bioheels allow users to customize the support under the arch and to adjust the space inside the shoe, providing a perfect fit and eliminating foot slippage at the heel.

OrthoFeet products have been proven to help millions of people looking for comfort shoes, diabetic shoes, therapeutic shoes, arthritic shoes, orthotic shoes, foot orthotics, removable insoles, seam-free socks, non-binding and non-constrictive socks.