#1 Recommended Shoes by KevinRoot Medical
Sale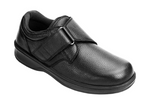 Broadway - Black Orthotic Shoe (Men's)
I have been using Orthofeet footwear and foot orthotics for my patients for over 15 years, and I can attest that they offer the best solution for people with sensitive feet, including those with foot pain, diabetes and arthritis. These shoes are designed with unique ergonomic features that cannot be found in any other brand. My patients love them, and in fact I wear them myself daily, as they are the most comfortable shoes I have ever worn.
- Steven Gershman, DPM
ORTHOPEDIC SHOES
DIABETIC SHOES
MONK STRAP SHOES FOR WOMEN
WIDE SHOES FOR WOMEN

Walk Comfort & Pain Free or Your Money Back!
Enjoy exceptional comfort and fit with Orthofeet's Broadway - Black Orthotic Shoe men's casual shoes that offer a non-binding fit, extra room for toe movement, and maximum protection against pressure points. Their anatomical orthotic insoles and ergonomic soles provide comfortable support and excellent cushioning, making Broadway - Black Orthotic Shoe superior men's orthopedic shoes for a variety of conditions, including plantar fasciitis, diabetes, neuropathy and arthritis.
Comfortable Orthotic Support - Premium orthotic insoles, featuring anatomical arch support and cushioning layers provide soft, pillow-like support that enhance comfort and help ease pain on the heel, ball of the foot, knees, hips, and back caused by flat feet, overpronation, plantar fasciitis, bunions, arthritis, neuropathy and diabetes.
Like Walking on A Cloud - Light-weight soles with Ergonomic-Stride™ design and air cushioning soften step, enhance stability and add spring to your step.

Superior Comfort & Protection - Soft, seam-free interior lining eliminates friction against the skin, easing pressure on sensitive feet, bunions and Hammer-Toes.
Orthotic friendly design – Extra depth design with removable orthotic insoles (¼" thick in the forefoot area) provide ample space for custom made orthotics.
Adjustable fit - Two sets of removable spacers (1/16" and 1/8" thick). - Allow the adjustment of the space inside the shoe for a perfect fit.
Arch Support
Removable Insoles
Orthotic Friendly
Cushioned Heel
Extra Depth
Deep Toe-Box
Wide Toe-Box
Heel Cup
Shock Absorbing
Soft Uppers
Orthofeet Women's Shoe Sizing Chart
Widths
---
Diabetes
Plantar Fasciitis
Swollen Feet
Metatarsalgia
Ball of the foot pain
Morton's Neuroma
Neuropathy
Flat Feet
Sciiatica
Knee Pain
Heel Pain
Heel Spurs
Over Pronation
Arch Pain
Corns
Calluses
Arthritis
Osteoarthritis
Rheumatoid Arthritis
Bunions
Hammer Toes
Morton's Neuroma
Achilles Tendinitis
Back Pain
Product Care:
For Suede leather: Use a brush and a cloth.
For Full Grain Leather: Use shoe cream.
Material:
Leather

60-DAY WEAR TEST Try Risk Free
FREE Returns & Exchanges
Hassle-Free, 60 Day Return Policy
---
Guy Lyons
"I have been wearing "prescription" orthopedic shoes for 20 years. This year I tried 4 different shoes and found the Broadway XX wide to be the most comfortable and pain free for my feet. I would recommend Orthofeet to anyone with diabetic nephropathy or shoes that just make your feet ache. Five stars!"
Abba Krieger
"I have issues with my feet. I have been buying expensive shoes, some of which wear poorly. Although I do not know yet how these shoes will wear, these shoes are extremely comfortable. The company is very professional from purchase to delivery. I recommend these shoes highly!!!"
Robert Cobb
"After going through lots of other shoes to help with my planar fasciitis these are the only ones that offered me some relief. Not only that, they have lasted 2 years!"
Nicholas Fiorillo Jr.
"These shoes fit perfectly right out of the box. The one strap tie is a blessing for one who doesn't like to bend over his big stomach to tie shoelaces. I love them and would recommend them to anyone who needs extra wide shoes."
Sandra Kubacki
"My husband has diabetes and was having problems finding a pair of comfortable shoes...these did the trick! It is the second pair we have ordered and intend to stick with this brand...very well satisfied!"
Douglas Brinkley
"I bought these for my 90 year old father who has neuropathy resulting in dexterity and mobility issues. These shoes are very easy for him to put on. The tongue lifts out of the way providing a wider opening for the foot making access easier. The Velcro strap is also easy for a person with challenging dexterity."
Charles Napier
"Shoes are a perfect fit. Most comfortable shoe I have ever had. I have worn them every day since receiving them. I have had lower back problems for years. I have had very little pain since receiving them. Back pain? Try them. You will love them."
Laura Falls
"Oh so comfortable on diabetic, sensitive feet. Tend to wear out with constant use though .. I think it was only after one year that the bottom started coming off at the heel, but after trying 3 other styles / brands of shoes, went back to this because it was so much more comfortable. My husband has big, wide feet , and these are available in 3 eee. For the money, it's a great deal."
James Teubert
"I bought the shoes because of orthofeet's claim to relieve the pain of Plantar Fasciitis. Initially I was skeptical, but was amazed to feel relief from the first day I started wearing them. They really do relieve the pain from Plantar Fasciitis. I will be ordering another pair of shoes."
Richard Higby
"The only shoes I have found that actually make walking and standing more comfortable. Regardless of the reason for foot pain, I believe that these shoes would be helpful. If they prove to help me over time, I will purchase another pair in a different style."
Michael Jordan
"I've worn these shoes for only a few days but I am completely satisfied with them. In fact I am considering buying a second pair. I completely satisfied with the entire purchasing process. Well done."
Kimberly Howze
"I have a lot of trouble with swelling in my feet and arthritis. I recently started a job that requires dress shoes at all times. Until I got these shoes I was in tears at the end of each work day! Now I feel like I am walking on air! Thank you for making my style and comfort possible Ortho Feet!"
Dave Munro
"Have hard to fir, problem feet. Called before ordering to check size and fit to be similar to other shoes from you. Talked to helpful and knowledgeable person who assured me that the same last is used on all your shoes, so, I ordered them. Look GOOD, fit great, GRAND shoes, THANK YOU!"
Patrick Whitaker
"I have been recovering from a fractured heel and ankle. These shoes have been a great blessing! The gel heel pad provides great cushioning to my heel and the support, especially in the arches is very good! They are not the most beautiful shoes but the comfort makes me never want to take them off. If your feet hurt, try this - or some other shoe here."
Carol Weiss
"I buy these every 4 months for my Chef son who is on his feet 18 hours a day! No other shoe has served him so well, minimized his foot pains, and worked well on his diabetic feet. Great "preventative maintenance" and keeps him smiling on the job! His staff cheers when he wears these! How often do you have sale prices on these? Best deal going!"
---

The primary focus of the OrthoFeet brand is to offer the ultimate comfortable and functional shoes, orthotic insoles and socks. By combining athletic footwear technology and therapeutic detailing, OrthoFeet footwear offer the highest level of comfort and protection for sensitive feet.

Finding the right pair of shoes can be a tiring process, especially when faced with a foot ailment.

Orthofeet is also offering innovative high heels, which are biomechanically engineered to offer the world's most comfortable heels.

OrthoFeet employs biomedical engineers to build innovative footwear products, designed to alleviate the symptoms associated with various foot conditions, such as Plantar Fasciitis, Heel and Foot pain, bunions, corns, calluses, and neuroma, and products for individuals with diabetes, arthritis and Neuropathy.
Bioheels allow users to customize the support under the arch and to adjust the space inside the shoe, providing a perfect fit and eliminating foot slippage at the heel.

OrthoFeet products have been proven to help millions of people looking for comfort shoes, diabetic shoes, therapeutic shoes, arthritic shoes, orthotic shoes, foot orthotics, removable insoles, seam-free socks, non-binding and non-constrictive socks.