#1 Recommended Shoes by KevinRoot Medical
Sale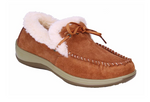 I have been using Orthofeet footwear and foot orthotics for my patients for over 15 years, and I can attest that they offer the best solution for people with sensitive feet, including those with foot pain, diabetes and arthritis. These shoes are designed with unique ergonomic features that cannot be found in any other brand. My patients love them, and in fact I wear them myself daily, as they are the most comfortable shoes I have ever worn.
- Steven Gershman, DPM
ORTHOPEDIC SHOES
DIABETIC SHOES
MONK STRAP SHOES FOR WOMEN
WIDE SHOES FOR WOMEN

Walk Comfort & Pain Free or Your Money Back!
Capri women's moccasins offer a non-binding fit, extra room for toe movement, and maximum protection against pressure points. The anatomical orthotic insoles and the ergonomic sole offer cushioning support and excellent stability, making every step you take soothing with comfort.
Orthotic support - Ortho-Comfort TM premium orthotic insoles, featuring anatomical arch support and multiple cushioning layers help improve foot and leg alignment, enhancing comfort and easing stress and pain on the heel, ball of the foot, knees, hips, and back caused by flat feet, over-pronation, plantar fasciitis, bunions, arthritis and diabetes.
Orthotic friendly design – Extra depth design with removable orthotic insoles that are ¼" thick in the forefoot area provide ample space for custom made orthotics.
Easy gait - Light-weight sole with air cushioning and Ergonomic-Stride(TM) design. Softens step, enhances stability, adds spring to your step, and helps facilitate foot motion.
Protective Interior - Soft, seam-free interior lining. Eliminates pressure points and friction against skin, offering superior protection.
Superior Comfort - Soft, non-binding upper design. Eases pressure, and enhances comfort, offering a superior solution for bunions and sensitive feet.
Adjustable fit- A lacing system that is looped around the heel. Enables to adjust the upper for a perfect fit.
Arch Support
Removable Insoles
Orthotic Friendly
Cushioned Heel
Extra Depth
Deep Toe-Box
Wide Toe-Box
Heel Cup
Shock Absorbing
Soft Uppers
Orthofeet Women's Shoe Sizing Chart
Widths
---
Diabetes
Plantar Fasciitis
Swollen Feet
Metatarsalgia
Ball of the foot pain
Morton's Neuroma
Neuropathy
Flat Feet
Sciiatica
Knee Pain
Heel Pain
Heel Spurs
Over Pronation
Arch Pain
Corns
Calluses
Arthritis
Osteoarthritis
Rheumatoid Arthritis
Bunions
Hammer Toes
Morton's Neuroma
Achilles Tendinitis
Back Pain
Product Care:
For Suede leather: Use a brush and a cloth.
For Full Grain Leather: Use shoe cream.
Material:
Leather

60-DAY WEAR TEST Try Risk Free
FREE Returns & Exchanges
Hassle-Free, 60 Day Return Policy
---
Mildred Brazeal
"I would buy these again! They live up to Orthofeet's standards and then some. I have purchased eight pairs of OrthoFeet shoes and they never disappoint. They also have excellent customer service."
Lorrie Marchini
"I have 3 pairs of Orthofeet shoes and just had to try a pair of their slippers. I was not disappointed. They're just as comfortable as they look. I got the Capris and they are as supportive as my Orthofeet shoes. I never had slippers with arch support before. These are great. Supportive, roomy, soft on the footbed and have a thick sole so I can wear them outside to get the mail. I love these. Thanks Orthofeet!"
Diane Abbott
"These slippers are perfect! Warm, soft lining, cushioned sole, great arch support. Can't say enough good about them. Some folks advised going a size larger in their reviews, but this was not the case for me. Fit as expected. So great to have a pair of slippers that gives me the same support and pain free walking experience as my MBT's with custom orthotics."
Zelda Nichols
"I haven't been able to wear slippers for 18 years because of my orthotics. These slippers hold my orthotics and are so comfortable I forgot I had them on and wore them to a restaurant. It wasn't until I was getting out of the car that I noticed them. Now that's comfort."
Donna Wildermuth
"My feet are no longer hurting from walking around on thin soled bedroom shoes on wood floors. I love these shoes. My first purchase from Orthofeet but won't be my last."
Rita Sevell
"Have been looking for a comfortable, supportive slipper as I have a very bad back. These slippers are so amazing! What a difference when I walk around from what it was like before. A great product!"
Marcia Price
"I bought three pairs the other day. Two pairs were ladies and one pair was for a man. I was delighted with the pair I got for myself. The other two pairs were for some dear friends for Christmas. I spoke with the lady today and she said both she and her husband wore their slippers ALL day Christmas. I was thrilled. Thanks for making this a Christmas we will all remember (and no hurting feet)!"
Sherry Higham
"I bought these for me, my husband and sister and we all agree that they are the most comfortable, warm slippers we have ever had! Then, just to prove a point, I wore them to the stable without realizing that they were slippers as the sole is good enough to wear outside."
Barbara Smigels
"From the moment I put them on my feet, I loved them! I prefer a full slipper since I go up and down stairs all day long. I did order a half size larger, as recommended, and they fit perfectly. This is my first purchase and I will be back for shoes. I am very satisfied!"
Pamela Nelson
"I suffer from neuropathy due to chemo, have been in pain for 10 months up intell I ordered a pair of shoes from here, all I couldn't do was crying because it took most of my pain away. So the next day I ordered the slippers for in the house and was so thankful that I did . I will always buy my shoes and slippers from here now, but have a felling these will last me a long time , for they are well constructed and so soft. I would recommend these shoe's and slippers to everyone suffering from neuropathy. Thanks again!"
Bea Burgess
"Took 50 years to find Orthofeet shoes, wish it had happened sooner. Purchased a pair for me and a pair for my daughter who has very bad feet!!! What a difference a pair of the right shoes make."
Carla Reinhard
"I purchased 2 Capri-Camel slippers for my daughter and myself and also bought 2 for my son's and everyone is really loves them. the slipper is a great fit and the support is like no other slipper out there. We all are so happy with them. I am going to purchase a pair for my husband too. The online help chat person is wonderful. I wasn't sure on they sizing they answered my question and are very helpful with anything else that is needed. I would highly recommend the slippers to anyone and my family is very picky on comfortable slippers."
Judy Candall
"Fit perfect from the moment I put them on Christmas morning! Love the support they provide, so much better than slipper type house shoes. Highly recommended. I have Neuropathy in both feet and with the extra support my feet feel great~well as much as I can 'feel'."
Laura C.
"I'm dealing with two problems. Plantar fascia and a surgery that left paralysis on my left side/foot. I needed a slipper with support that had a back to accommadate my ability to keep a shoe on and not be hard to walk in. This slipper fits well, has the support and is comfy. All around - fits my needs."
Jacquelyn Steen
"Love this shoe, love the way they fit . One of the most comfortable and warm slippers I have ever worn. Excellent arch and heel support, even thought they are a little pricey, they are worth every penny. This is my second pair of Ortho Feet shoes, first pair was the Mary-Jane's with the velcro strap, and both pair are worth the money."
---

The primary focus of the OrthoFeet brand is to offer the ultimate comfortable and functional shoes, orthotic insoles and socks. By combining athletic footwear technology and therapeutic detailing, OrthoFeet footwear offer the highest level of comfort and protection for sensitive feet.

Finding the right pair of shoes can be a tiring process, especially when faced with a foot ailment.

Orthofeet is also offering innovative high heels, which are biomechanically engineered to offer the world's most comfortable heels.

OrthoFeet employs biomedical engineers to build innovative footwear products, designed to alleviate the symptoms associated with various foot conditions, such as Plantar Fasciitis, Heel and Foot pain, bunions, corns, calluses, and neuroma, and products for individuals with diabetes, arthritis and Neuropathy.
Bioheels allow users to customize the support under the arch and to adjust the space inside the shoe, providing a perfect fit and eliminating foot slippage at the heel.

OrthoFeet products have been proven to help millions of people looking for comfort shoes, diabetic shoes, therapeutic shoes, arthritic shoes, orthotic shoes, foot orthotics, removable insoles, seam-free socks, non-binding and non-constrictive socks.