#1 Recommended Shoes by KevinRoot Medical
Sale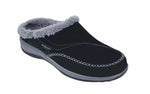 Charlotte - Black (Women's)
I have been using Orthofeet footwear and foot orthotics for my patients for over 15 years, and I can attest that they offer the best solution for people with sensitive feet, including those with foot pain, diabetes and arthritis. These shoes are designed with unique ergonomic features that cannot be found in any other brand. My patients love them, and in fact I wear them myself daily, as they are the most comfortable shoes I have ever worn.
- Steven Gershman, DPM
ORTHOPEDIC SHOES
DIABETIC SHOES
MONK STRAP SHOES FOR WOMEN
WIDE SHOES FOR WOMEN

Walk Comfort & Pain Free or Your Money Back!
Charlotte women's slippers are designed with anatomical arch support, Ergonomic-Stride sole, and adjustable strap, offering ultimate comfort and helping ease pain on the heel, ball of the foot, knees, hips, and back caused by flat feet, plantar fasciitis, bunions, arthritis, neuropathy and diabetes.
Orthotic support - Ortho-Comfort TM premium orthotic insoles, featuring anatomical arch support and multiple cushioning layers help improve foot and leg alignment, enhancing comfort and easing stress and pain on the heel, ball of the foot, knees, hips, and back caused by flat feet, overpronation, plantar fasciitis, bunions, arthritis and diabetes.
Easy gait - Lightweight cushioning sole with Ergonomic-Stride(TM) design softens step, making every step you take soothing with comfort.
Comfort fit - Soft leather upper, padded interior, and extra foam padding enhances comfort from heel to toe.
Adjustable fit - Hook and Loop strap along with fitting spacers enable to adjust the space inside the shoe to comfortably hug your feet and offer a perfect fit.
Orthotic friendly design - Extra depth design with removable orthotic insoles, which are ¼" thick in the forefoot area, provide ample space for custom made orthotics.
Arch Support
Removable Insoles
Orthotic Friendly
Cushioned Heel
Extra Depth
Deep Toe-Box
Wide Toe-Box
Heel Cup
Shock Absorbing
Soft Uppers
Orthofeet Women's Shoe Sizing Chart
Widths
---
Diabetes
Plantar Fasciitis
Foot pain
Neuropathy
Flat Feet
Heel Pain/Heel Spur
Over Pronation
Arthritis
Knee & Hip pain
Bunions
Hammer Toes
Morton's Neuroma
Achilles Tendon Pain
Back Pain
Product Care:
For Suede leather: Use a brush and a cloth.
For Full Grain Leather - Use shoe cream.
Material:
Leather

60-DAY WEAR TEST Try Risk Free
FREE Returns & Exchanges
Hassle-Free, 60 Day Return Policy
---
Leslie Bandaccari
"These are are perfect. I have Neuropathy and Achilles Tendinitis in my feet. They provided immediate relief without needing a break in period. I will be buying more."
Eva Green
"They are very comfortable. Worth every penny. I have arthritis, so the support has been good for my knees. Looking forward to the other second pair I ordered."
Lynnette Stuhr
"Fast efficient service. Product is as shown & described on website. Very pleased. Referred daughter, she also bought a pair."
Sandra Mackay
"Wow! I was having major issues with my feet and lower legs. My husband purchased a pair of shoes from Orthofeet a few years ago and claimed they worked miracles on his feet. He urged me to try a pair before going to a dr. It's totally amazing that from the day I put them on, I have been pain free! I am a believer now!"
Elizabeth Herms
"Orthofeet was recommended to me by a friend of a friend (Sharon from Crossville) she was so thrilled with hers and how it helped her feet and walking that I went right to the website. Even though I purchased a different shoe for different problems I am just as happy with them as she is. Thank you"
Shirley Schneider
"So glad I found Orthofeet. My feet are now Happy feet. Less pain, more comfort. After trying out the first pair I had to order another. Thank you."
---

The primary focus of the OrthoFeet brand is to offer the ultimate comfortable and functional shoes, orthotic insoles and socks. By combining athletic footwear technology and therapeutic detailing, OrthoFeet footwear offer the highest level of comfort and protection for sensitive feet.

Finding the right pair of shoes can be a tiring process, especially when faced with a foot ailment.

Orthofeet is also offering innovative high heels, which are biomechanically engineered to offer the world's most comfortable heels.

OrthoFeet employs biomedical engineers to build innovative footwear products, designed to alleviate the symptoms associated with various foot conditions, such as Plantar Fasciitis, Heel and Foot pain, bunions, corns, calluses, and neuroma, and products for individuals with diabetes, arthritis and Neuropathy.
Bioheels allow users to customize the support under the arch and to adjust the space inside the shoe, providing a perfect fit and eliminating foot slippage at the heel.

OrthoFeet products have been proven to help millions of people looking for comfort shoes, diabetic shoes, therapeutic shoes, arthritic shoes, orthotic shoes, foot orthotics, removable insoles, seam-free socks, non-binding and non-constrictive socks.