#1 Recommended Shoes by KevinRoot Medical
Sale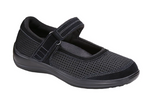 Chattanooga - Black (Women's)
I have been using Orthofeet footwear and foot orthotics for my patients for over 15 years, and I can attest that they offer the best solution for people with sensitive feet, including those with foot pain, diabetes and arthritis. These shoes are designed with unique ergonomic features that cannot be found in any other brand. My patients love them, and in fact I wear them myself daily, as they are the most comfortable shoes I have ever worn.
- Steven Gershman, DPM
ORTHOPEDIC SHOES
DIABETIC SHOES
MONK STRAP SHOES FOR WOMEN
WIDE SHOES FOR WOMEN

Walk Comfort & Pain Free or Your Money Back!
Enjoy exceptional comfort and fit with Orthofeet's Chattanooga - Black women's casual shoes that offer a non-binding fit, extra room for toe movement, and maximum protection against pressure points. Their anatomical orthotic insoles and ergonomic soles provide comfortable support and excellent cushioning, making Chattanooga - Black superior women's orthopedic shoes for a variety of conditions, including plantar fasciitis, diabetes, neuropathy and arthritis.
Orthotic support - Ortho-Comfort TM premium orthotic insoles, featuring anatomical arch support and multiple cushioning layers help improve foot and leg alignment, enhancing comfort and easing stress and pain on the heel, ball of the foot, knees, hips, and back caused by flat feet, over-pronation, plantar fasciitis, bunions, arthritis and diabetes.
Orthotic friendly design – Extra depth design with removable orthotic insoles that are ¼" thick in the forefoot area provide ample space for custom made orthotics.
Easy gait - Light-weight cushioning sole with Ergonomic-Stride(TM) design softens step, and helps propel foot forward.
Protective Interior - Soft, seam-free lining design with extra foam padding eliminates pressure points, and helps reduce friction against skin.
Comfort fit - soft, non-binding upper eliminates pressure points and enhances comfort.
Two-Way Strap System - enables fastening on either side of the shoe and an easy adjustment of the length of the strap.
Arch Support
Removable Insoles
Orthotic Friendly
Cushioned Heel
Extra Depth
Deep Toe-Box
Wide Toe-Box
Heel Cup
Shock Absorbing
Soft Uppers
Orthofeet Women's Shoe Sizing Chart
Widths
---
Diabetes
Plantar Fasciitis
Swollen Feet
Metatarsalgia
Ball of the foot pain
Morton's Neuroma
Neuropathy
Flat Feet
Sciiatica
Knee Pain
Heel Pain
Heel Spurs
Over Pronation
Arch Pain
Corns
Calluses
Arthritis
Osteoarthritis
Rheumatoid Arthritis
Bunions
Hammer Toes
Morton's Neuroma
Achilles Tendinitis
Back Pain
Product Care:
Clean with washcloth. Use a small amount of mild soap and water. Air dry. Do not machine wash.
Material:
Synthetic & Synthetic

60-DAY WEAR TEST Try Risk Free
FREE Returns & Exchanges
Hassle-Free, 60 Day Return Policy
---
Doreen Underwood
"I love my new "Chattanooga". I am an amputee, but the foot I do have has a very painful bunion. Even though I don't walk on it, it is the only shoe I have found, after searching for years, that makes my bunion happy. I tell everyone that complains about their bunion that they should get a shoe like mine."
Valerie Woodworth
"I am completely thrilled with these shoes! Comfort was my number one need and these are perfect (I volunteer in a hospital ER and get anywhere from 6,000-15,000 steps in 4-6 hours). There is an added bonus as these shoes are VERY light weight. Heavy shoes can make my knees ache. I love the fabric/mesh and the Mary Jane style is my favorite. I would buy these again, absolutely."
Emily Douglas
"These shoes are the nicest, most supportive I've ever owned. I have a lot of trouble finding shoes that are not only my size, but also WIDE. Especially work shoes! I have a pretty high arch and bunions on both feet, along with some back problems-- so I need my shoes to be supportive and comfortable, and these are absolutely both. They are also quite breathable and look nice enough to wear to the office."
Cheryl Starling
"I was having left heel and knee pain and honestly didn't expect my new Orthofeet shoes to help, but I was so pleasantly surprised! WOW, what a difference. I wore them all day at work the first day and even when I took them off after work, no pain at all. I have used the insoles in other shoes or worn these shoes almost every day and I am shocked at the difference in my heel and knee. I will be ordering more insoles and another pair of shoes. THANK YOU, Orthofeet!"
Peg Dougherty
"I got a tax refund and I am determined to start walking again so I am trying various shoes! I was diagnosed with A-fib last year and got that fixed, thank God. Got these yesterday and put them on today. I am stunned at how good they felt the whole morning. Wonderful support. Like how you can adjust the heel. They will be great in the summe , with all kinds of outfits. Fits true to size."
Elizabeth Montomery
"I have always had troubled feet, lately, pressure on the outside of my big toes causing painful calluses. I feel no pressure whatsoever in these shoes. For anyone hesitant to pay for GOOD shoes, as opposed to inexpensive alternatives, I encourage you to make the investment. These are clearly made to last."
Sue Harig
"Such a great fitting shoe! Since I have a medical condition called lymphedema, I am required to wear bandages on my legs and feet. Finding shoes that can fit over these wraps was a nightmare. When I tried these shoes on, I could slip right into them with ease. I had to extend the straps, however, to accommodate my bandages. Finding these shoes has made my life so much easier. Thanks for such a great product and solution!"
Nancy Peteraf
"Very comfortable shoe. They are wide, but I like to wear wool socks in the winter and these fit nicely with them on. They look good with my dress pants and accommodate my bunion on one foot and my steel plate and deformed foot from a botched bunion operation on the other. Experiment with the inserts. Although they felt good as is, I found that the blue inserts made them even more comfortable. Would definitely buy them again."
Rosemary Mann
"Absolutely the most comfortable shoes ever. I have had three major surgeries on my feet, and hammer toes, bunions, callouses and an arch that is too high. The only shoes I've been able to wear are sneakers, and most of them wind up killing me. The first time I wore the Chattanooga shoes, I wore them for four hours, and I'm happy to say they felt good the entire time. They could be a little less bulky looking, but I'd rather be comfortable than fashionable. Thank You for every step I take."
Anne Hughes-Hinnen
"I'm so glad I finally bought these super-comfy but supportive, protective shoes...and just in time. I have an inflammation in my large toe, and I can't bear the pain with putting on any other shoe. My Ortho shoes had just arrived, and it does not put pressure on the toe! I'm so glad you suggested ordering a size up... especially since I'm wearing cushioning socks. The other feature I love is the double sided closings, which allows for a wider range of adjustment. Thank you!"
Brenda Mooney
"These are the most comfortable shoes I have ever worn! My feet have always hurt wearing ordinary store brand shoes. I was skeptical but I did purchase these shoes and I love them! Reasonably priced, beautifully styled, quality manufacturing! I plan to buy many, many more pairs of these shoes in the future!"
Ellen Sweets
"I'm already proselytizing about these fabulous shoes. My feet have never felt so good in a pair of shoes from the moment I put them on. I'm already contemplating a red and blue pair, especially since I'm now living in a city where I will walk a lot. So glad I clicked on your link! Thank you."
Deborah Bernacchia
"These are the most comfortable shoe I've ever owned! I'm on my feet for 12 hours and with these shoes my hips and knees don't hurt, and my feet feel like they are encased in a pillow. Thank you Ortho Feet!"
Colleen Larson
"I just received these shoes in the mail and they have already saved me immense pain in my feet. They are absolutely wonderful and easy to adjust for comfort. I want a pair in brown now. Let me know if they can become available."
Martha Rivers
"I have had foot pain for several years now. Couldn't find a shoe that would relive some of the pain until I saw your post on FB. I am so well pleased with these shoes. Wear them, take them off, my feet doesn't hurt any worse like they use to. I'm planning to order a pair of tennis shoes soon. Love, love them. I can't say enough about them. You have a winner."
---

The primary focus of the OrthoFeet brand is to offer the ultimate comfortable and functional shoes, orthotic insoles and socks. By combining athletic footwear technology and therapeutic detailing, OrthoFeet footwear offer the highest level of comfort and protection for sensitive feet.

Finding the right pair of shoes can be a tiring process, especially when faced with a foot ailment.

Orthofeet is also offering innovative high heels, which are biomechanically engineered to offer the world's most comfortable heels.

OrthoFeet employs biomedical engineers to build innovative footwear products, designed to alleviate the symptoms associated with various foot conditions, such as Plantar Fasciitis, Heel and Foot pain, bunions, corns, calluses, and neuroma, and products for individuals with diabetes, arthritis and Neuropathy.
Bioheels allow users to customize the support under the arch and to adjust the space inside the shoe, providing a perfect fit and eliminating foot slippage at the heel.

OrthoFeet products have been proven to help millions of people looking for comfort shoes, diabetic shoes, therapeutic shoes, arthritic shoes, orthotic shoes, foot orthotics, removable insoles, seam-free socks, non-binding and non-constrictive socks.