#1 Recommended Shoes by KevinRoot Medical
Sale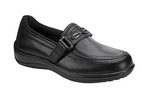 Chelsea - Black (Women's)
I have been using Orthofeet footwear and foot orthotics for my patients for over 15 years, and I can attest that they offer the best solution for people with sensitive feet, including those with foot pain, diabetes and arthritis. These shoes are designed with unique ergonomic features that cannot be found in any other brand. My patients love them, and in fact I wear them myself daily, as they are the most comfortable shoes I have ever worn.
- Steven Gershman, DPM
ORTHOPEDIC SHOES
DIABETIC SHOES
MONK STRAP SHOES FOR WOMEN
WIDE SHOES FOR WOMEN

Walk Comfort & Pain Free or Your Money Back!
Enjoy exceptional comfort and fit with Orthofeet's Chelsea - Black women's casual shoes that offer a non-binding fit, extra room for toe movement, and maximum protection against pressure points. Their anatomical orthotic insoles and ergonomic soles provide comfortable support and excellent cushioning, making Chelsea - Black superior women's orthopedic shoes for a variety of conditions, including plantar fasciitis, diabetes, neuropathy and arthritis.
Orthotic support - Ortho-Comfort TM premium orthotic insoles, featuring anatomical arch support and multiple cushioning layers help improve foot and leg alignment, enhancing comfort and easing stress and pain on the heel, ball of the foot, knees, hips, and back caused by flat feet, over-pronation, plantar fasciitis, bunions, arthritis and diabetes.
Orthotic friendly design – Extra depth design with removable orthotic insoles that are ¼" thick in the forefoot area provide ample space for custom made orthotics.
Easy gait - Light-weight cushioning sole with Ergonomic-Stride(TM) design softens step, and helps propel foot forward.
Protective Interior - Soft, seam-free lining design with extra foam padding eliminates pressure points, and helps reduce friction against skin.
Comfort fit - soft, non-binding upper eliminates pressure points, and enhances comfort.
Easy Slip-On - a slip-on shoe that comes with straps on both sides of the shoe offers a wide opening for an easy On/Off.
Two-Way Strap System - enables fastening on either side of the shoe and an easy adjustment of the strap's length.
Arch Support
Removable Insoles
Orthotic Friendly
Cushioned Heel
Extra Depth
Deep Toe-Box
Wide Toe-Box
Heel Cup
Shock Absorbing
Soft Uppers
Orthofeet Women's Shoe Sizing Chart
Widths
---
Diabetes
Plantar Fasciitis
Swollen Feet
Metatarsalgia
Ball of the foot pain
Morton's Neuroma
Neuropathy
Flat Feet
Sciiatica
Knee Pain
Heel Pain
Heel Spurs
Over Pronation
Arch Pain
Corns
Calluses
Arthritis
Osteoarthritis
Rheumatoid Arthritis
Bunions
Hammer Toes
Morton's Neuroma
Achilles Tendinitis
Back Pain
Product Care:
For Suede leather: Use a brush and a cloth.
For Full Grain Leather - Use shoe cream.
Material:
Leather

60-DAY WEAR TEST Try Risk Free
FREE Returns & Exchanges
Hassle-Free, 60 Day Return Policy
---
Renee Garcia
"These are comfortable shoes even with my problem Rheumatoid feet. The size recommendations were spot on.. I am so excited to have a decent pair of work shoes and not just one pair of tennis shoes."
Panzie Buckle
"These shoes are by far the most comfortable I have worn since I was diagnosed with type two diabetes. They offer all round support for the feet and are very sturdy. I am so happy I bought them and hope to buy other pairs in the future."
Heidi Villeme
"So so worried about ordering these shoes for my mom. She's kinda picky and she has a hard time finding a good fitting shoe. So we put the shoe on and put one insert in one shoe to make them feel the same to her. I waited for a problem .... and not a one!! She said they feel real good THE FIRST STEPS SHE MADE! Now I can't wait to get her into a pair of your tennis shoes!!! Thank you Orthofeet!!!"
M. Wittkamp
"Thank you for these incredible shoes. I have never seen any order from anywhere so perfectly packaged. The quality of the shoes is unmatched.
They are very comfortable even after wearing them for an entire day right after they arrived. Thank you so much."
Elaine J Bowe
"I have very hard to fit feet. I'm always surprised when I can put my feet into new shoes and they fit. Usually I have to stretch the toe because of my hammer toe. I have ordered shoes from OrthoFeet before and they also fit. I will be ordering from OrthoFeet again. Thank you for making my shoe experience so much easier."
Pauline Manley
"The first real shoes I've worn in a log time. Very comfortable, easy to put on with my arthritic fingers. I've had several surgeries and the shoe fits comfortable over those areas with no pain. stylish too!"
Kellie T.
"I have been in pain for a long time and these shoes are like walking on air. No pain in my back or feet. If your feet are like mine and swell on the top, these shoes are for you. They also look great and go with all my looks."
Peggy Suggs
"My mother in law loves them! Plenty of room for her swollen feet. The do not look like nursing home shoes. Comes with 2 sets of insoles for you to choose from. Good buy!"
Margaret F.
"My Mother is 94 years old, wheelchair bound and in a nursing home. She requires a lot of care but still fondly remembers the black slip on loafers she used to enjoy wearing in her younger years. Of late the only shoes she has been able to comfortably wear - actually get on her feet - are black velcro sneakers and she hates them. She wants to wear real shoes again. Cute shoes. Well guess what? These are loafers, they are cute and they are real shoes! She is so happy! She says they are very comfortable and they fit well."
Becky Brooks
"I have always had "feet problems" which made finding the right shoe a difficult task. I chose to order the Chelsea shoe and they are wonderful. A great shoe with a great fit. After wearing them for a while there was no feet hurting nor leg problems. The first pair I ordered was black and since wearing the others I have already ordered a brown pair. I would recommend to anyone who wants a great pair of shoes."
Sparky Hobbes
"Have wide feet and specially made inserts. I was twisting my ankle in regular shoes, so ordered these for the extra depth and width. Really love them. Wore them on a business trip and was very comfortable. Looked really nice in business pants suit."
Sandy Hays
"Just had broken ankle surgery a couple months ago and they said I needed a good shoe with arch support. I ordered from you and so far they have been excellent to walk in - with great support. I am also flat footed."
Cheryl B. Ford
"I love the shoes. They are comfortable and look great! I have an ankle that normally hurts with shoes that have backs, but these are so well padded that I have no pain!"
Pamela Erickson
"I ordered the actual size I wear, even though it was suggested to order a 1/2 size larger. They fit perfect except for the heel slipping out. I am using all of the inserts. Wearing these to work every day has helped ease my calf and lower back pain. I have a sit-down job, but do walk around during the day and I do wear these when I walk outside and they are very comfortable."
Carol Combs
"I love these shoes. For years I have only been able to wear orthopedic sneakers. These shoes are very comfortable. Much nicer for church than sneakers. I will be trying other shoes from Orthofeet."
---

The primary focus of the OrthoFeet brand is to offer the ultimate comfortable and functional shoes, orthotic insoles and socks. By combining athletic footwear technology and therapeutic detailing, OrthoFeet footwear offer the highest level of comfort and protection for sensitive feet.

Finding the right pair of shoes can be a tiring process, especially when faced with a foot ailment.

Orthofeet is also offering innovative high heels, which are biomechanically engineered to offer the world's most comfortable heels.

OrthoFeet employs biomedical engineers to build innovative footwear products, designed to alleviate the symptoms associated with various foot conditions, such as Plantar Fasciitis, Heel and Foot pain, bunions, corns, calluses, and neuroma, and products for individuals with diabetes, arthritis and Neuropathy.
Bioheels allow users to customize the support under the arch and to adjust the space inside the shoe, providing a perfect fit and eliminating foot slippage at the heel.

OrthoFeet products have been proven to help millions of people looking for comfort shoes, diabetic shoes, therapeutic shoes, arthritic shoes, orthotic shoes, foot orthotics, removable insoles, seam-free socks, non-binding and non-constrictive socks.