#1 Recommended Shoes by KevinRoot Medical
Sale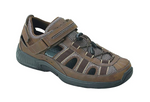 Clearwater Orthotic Sandals (Men's)
I have been using Orthofeet footwear and foot orthotics for my patients for over 15 years, and I can attest that they offer the best solution for people with sensitive feet, including those with foot pain, diabetes and arthritis. These shoes are designed with unique ergonomic features that cannot be found in any other brand. My patients love them, and in fact I wear them myself daily, as they are the most comfortable shoes I have ever worn.
- Steven Gershman, DPM
ORTHOPEDIC SHOES
DIABETIC SHOES
MONK STRAP SHOES FOR WOMEN
WIDE SHOES FOR WOMEN

Walk Comfort & Pain Free or Your Money Back!
Clearwater fisherman sandals offer a non-binding fit, extra room for toe movement, and maximum protection against pressure points. The ergonomic sole along with anatomical orthotic insole offer precise support and excellent cushioning, making Clearwater your first choice when looking for the best sandals with arch support and orthopedic sandals.
Orthotic support - Ortho-Comfort TM premium orthotic insoles, featuring anatomical arch support and multiple cushioning layers help improve foot and leg alignment, enhancing comfort and easing stress and pain on the heel, ball of the foot, knees, hips, and back caused by flat feet, over-pronation, plantar fasciitis, bunions, arthritis and diabetes.
Orthotic friendly design – Extra depth design with removable orthotic insoles that are ¼" thick in the forefoot area provide ample space for custom made orthotics.
Easy gait - Light-weight Ergonomic-Stride(TM) design with air cushioning softens step, and adds spring to your step.
Protective Interior - Soft lining with extra foam padding eliminates pressure points, and helps reduce friction against skin.
Adjustable fit - two sets of removable spacers (1/16" and 1/8" thick) allow the adjustment of the space inside the shoe for a perfect fit.
Heel-Strap enables to adjust the grip around the heel, eliminating slippage, and accommodating both slim and wide heels.
Arch Support
Removable Insoles
Orthotic Friendly
Cushioned Heel
Extra Depth
Deep Toe-Box
Wide Toe-Box
Heel Cup
Shock Absorbing
Soft Uppers
Orthofeet Women's Shoe Sizing Chart
Widths
Diabetes
Plantar Fasciitis
Swollen Feet
Metatarsalgia
Ball of the foot pain
Morton's Neuroma
Neuropathy
Flat Feet
Sciiatica
Knee Pain
Heel Pain
Heel Spurs
Over Pronation
Arch Pain
Corns
Calluses
Arthritis
Osteoarthritis
Rheumatoid Arthritis
Bunions
Hammer Toes
Morton's Neuroma
Achilles Tendinitis
Back Pain
Product Care:
For Suede leather: Use a brush and a cloth.
For Full Grain Leather: Use shoe cream.
Material:
Leather

60-DAY WEAR TEST Try Risk Free
FREE Returns & Exchanges
Hassle-Free, 60 Day Return Policy
Glenn Piper
"As I've gotten older, finding shoes that don't hurt my feet in some way/shape/form has become a necessary, and frustrating, quest. These OrthoFeet Clearwater sandals have proven to be a revelation, as they enable me to get to the end of a workday without my feet aching & hurting in some fashion. After a week of daily use, they have thus far impressed me to the point that I hate wearing one of my other pair of (previously most comfortable) shoes."
Mary Ross
"My husband has peripheral neuropathy and hammer toes. I found your company and sandals and a purchased good looking soft fabric shoe recommended by your customers for similar conditions. He is more comfortable than in years. He thanks me every day - but your company deserves the credit. You've put a smile on our faces. What a relief for my husband. He threw out all his old shoes."
Carol Ann R.
"My dad is 84 years old and has hammer toes, neuropathy in both feet and legs and has Alzheimer's. These sandals fit great and are much easier for him to put in than traditional sneakers or shoes. They fit great, feel good, and help him maintain his independence. Can't ask for more."
Hugh Shellenberger
"Just got these and they are really nice! The fit is right on, the look is just what I was looking for and they were extremely comfortable the moment I put them on. I'll be buying more shoes from OrthoFeet!"
Mary Broce
"My husband has bone on bone foot and ankle damage with no treatment available. He has little capacity to walk far due to pain. He is babying his new sandals because they are the best comfort he has ever had. I told him to wear them for everything including getting in the water while getting his boat out of the water. I'll be getting him a second pair for non sporting. Size 10 Extra, extra wide. 6E."
Vivian LIghtfoot
"My husband loves his new sandals, he has been using Orthofeet shoes since me moved to Florida in 1993. We have since moved back to Virginia because of medical concerns and aging process. He wore his leather Fisherman's sandals until they actually fell apart. I will continue to order whatever he wants from Orthofeet. A very satisfied customer of long standing."
Warren Weinberg
"These mens closed toe sandals are indeed the most comfortable sandals that I has ever bought in my lifetime. I was able to use either the orthotics that came with the sandals or the custom made orthotics that was ordered by my podiatrist."
Roger Harner
"Glad I took the time to deal with your company. As a diabetic these slippers keep feet warm during this cold winter. Comfort plus with a perfectly adjustable fit. Tried several other brands but you have topped the list. Thank you again. "
John Macchiaroli
"These sandals are the most comfortable shoes I ever owned...from the moment I put them on my feet felt like they were on clouds....I needed a wider shoe and it looks like i made a good choice..."
Karen Cook
"You have no idea how great his shoes fit. He puts them on the first thing in the morning & takes them off just before he goes to bed. He has the worst feet in all of the USA & Australia. Flatter than a board plank. Thank you for making his. & my life better."
Joel Smith
"I normally don't like new shoes. They almost never feel right until I've worn them foe awhile, so I have a closet full of barely used shoes. These shoes felt great right out of the box. I waited a couple of weeks to give a review and I can say that they are still as comfortable as the first time I put them on. I love them..."
Douglas Claflin
"These are the most comfortable shoes I have ever wore in a sandal. Also the no tie feature is wonderful for me as I wear a brace for foot drop and have no problems fitting foot. I have bought 4 pairs of Orthofeet shoes. Love them all!"
John C.
"Nice looking shoe, very, very comfortable, I purchased these because I have Neuropathy and my feet get really tired of shoes and slippers and anything else.... These were like walking on a cloud. Nice. Very adjustable and I could get them to fit me perfectly.... and the soles have souls."
Robert Calvert
"I still can not be on my foot long but when I am with these shoes there is a big difference in my foot. The pain and spasms take longer to start. That is a big improvement after 3 foot surgeries. Thank You Orthofeet!"
Bill Thurman
"I am very happy with my purchase and am sure to be a repeat customer. I had been looking for this style for quite a while, but because of my wide foot could not find them. They fit great and are very comfortable."

The primary focus of the OrthoFeet brand is to offer the ultimate comfortable and functional shoes, orthotic insoles and socks. By combining athletic footwear technology and therapeutic detailing, OrthoFeet footwear offer the highest level of comfort and protection for sensitive feet.

Finding the right pair of shoes can be a tiring process, especially when faced with a foot ailment.

Orthofeet is also offering innovative high heels, which are biomechanically engineered to offer the world's most comfortable heels.

OrthoFeet employs biomedical engineers to build innovative footwear products, designed to alleviate the symptoms associated with various foot conditions, such as Plantar Fasciitis, Heel and Foot pain, bunions, corns, calluses, and neuroma, and products for individuals with diabetes, arthritis and Neuropathy.
Bioheels allow users to customize the support under the arch and to adjust the space inside the shoe, providing a perfect fit and eliminating foot slippage at the heel.

OrthoFeet products have been proven to help millions of people looking for comfort shoes, diabetic shoes, therapeutic shoes, arthritic shoes, orthotic shoes, foot orthotics, removable insoles, seam-free socks, non-binding and non-constrictive socks.