#1 Recommended Shoes by KevinRoot Medical
Sale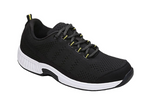 Coral - Black Stretchable (Women's)
I have been using Orthofeet footwear and foot orthotics for my patients for over 15 years, and I can attest that they offer the best solution for people with sensitive feet, including those with foot pain, diabetes and arthritis. These shoes are designed with unique ergonomic features that cannot be found in any other brand. My patients love them, and in fact I wear them myself daily, as they are the most comfortable shoes I have ever worn.
- Steven Gershman, DPM
ORTHOPEDIC SHOES
DIABETIC SHOES
MONK STRAP SHOES FOR WOMEN
WIDE SHOES FOR WOMEN

Walk Comfort & Pain Free or Your Money Back!
Enjoy exceptional comfort and fit with Orthofeet's Coral-Black Stretchable women's athletic shoes that offer a non-binding fit, extra room for toe movement, and maximum protection against pressure points. Their anatomical orthotic insoles and ergonomic soles provide comfortable support and superior cushioning, making Coral-Black Stretchable extraordinary women's sneakers for plantar fasciitis, heel pain and bunions. Coral-Black Stretchable are certified by Medicare and are qualified as women's therapeutic shoes under code A5500 of the Diabetic Shoe Bill, offering an excellent solution for those who are looking for women's diabetic sneakers.
Orthotic support - Ortho-Comfort TM premium orthotic insoles, featuring anatomical arch support and multiple cushioning layers help improve foot and leg alignment, enhancing comfort and easing stress and pain on the heel, ball of the foot, knees, hips, and back caused by flat feet, over-pronation, plantar fasciitis, bunions, arthritis and diabetes. Forms to the contours of the foot, and helps alleviate pain at the heel, foot, all the way up the knees, hips and lower back.
Orthotic friendly design – Extra depth design with removable orthotic insoles that are ¼" thick in the forefoot area provide ample space for custom made orthotics.
Easy Gait - Light-weight cushioning sole with Ergonomic-Stride(TM) design. Softens step, enhances stability, adds spring to your step, and helps facilitate foot motion.
Protective Interior - Soft, seam-free interior lining. Eliminates pressure points and friction against skin, offering superior protection.
Superior Comfort Soft, stretchable upper. Eliminates pressure points and enhances comfort, offering a superior solution for bunions and sensitive feet.
Adjustable fit - Two sets of removable spacers (1/16" and 1/8" thick). Allow the adjustment of the space inside the shoe for a perfect fit.
Arch Support
Removable Insoles
Orthotic Friendly
Cushioned Heel
Extra Depth
Deep Toe-Box
Wide Toe-Box
Heel Cup
Shock Absorbing
Soft Uppers
Mesh
Synthetic
Orthofeet Women's Shoe Sizing Chart
Widths
---
Diabetes
Plantar Fasciitis
Swollen Feet
Metatarsalgia
Ball of the foot pain
Morton's Neuroma
Neuropathy
Flat Feet
Sciiatica
Knee Pain
Heel Pain
Heel Spurs
Over Pronation
Arch Pain
Corns
Calluses
Arthritis
Osteoarthritis
Rheumatoid Arthritis
Bunions
Hammer Toes
Morton's Neuroma
Achilles Tendinitis
Back Pain
Product Care:
Clean with washcloth. Use a small amount of mild soap and water. Air dry. Do not machine wash.
Material:
Synthetic
Collection:
Athletic

60-DAY WEAR TEST Try Risk Free
FREE Returns & Exchanges
Hassle-Free, 60 Day Return Policy
---
Janna Fowler
"I've tried many shoes and orthotics for my chronic plantar fasciitis but my heel pain continued until I tried these shoes. I can walk without discomfort and love how comfortable and supportive these shoes are! Highly recommend to anyone suffering with constant heel pain. They are incredible!"
Maggie Scofield
"I have bad bunions on both feet, and sometimes it's hard to even wear sneakers. But these are stretchable and don't mash on my bunions, while still providing good support for the orthotics I need to use. The only change I would suggest is that the tongue of the shoe be a little wider--my arch is very high, so sometimes the tongue shifts over a bit and I have to readjust it. But I'd buy these again, for sure!"
Betty Vanderwielen
"I love these shoes! They're so comfortable, and they look great too. I'm impressed that OrthoFeet included two different spacer inserts so I can adjust them to fit just right -- and believe me, I have a very difficult foot to find a shoe for."
Debra Mangen
"I love the fit and feel of these shoes. Because I have ALS putting shoes on and tying them is challenging. The stretch makes putting the shoes easy and the laces are good to manipulate for weak fingers. Then you included extra laces. Orthofit rocks. I like the first pair so well I've purchased two more in different colors. I have "Happy Feet"."
Deirdre Rockey
"I have a hard to fit foot to begin with and wear orthotics so it has been a struggle to find shoes that fit. I had foot surgery in December and have neuropathy as a complication. These shoes saved me. They are so comfortable and fit well. This is the 3rd pair I have bought (second pair of this style). I bought this pair to wear indoors instead of slippers for the extra support and comfort. Love them!"
A. Dawson
"After the first hour wearing them, I could feel a great difference. The pain was almost gone. The more I wear them the less pain I feel. Would definitely recommend them for arthritis and diabetic patients that I know."
Carol J.
"This is my second pair. These shoes have been a blessing for me. They are deep enough to accommodate the brace I have to wear due to foot drop and nerve pain. I have had several compliments and they are shocked when they find out that I am wearing orthopedic shoes. Thankful to have a stylish option. Thank you OrthoFeet!"
Dee Dee O'Donnell
"These are the best shoes i have ever owned. In the past i have been using special inserts and still have had troubles with my feet still hurting. I put on my new sneakers from Orthofeet and have worn them full time for the past week and my feet haven't hurt at all."
Linda Holderfield
"These speakers are wonderful. The support and comfort of the inner sole is phenomenal! Lightweight too! Could they be a little more stylish....yes. Other than that they are fantastic. These are my second pair of Ortho sneakers."
Sally Chermack
"I've been wearing my new shoes for a week now and I love them. They are so comfortable even after having them on for hours at a time. The fit is perfect...just like all the shoes I've ordered from Ortho Feet."
Lori Howe
"I was pleased with how nice the shoes looked when they arrived. Many shoes for plantar fasciitis are really ugly. The shoes fit well, feel good and don't look like dowdy. I highly recommend them and plan to buy them again in the future."
Linda MacDonald
"A friend got these shoes and told me about them...She raved and raved so I had to try them too! They are everything she said they were as well as good looking! I would recommend these to anyone needs a good, supportive shoe and one that also looks great!"
Gail Brotherhood
"When I slipped my feet into these shoes, I knew I'd found the perfect walking shoe!! They fit perfectly to size just as the most helpful chat person said they would. I needed to get back to walking and this shoe is taking me there!"
Karen Ragland
"The minute I put these shoes on I could feel a healing and energy going through my feet. This is the 5th pair of Ortho Feet shoes I have purchased. I love them and wouldn't wear anything else."
Dorothy Ryan
"This is the first pair of Wide shoes I've ever purchased that were wide enough for my feet. I decided to try the Wide width after ordering Extra Wide on another pair that were not 'sneaker' type shoes and are a smidge too wide. I would recommend these highly comfortable shoes to everyone."
---

The primary focus of the OrthoFeet brand is to offer the ultimate comfortable and functional shoes, orthotic insoles and socks. By combining athletic footwear technology and therapeutic detailing, OrthoFeet footwear offer the highest level of comfort and protection for sensitive feet.

Finding the right pair of shoes can be a tiring process, especially when faced with a foot ailment.

Orthofeet is also offering innovative high heels, which are biomechanically engineered to offer the world's most comfortable heels.

OrthoFeet employs biomedical engineers to build innovative footwear products, designed to alleviate the symptoms associated with various foot conditions, such as Plantar Fasciitis, Heel and Foot pain, bunions, corns, calluses, and neuroma, and products for individuals with diabetes, arthritis and Neuropathy.
Bioheels allow users to customize the support under the arch and to adjust the space inside the shoe, providing a perfect fit and eliminating foot slippage at the heel.

OrthoFeet products have been proven to help millions of people looking for comfort shoes, diabetic shoes, therapeutic shoes, arthritic shoes, orthotic shoes, foot orthotics, removable insoles, seam-free socks, non-binding and non-constrictive socks.