#1 Recommended Shoes by KevinRoot Medical
Sale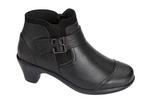 Emma - Black 2" Heel Boots (Women's)
When I first tried BioHeels they felt like sneakers! Normally when I wear high heels they push on my bunions and pinch on my toes. These shoes formed to the contours of my feet and didn't put pressure on my feet at all. They are the best high heel shoes I have ever had!
- Winter Gabriel
ORTHOPEDIC SHOES
DIABETIC SHOES
MONK STRAP SHOES FOR WOMEN
WIDE SHOES FOR WOMEN

Walk Comfort & Pain Free or Your Money Back!
Emma 2" heel boots are bio mechanically engineered with OrthoFeet's innovative comfort features in a sleek-looking design. This chic Bootie features a stylish medial zipper for easy entry and a strap closure that insures a perfect fit. The subtle wide heel provides a comfortable height and excellent stability.
Easy Gait - Lightweight sole with Ortho-Cushion® technology softens impacts and reduces strain on the foot, making every step you take feel like walking with sneakers.
Customized Support - Premium orthotic insole with anatomical arch support and cushioning foam dynamically shapes to the contours of the foot, providing customized support and enhancing comfort from heel to toe.
Perfect Fit System - If the shoe is too tight a spacer, located under the insole can be removed to offer more room. If the shoe is too loose, one or two spacers can be added under the insole.
Non-Binding Design - Soft stretchy leather, padded with foam, forms to the contours of the foot, eliminating pressure on bunions and toes, and making the shoe fit like a glove.
Improved Comfort - Soft fabric lining, padded with foam with reduced seam lines, enhances comfort and helps prevent skin irritation, offering the most comfortable 2" heel bootie.
Orthofeet Women's Shoe Sizing Chart
Widths
---
Diabetes
Plantar Fasciitis
Swollen Feet
Metatarsalgia
Ball of the foot pain
Morton's Neuroma
Neuropathy
Flat Feet
Sciiatica
Knee Pain
Heel Pain
Heel Spurs
Over Pronation
Arch Pain
Corns
Calluses
Arthritis
Osteoarthritis
Rheumatoid Arthritis
Bunions
Hammer Toes
Morton's Neuroma
Achilles Tendinitis
Back Pain
Product Care:
For Suede leather: Use a brush and a cloth.
For Full Grain Leather - Use shoe cream.
Material:
Leather

60-DAY WEAR TEST Try Risk Free
FREE Returns & Exchanges
Hassle-Free, 60 Day Return Policy
---
Karen Prengaman
"The boots fit well. I have worn them every day for a week and they seem to be helping with the knee pain. The look good...even some complements. Very satisfied."
Claudette Compton
"I'm very happy with my new boots. Getting a lot of compliments on how cute they are. Wore them 3 days in a row no foot pain. The 2 different size inserts are great. Will be ordering tennis shoes next. Thank You!"
Kenneth Marsh
"I just got my shoes 2 days ago and I do not want to take them off being A diabetic these are the most comfortable shoes I ever owned just went for A walk and with no foot pain I would recommend these shoes for anyone,I will order socks and another pair of casual shoes. Thanks,I took A chance and love them."
Trenee Zweigle
"I have had so many problems finding comfortable shoes that don't hurt my feet, and these are awesome! You put them on and can start walking without any problems, you don't need to "break them in." And the Emma boots are very stylish too.
Thank you OrthoFeet!"
Sheri Arveson
"Tried my boots on , very comfortable for boots , I have a hard time finding shoes or boots that fit , but after finding OrthoFeet , I can do that now. Very pleased."
Judith Stassen
"Love them! Love them! I searched for several years for a boot I could wear more than a few hours. Found them - I can wear these all day - 6:00 am to 9:00 at night with no pain from Morton"s Neuroma."
Mary Jane
"These boots are comfortable and supportive right out of the box; love the fit and the stylish look! I have been able to wear them for hours without any discomfort. A new favorite, with the quality and support I've come to expect from Orthofeet."
Vickie C.
"I have bunions and usually have a tough time breaking in shoes, but not this pair! I absolutely love them and they're cute!"
Lori White
"I've only worn them one day, but they were so much more comfortable than my other boots that I add my orthotics to. I think I will be able to wear them to an event that will require a lot of walking with no problem."
---

The primary focus of the OrthoFeet brand is to offer the ultimate comfortable and functional shoes, orthotic insoles and socks. By combining athletic footwear technology and therapeutic detailing, OrthoFeet footwear offer the highest level of comfort and protection for sensitive feet.

Finding the right pair of shoes can be a tiring process, especially when faced with a foot ailment.

Orthofeet is also offering innovative high heels, which are biomechanically engineered to offer the world's most comfortable heels.

OrthoFeet employs biomedical engineers to build innovative footwear products, designed to alleviate the symptoms associated with various foot conditions, such as Plantar Fasciitis, Heel and Foot pain, bunions, corns, calluses, and neuroma, and products for individuals with diabetes, arthritis and Neuropathy.
Bioheels allow users to customize the support under the arch and to adjust the space inside the shoe, providing a perfect fit and eliminating foot slippage at the heel.

OrthoFeet products have been proven to help millions of people looking for comfort shoes, diabetic shoes, therapeutic shoes, arthritic shoes, orthotic shoes, foot orthotics, removable insoles, seam-free socks, non-binding and non-constrictive socks.