#1 Recommended Shoes by KevinRoot Medical
Sale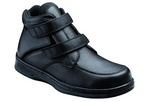 Glacier Gorge - Black (Men's)
I have been using Orthofeet footwear and foot orthotics for my patients for over 15 years, and I can attest that they offer the best solution for people with sensitive feet, including those with foot pain, diabetes and arthritis. These shoes are designed with unique ergonomic features that cannot be found in any other brand. My patients love them, and in fact I wear them myself daily, as they are the most comfortable shoes I have ever worn.
- Steven Gershman, DPM
ORTHOPEDIC SHOES
DIABETIC SHOES
MONK STRAP SHOES FOR WOMEN
WIDE SHOES FOR WOMEN

Walk Comfort & Pain Free or Your Money Back!
Orthofeet comfort system offers a non-binding fit, extra room for toe movement, and maximum protection against pressure points. The anatomical orthotic insole and ergonomic sole offer precise support and excellent cushioning, making every step you take soothing with comfort.
Comfortable Orthotic Support - Premium orthotic insoles, featuring anatomical arch support and cushioning layers provide soft, pillow-like support that enhance comfort and help ease pain on the heel, ball of the foot, knees, hips, and back caused by flat feet, overpronation, plantar fasciitis, bunions, arthritis, neuropathy and diabetes.
Like Walking on A Cloud - Light-weight soles with Ergonomic-Stride™ design and air cushioning soften step, enhance stability and add spring to your step.
Superior Comfort & Protection - Soft, seam-free interior lining eliminates friction against the skin, easing pressure on sensitive feet, bunions and Hammer-Toes.
Orthotic friendly design – Extra depth design with removable orthotic insoles (¼" thick in the forefoot area) provide ample space for custom made orthotics.
Adjustable fit - Two sets of removable spacers (1/16" and 1/8" thick). - Allow the adjustment of the space inside the shoe for a perfect fit.
Arch Support
Removable Insoles
Orthotic Friendly
Cushioned Heel
Extra Depth
Deep Toe-Box
Wide Toe-Box
Heel Cup
Shock Absorbing
Soft Uppers
Orthofeet Women's Shoe Sizing Chart
Widths
---
Diabetes
Plantar Fasciitis
Swollen Feet
Metatarsalgia
Ball of the foot pain
Morton's Neuroma
Neuropathy
Flat Feet
Sciiatica
Knee Pain
Heel Pain
Heel Spurs
Over Pronation
Arch Pain
Corns
Calluses
Arthritis
Osteoarthritis
Rheumatoid Arthritis
Bunions
Hammer Toes
Morton's Neuroma
Achilles Tendinitis
Back Pain
Product Care:
For Suede leather: Use a brush and a cloth.
For Full Grain Leather - Use shoe cream.
Material:
Leather

60-DAY WEAR TEST Try Risk Free
FREE Returns & Exchanges
Hassle-Free, 60 Day Return Policy
---
JoAnn Haynes
"I ordered these shoes for my hard to please husband ;and he absolutely loves them, his feet have hurt him for awhile now he says they feel good on his feet: I have noticed he don't walk as if he is walking on hot coals. Fit was good, color good.thank you for your product."
Steve Varro
"I have own no less than 5 pair of these amazing boots. Because I have a weak ankle, Dr recommended a shoe that was higher up the ankle and these fit the bill perfectly! I Love them!"
Gene Estribou
"I have had foot problems for years and tried every shoe out there-then i found these.Also the soles are designed in such a way that they self clean and i can go in and out of the house when working outside.Great shoes!"
Jim LaCasse
"I have tried EVERYTHING and these are the most comfortable shoes I have ever had. I have arthritis in my feet and knees, am on them 6 hours every other day, with no problems at all. OrthoFeet has a customer for life."
Ronald Gremillion
"These shoes are very comfortable, I'm wearing them every day since I got them. There are definitely everything y'all said they would be, I look forward to the next day to put them on there so comfortable. Thanks."
Keith Novicki
"This is my second pair of these boots and they are AMAZING! Super Comfortable, warm enough for these Ohio winter, and the look fantastic. I can't recommend these enough!!!"
John D.
"My husband really loved this shoe, and he is very fussy about his footwear. He says they are light-weight, comfortable, help his leg pain, and look nice with blue jeans. He wants me to order him another pair, in brown. "
Dan King
"Second Pair I've Bought! Comfortable, lots of room for sensitive foot following neuroma surgery. Wear them as work boots in all weather. Newer pair looks good enough for dress shoes. Soft on the inside rugged on the outside. Easy to get on and off. Hope they still make this style when I'm ready for new shoes!"
Anthony Kruegler
"Exactly What I Was Looking For. I was shopping for new shoes for a couple of months before I thought to check Orthofeet & of course I should have started there. While I don't suffer from diabetes I do have edema, and my shoes were very constricting, causing me to break out. These shoes are perfect. They are roomy enough to allow for some swelling and they're extremely comfortable. The velcro means I can adjust tightness and I'm no longer breaking out. I'd recommend to anyone with health problems that result in swelling."
Margaret Turk
"These shoes were perfect. We had gotten them before through an orthotic dealer who wasn't carrying them anymore. So we were very pleased to find them again. My son suffered a head injury so balance is difficult sometimes. Because of that and his extra weight these shoes are perfect to give him the extra support he needs and his orthotic soles fit in perfectly. They did not cost any more than we were paying the orthotic dealer so that was an added benefit. Thanks so much for continuing to carry these high top shoes."
Robert Swann
"I purchased a pair of these shoes about three years ago and wear them each morning and evening when I go for a walk with our dog. My first pair were showing their age and have walked over a 1000 miles (I wear what is called a FITBIT) and wear. I decided to purchase a second pair but was concerned they may have changed the quality. I am now wearing my second pair and I am pleased to report, they are the same."
Wendy Borders
"I bought these over the internet for my father. He couldn't find a high boot with velcro straps locally so I took a chance on the fit. Dad has big feet and OrthoFeet had his size- #13. The shoes arrived on the 4th day after ordering, and I ordered on a Friday. The second he put them on, he was in heaven! He loves them, and the adaptable inserts would solve any loose fit issues, but I have not heard him speak of any. We are very pleased!"
Douglas Lloyd
"About a month ago I bought a pair of Baton Rouge shoes and loved them. Since I couldn't wear them every day I bought the Glacier Gorge boots. If anything, they are even more comfortable! I highly recommend them to anyone who spends a lot of time on their feet, or have back or leg problems, They're great!"
Janet James
"These were a Christmas gift for my husband
He has extra wide and swelling of the feet. These are easy for him to put on and very comfortable. After many unsuccessful attempts we are very grateful to have found these."
Maria Rivas
" The FIRST day my dad wore these. His step was more sure. The next day, he stood straighter. Now, 18 years since his stroke - is the first time - he tackles the short staircase, with no issue - his face, more relaxed because no pain and walking is MUCH easier. He has confidence in his steps now. These shoes were the BEST investment in his health. My whole family appreciates the shoes and OrthoFeet for making them available."
---

The primary focus of the OrthoFeet brand is to offer the ultimate comfortable and functional shoes, orthotic insoles and socks. By combining athletic footwear technology and therapeutic detailing, OrthoFeet footwear offer the highest level of comfort and protection for sensitive feet.

Finding the right pair of shoes can be a tiring process, especially when faced with a foot ailment.

Orthofeet is also offering innovative high heels, which are biomechanically engineered to offer the world's most comfortable heels.

OrthoFeet employs biomedical engineers to build innovative footwear products, designed to alleviate the symptoms associated with various foot conditions, such as Plantar Fasciitis, Heel and Foot pain, bunions, corns, calluses, and neuroma, and products for individuals with diabetes, arthritis and Neuropathy.
Bioheels allow users to customize the support under the arch and to adjust the space inside the shoe, providing a perfect fit and eliminating foot slippage at the heel.

OrthoFeet products have been proven to help millions of people looking for comfort shoes, diabetic shoes, therapeutic shoes, arthritic shoes, orthotic shoes, foot orthotics, removable insoles, seam-free socks, non-binding and non-constrictive socks.