#1 Recommended Shoes by KevinRoot Medical
Sale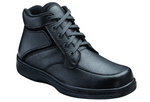 I have been using Orthofeet footwear and foot orthotics for my patients for over 15 years, and I can attest that they offer the best solution for people with sensitive feet, including those with foot pain, diabetes and arthritis. These shoes are designed with unique ergonomic features that cannot be found in any other brand. My patients love them, and in fact I wear them myself daily, as they are the most comfortable shoes I have ever worn.
- Steven Gershman, DPM
ORTHOPEDIC SHOES
DIABETIC SHOES
MONK STRAP SHOES FOR WOMEN
WIDE SHOES FOR WOMEN

Walk Comfort & Pain Free or Your Money Back!
Orthofeet comfort system offers a non-binding fit, extra room for toe movement, and maximum protection against pressure points. The anatomical orthotic insole and ergonomic sole offer precise support and excellent cushioning, making every step you take soothing with comfort.
Comfortable Orthotic Support - Premium orthotic insoles, featuring anatomical arch support and cushioning layers provide soft, pillow-like support that enhance comfort and help ease pain on the heel, ball of the foot, knees, hips, and back caused by flat feet, overpronation, plantar fasciitis, bunions, arthritis, neuropathy and diabetes.
Like Walking on A Cloud - Light-weight soles with Ergonomic-Stride™ design and air cushioning soften step, enhance stability and add spring to your step.
Superior Comfort & Protection - Soft, seam-free interior lining eliminates friction against the skin, easing pressure on sensitive feet, bunions and Hammer-Toes.
Orthotic friendly design – Extra depth design with removable orthotic insoles (¼" thick in the forefoot area) provide ample space for custom made orthotics.
Adjustable fit - Two sets of removable spacers (1/16" and 1/8" thick). - Allow the adjustment of the space inside the shoe for a perfect fit.
Arch Support
Removable Insoles
Orthotic Friendly
Cushioned Heel
Extra Depth
Deep Toe-Box
Wide Toe-Box
Heel Cup
Shock Absorbing
Soft Uppers
Orthofeet Women's Shoe Sizing Chart
Widths
---
Diabetes
Plantar Fasciitis
Swollen Feet
Metatarsalgia
Ball of the foot pain
Morton's Neuroma
Neuropathy
Flat Feet
Sciiatica
Knee Pain
Heel Pain
Heel Spurs
Over Pronation
Arch Pain
Corns
Calluses
Arthritis
Osteoarthritis
Rheumatoid Arthritis
Bunions
Hammer Toes
Morton's Neuroma
Achilles Tendinitis
Back Pain
Product Care:
For Suede leather: Use a brush and a cloth.
For Full Grain Leather: Use shoe cream.
Material:
Leather

60-DAY WEAR TEST Try Risk Free
FREE Returns & Exchanges
Hassle-Free, 60 Day Return Policy
---
John Borbely
"Hi, I gave you a 4 star rating last week. I am changing my mind and giving you 5 stars and I will recommend you and I already have, to everyone I see. I will be buying more in the near future. Great shoe . Can not wait to put them on in the morning. Thanks."
Karrie VanCleve
"My husband has arthritis in his knees and works a very physically demanding job that consist of long hours standing. These boots are heaven sent!! He is not nearly in as much pain as he was and can keep up with the job. Thank you to Orthofeet!!"
Larry Nicholson
"Great boots very comfortable. I have had a couple of invitations and foot surgery and by far these are the most comfortable boots I've ever worn. I will be purchasing another pair of boots soon."
Douglas Phillips
"When I got the shoes. The first thing I did was try them on. They were very comfortable and I felt like I probably will not have to break them in. Which is a plus."
Amir Shaked
"I just got a new pair of Orthofeet Highline shoes and a pair of Orthofeet Clearwater Orthotic Sandals. I've been buying only(!) Orthofeet shoes for 5 years, since I am no longer willing to put up with the inferior comfort levels provided by other manufacturers' shoes. From time to time Orthofeet improve its models, so when you buy the same shoe model, it gets better! Best shoes I ever had - I only wish I'd discovered them sooner. Thank you Orthofeet!!!"
Ervin Geiger
"Very awesome and comfortable shoe. I wear these shoes daily and stand for long hours. My feet do not feel any pain or discomfort. Since I'm flat footed also , it gives me the arch support that I need also. Very happy about these shoes"
Fred Dudley
"I have had constant foot pain for several years now. Every shoe I try cause my feet to hurt after a couple hours. Trust me. I've tried everything. These boots are very roomie as said in description. They really are a little deeper than any boots I've tried. I've only had them a couple weeks now but I love them. I have Morton's Neuroma and diabetic also. I have to wear loose shoes. These Highline boots are heaven sent. I will be ordering another pair soon. I have hard feet to please. But I took a chance on these. Accidentally found them online and praise God I did. Thanks Orthofeet."
Ronda Paalhar
"Bought these boot for my husband for Christmas. He can actually get them on with no trouble at all. He has a really bad right foot that turns in and flat footed also. He has wore them every day since he got them and says that they feel really good on his feet. Bought a wide and they are wonderful. Best boot he has got for a long time. He's tried many different types of expensive boots and ended up not being able to wear them. Highly recommend these to anyone with any kind of feet and back problems."
Robert Miller
"I have serious pes planus and seem to suffer with all shoes and orthotics to varying extent. These are the most comfortable shoes I have experienced, without exception. The hardest part of being on my feet is standing, and I can stand longer in these than any others. I will definitely be a repeat customer. Delivery was unexpectedly quick as well, in the busiest time of the Christmas season."
Gary Gionet
"I have been using SAS shoes for years but, I decided to try the Highline from OrthoFeet. I must say this shoe is absolutely a perfect fit with the added support of high ankle support. The shoe is very well built with plenty of comfort room. I also ordered a pair of their tennis shoes and same story. OrthoFeet has won me over as a repeat customer. Ordering was easy, great email notifications with tracking, and very fast turnaround."
Frank Bozyczko
"Very comfortable I have heel spurs and these help good ankle support light weight wish they could make a steel toe work boot. My son also got a pair he has flat feet and has noticed an improvement he too likes the ankle support."
Ricky Holman
"Great shoes for hurting feet. These are the second pair of ORTHO-FEET SHOES I have purchased. the first pair were ordered at an Orthotic and brace vender. i have worn the first pair for some time now and wanted to replace them, the comfort is great and the support for your feet and ankles were so good i ordered another pair! highly recommend these shoes to anyone who needs comfort and support and not compromise a good looking shoe in the process!"
David Lee
"Service was good and the boots are great. I have a lot of pain in both feet and these boots
are the best boots I have ever had. I wish they came with a steel toe. I also have a pair of
shoes from Ortho and next month I am going order another pair of shoes."
Beth Sloane
"My husband now has two pairs of these boots. He is a shop teacher and then works his vegetable farm after school. His feet don't hurt if he wears Orthofeet footwear! These boots are sturdy and can take the wear and tear of a very active man. I recommend Orthofeet if you work on your feet a lot, not just if you have foot problems."
Scott Strauss
"I have been wearing these shoes for about a week. The support and comfort are the best I've ever had in any shoes I've owned. I will be buying another pair of shoes from Orthofeet soon."
---

The primary focus of the OrthoFeet brand is to offer the ultimate comfortable and functional shoes, orthotic insoles and socks. By combining athletic footwear technology and therapeutic detailing, OrthoFeet footwear offer the highest level of comfort and protection for sensitive feet.

Finding the right pair of shoes can be a tiring process, especially when faced with a foot ailment.

Orthofeet is also offering innovative high heels, which are biomechanically engineered to offer the world's most comfortable heels.

OrthoFeet employs biomedical engineers to build innovative footwear products, designed to alleviate the symptoms associated with various foot conditions, such as Plantar Fasciitis, Heel and Foot pain, bunions, corns, calluses, and neuroma, and products for individuals with diabetes, arthritis and Neuropathy.
Bioheels allow users to customize the support under the arch and to adjust the space inside the shoe, providing a perfect fit and eliminating foot slippage at the heel.

OrthoFeet products have been proven to help millions of people looking for comfort shoes, diabetic shoes, therapeutic shoes, arthritic shoes, orthotic shoes, foot orthotics, removable insoles, seam-free socks, non-binding and non-constrictive socks.