#1 Recommended Shoes by KevinRoot Medical
Sale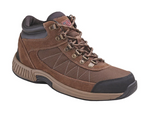 I have been using Orthofeet footwear and foot orthotics for my patients for over 15 years, and I can attest that they offer the best solution for people with sensitive feet, including those with foot pain, diabetes and arthritis. These shoes are designed with unique ergonomic features that cannot be found in any other brand. My patients love them, and in fact I wear them myself daily, as they are the most comfortable shoes I have ever worn.
- Steven Gershman, DPM
ORTHOPEDIC SHOES
DIABETIC SHOES
MONK STRAP SHOES FOR WOMEN
WIDE SHOES FOR WOMEN

Walk Comfort & Pain Free or Your Money Back!
Hunter boots offer a non-binding fit, extra room for toe movement, and maximum protection against pressure points. The anatomical orthotic insoles and the ergonomic sole offer cushioning support and excellent stability, making every step you take soothing with comfort.
Comfortable Orthotic Support - Premium orthotic insoles, featuring anatomical arch support and cushioning layers provide soft, pillow-like support that enhance comfort and help ease pain on the heel, ball of the foot, knees, hips, and back caused by flat feet, overpronation, plantar fasciitis, bunions, arthritis, neuropathy and diabetes.
Like Walking on A Cloud - Light-weight soles with Ergonomic-Stride™ design and air cushioning soften step, enhance stability and add spring to your step.

Superior Comfort & Protection - Soft, seam-free interior lining eliminates friction against the skin, easing pressure on sensitive feet, bunions and Hammer-Toes.
Orthotic friendly design – Extra depth design with removable orthotic insoles (¼" thick in the forefoot area) provide ample space for custom made orthotics.
Adjustable fit - Two sets of removable spacers (1/16" and 1/8" thick). - Allow the adjustment of the space inside the shoe for a perfect fit.
Arch Support
Removable Insoles
Orthotic Friendly
Cushioned Heel
Extra Depth
Deep Toe-Box
Wide Toe-Box
Heel Cup
Shock Absorbing
Soft Uppers
Orthofeet Women's Shoe Sizing Chart
Widths
---
Diabetes
Plantar Fasciitis
Swollen Feet
Metatarsalgia
Ball of the foot pain
Morton's Neuroma
Neuropathy
Flat Feet
Sciiatica
Knee Pain
Heel Pain
Heel Spurs
Over Pronation
Arch Pain
Corns
Calluses
Arthritis
Osteoarthritis
Rheumatoid Arthritis
Bunions
Hammer Toes
Morton's Neuroma
Achilles Tendinitis
Back Pain
Product Care:
Clean with washcloth. Use a small amount of mild soap and water. Air dry. Do not machine wash.
Material:
Leather & Synthetic

60-DAY WEAR TEST Try Risk Free
FREE Returns & Exchanges
Hassle-Free, 60 Day Return Policy
---
Kevin Gallagher
"I initially thought these shoes were too small. Then I saw that I could loosen them up and now they fit me just fine. Like my other pair, these Orthofeet shoes are like walking on air. There is no other brand of shoes that feels like these shoes do to wear. If you have foot problems, these are the shoes to buy. But honestly, if you just want the most comfortable shoes to wear all day long, especially when attending big trade shoes like CES, these shoes are better than wearing tennis shoes, by far."
Susan Young
"My son is very picky about his shoes. If they don't look right or feel good on his feet, he'll reject them. I took a chance on these shoes, thinking that they would be very supportive of his flat feet and bad ankles. Well, it paid off, he absolutely loves these shoes! My son is a 17 year old intellectually and developmentally delayed person and he loves the look, the feel, and the support that these shoes have to offer.."
Monica Sutton
"I bought these for my husband who has an injury on his left foot that makes if very difficult for him to buy comfortable shoes. The double wide fit him so well, he used the inserts that came with these boots for his left shoe so they fit a little tighter. Not only is this boot very stylish but he is soooo happy they are lite and sooo comfortable. I will be shopping for him here from now on."
Cristobal Casasnovas
"After surgery and a year of physical training with no good results I thought that I was going to live with extreme foot pain for the rest of my life. So glad I tried these shoes After only a month I can be on my feet for a day without the extreme pain I have been going thru for the last two years."
Laurie Holden
"My husband has planter fasciitis. There are only certain shoes he can wear for work. We have not found a pair that meet the standards at work, that look fashionable, and that could help his problem. Until ortho feet. Thank you!"
Theresa B.
"My husband THOUGHT his knees were shot & his planter fasciitis was flared up to the point of surgery! I bought him these boots and only HOURS after putting them on...he didn't require knee replacements or surgery on his feet!"
George Mazzant
"The hunter brown shoes I bought fit. This may not be an issue to most people, but I have extremely wide feet. size 10 4xwide seldom fits me. If they do most have places in their shoes that rub my feet raw. These shoes do not. They feel like slippers. Thank you OrthoFeet."
Billy Wilson
"This is the 2nd pair of Ortho shoes I've purchased. I'm 73 years old and can work in this pair of Hunters for 10 hour days on my ranch and come in without any foot pain. First time ever!! The only shoe I'll ever wear."
Donald Halchak
"First purchased the Monterey Bay and thought they were the most comfortable shoe, out of the box, I had ever owned. Next came the Tacoma, and surprisingly they were just as comfortable. Now comes the Hunter. No difference. Thank you Orthofeet for dependability I can count on."
Miguel Perdomo
"Most comfortable shoe I ever used. This shoe has allowed me to walk longer periods of time. My feet and knees fill amazingly free of pain while walking!"
Michael J. Brennan
"On my feet 10-14 hours per day, almost 63 years old at 251 lb at 6-feet. FINALLY I found a boot after years and thousands spent on all other makes. When I get home I feel like a far younger man!! These boots are a life saver and the real deal! Love them so much I also now purchased the Baton Rouge shoe from Orthofeet. Physically I can easily work to 70+ but the feet weren't following that plan. Now I have that full capability back because of these shoes. Buy them, it's impossible to be disappointed with them."
Kevin Durann
"These boots went on so easy an felt so good on my sore tired feet. Have worn then for 10 days an feel very comfortable. Going to look in a pair of sneakers or dress shoes next. Finally no more pain."
---

The primary focus of the OrthoFeet brand is to offer the ultimate comfortable and functional shoes, orthotic insoles and socks. By combining athletic footwear technology and therapeutic detailing, OrthoFeet footwear offer the highest level of comfort and protection for sensitive feet.

Finding the right pair of shoes can be a tiring process, especially when faced with a foot ailment.

Orthofeet is also offering innovative high heels, which are biomechanically engineered to offer the world's most comfortable heels.

OrthoFeet employs biomedical engineers to build innovative footwear products, designed to alleviate the symptoms associated with various foot conditions, such as Plantar Fasciitis, Heel and Foot pain, bunions, corns, calluses, and neuroma, and products for individuals with diabetes, arthritis and Neuropathy.
Bioheels allow users to customize the support under the arch and to adjust the space inside the shoe, providing a perfect fit and eliminating foot slippage at the heel.

OrthoFeet products have been proven to help millions of people looking for comfort shoes, diabetic shoes, therapeutic shoes, arthritic shoes, orthotic shoes, foot orthotics, removable insoles, seam-free socks, non-binding and non-constrictive socks.