#1 Recommended Shoes by KevinRoot Medical
Sale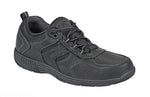 Pacific Palisades - Black (Men's)
I have been using Orthofeet footwear and foot orthotics for my patients for over 15 years, and I can attest that they offer the best solution for people with sensitive feet, including those with foot pain, diabetes and arthritis. These shoes are designed with unique ergonomic features that cannot be found in any other brand. My patients love them, and in fact I wear them myself daily, as they are the most comfortable shoes I have ever worn.
- Steven Gershman, DPM
ORTHOPEDIC SHOES
DIABETIC SHOES
MONK STRAP SHOES FOR WOMEN
WIDE SHOES FOR WOMEN

Walk Comfort & Pain Free or Your Money Back!
Enjoy exceptional comfort and fit with Orthofeet's Pacific Palisades - Black men's walking shoes that offer a non-binding fit, extra room for toe movement, and maximum protection against pressure points. Their anatomical orthotic insoles and ergonomic soles provide comfortable support and superior cushioning, making Pacific Palisades - Black superior men's walking shoes for plantar fasciitis, heel pain, and ball of the foot pain. Pacific Palisades - Black are certified by Medicare and are qualified as men's therapeutic shoes under code A5500 of the Diabetic Shoe Bill, offering an excellent solution for those who are looking for men's diabetic walking shoes.
Comfortable Orthotic Support - Premium orthotic insoles, featuring anatomical arch support and cushioning layers provide soft, pillow-like support that enhances comfort and helps ease pain on the heel, ball of the foot, knees, hips, and back caused by flat feet, overpronation, plantar fasciitis, bunions, arthritis, neuropathy and diabetes.
Like Walking on A Cloud - Light-weight soles with Ergonomic-Stride™ design and air cushioning soften step, enhance stability and add spring to your step.
Superior Comfort & Protection - Soft, seam-free interior lining eliminates friction against the skin, easing pressure on sensitive feet, bunions and Hammer-Toes.
Orthotic friendly design – Extra depth design with removable orthotic insoles (¼" thick in the forefoot area) provide ample space for custom made orthotics.
Adjustable fit - Two sets of removable spacers (1/16" and 1/8" thick). - Allow the adjustment of the space inside the shoe for a perfect fit.
Arch Support
Removable Insoles
Orthotic Friendly
Cushioned Heel
Extra Depth
Deep Toe-Box
Wide Toe-Box
Heel Cup
Shock Absorbing
Soft Uppers
Orthofeet Women's Shoe Sizing Chart
Widths
Diabetes
Plantar Fasciitis
Swollen Feet
Metatarsalgia
Ball of the foot pain
Morton's Neuroma
Neuropathy
Flat Feet
Sciiatica
Knee Pain
Heel Pain
Heel Spurs
Over Pronation
Arch Pain
Corns
Calluses
Arthritis
Osteoarthritis
Rheumatoid Arthritis
Bunions
Hammer Toes
Morton's Neuroma
Achilles Tendinitis
Back Pain
Product Care:
For Suede leather: Use a brush and a cloth.
For Full Grain Leather: Use shoe cream.
Material:
Leather
Collection:
Athletic

60-DAY WEAR TEST Try Risk Free
FREE Returns & Exchanges
Hassle-Free, 60 Day Return Policy
Rehn McShane
"I'm on my feet a lot with these new shoes I could tell right away a big difference. After 8 hours on my feet the shoes feel as comfortable as they did in the morning."
Clarence Magee
"Once again a great product as well as great service. Today I wore them to the New York State Fair after 12+ hours I still have them on."
Anthony Hurd
"His office staff are friendly and responsive and the overall experience was great. He went the extra mile to work with me and really understands the nature of living with an ankle fusion. He gets an A++ for customer service and knowledge!"
Armando J. Valdez
"The absolute best shoes I have ever worn. This is my second pair, and I have decided these shoes are the best for me, and my feet agree also!"
Michael Derrico
"Solved my arthritic and metatarsil problems. Need to wear dress like black shoes on the job for 13 hours a day. Never been so comfortable."
Tamra Thompson
"Bought these for my dad for Father's Day. He has hammer toes. Says it's the best shoe he has ever put on his feet! Wanted to sleep in them but mom wouldn't let him! Lol Great shoes!"
Jim Miller
"After reading the reviews of these shoes, I decided I would give them a try. They are with out a doubt the most comfortable shoes I have ever had and have eliminated the pain in my feet. It is so nice to be able to enjoy the simple act of regular walking again while performing my job duties. Thank you so much for the relief Orthofeet!"
Marcus Norman
"A terrific shoe that fits me like a glove and doesn't need to be broken in. I love the shoe so much I bought two pairs. One for my shore house and one for my regular house."
L. C. Shackelford
"I purchased this premium-quality orthopaedic sneaker for everyday use with custom orthotics. The product has plenty of room for them and is well-cushioned all-around. Very comfortable for hours at a time and, after months of wear, is holding up beautifully. The construction is tops. I will definitely buy more of this company's products in future."
Ronald G. Hanks
"The shoes were delivered to me very quickly and so far I have put about 15 miles on them and they are great. They fit well and make for a comfortable walk. I highly recommend them."
Terry Stewart
"it was perfect the Feel On My Feet for my arthritis in the feet and arthritic knee and my back pain all could feel relief because of these shoes. Very surprised but very grateful. Looking forward to getting some other shoes soon."
Barbara Cawley
"I get these shoes for my son who is a chef and is on his feet all day and night. They are very comfortable, do not slip on the floor, and are very supportive. He even says his back feels better due to the support in these shoes."
Aristides Maldonado
"I work at Miami International Airport and I'm on my feet most of the day walking inside the terminal. These shoes are fantastic! Very comfortable, I'm able to stand for long periods without discomfort or pain. I definitely would recommend these shoes!"
Tommy Thompson
"These are the first pair of shoes from Ortho, but will not be my last. They were exactly as advertised and fit correctly out of box. I have Planters Fac and am Diabetic, these shoes meet both needs. I highly recommend you give them a chance to work for you."
Daureen Cumberland
"Purchased these shoes for my husband.He has been having trouble with his feet and getting shoes that felt good has been a problem.I have been reading the ad for Orthofeet on Facebook and decided to get him a pair for Christmas.When they arrived I went ahead and gave them to him to try out, he has not worn other shoes since.he really like them.What a blessing since he has been in pain for a long time."

The primary focus of the OrthoFeet brand is to offer the ultimate comfortable and functional shoes, orthotic insoles and socks. By combining athletic footwear technology and therapeutic detailing, OrthoFeet footwear offer the highest level of comfort and protection for sensitive feet.

Finding the right pair of shoes can be a tiring process, especially when faced with a foot ailment.

Orthofeet is also offering innovative high heels, which are biomechanically engineered to offer the world's most comfortable heels.

OrthoFeet employs biomedical engineers to build innovative footwear products, designed to alleviate the symptoms associated with various foot conditions, such as Plantar Fasciitis, Heel and Foot pain, bunions, corns, calluses, and neuroma, and products for individuals with diabetes, arthritis and Neuropathy.
Bioheels allow users to customize the support under the arch and to adjust the space inside the shoe, providing a perfect fit and eliminating foot slippage at the heel.

OrthoFeet products have been proven to help millions of people looking for comfort shoes, diabetic shoes, therapeutic shoes, arthritic shoes, orthotic shoes, foot orthotics, removable insoles, seam-free socks, non-binding and non-constrictive socks.