#1 Recommended Shoes by KevinRoot Medical
Sale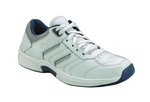 Pacific Palisades - White (Men's)
I have been using Orthofeet footwear and foot orthotics for my patients for over 15 years, and I can attest that they offer the best solution for people with sensitive feet, including those with foot pain, diabetes and arthritis. These shoes are designed with unique ergonomic features that cannot be found in any other brand. My patients love them, and in fact I wear them myself daily, as they are the most comfortable shoes I have ever worn.
- Steven Gershman, DPM
ORTHOPEDIC SHOES
DIABETIC SHOES
MONK STRAP SHOES FOR WOMEN
WIDE SHOES FOR WOMEN

Walk Comfort & Pain Free or Your Money Back!
Enjoy exceptional comfort and fit with Orthofeet's Pacific Palisades - White men's walking shoes that offer a non-binding fit, extra room for toe movement, and maximum protection against pressure points. Their anatomical orthotic insoles and ergonomic soles provide comfortable support and superior cushioning, making Pacific Palisades - White superior men's walking shoes for plantar fasciitis, heel pain, and ball of the foot pain. Pacific Palisades - White are certified by Medicare and are qualified as men's therapeutic shoes under code A5500 of the Diabetic Shoe Bill, offering an excellent solution for those who are looking for men's diabetic walking shoes.
Comfortable Orthotic Support - Premium orthotic insoles, featuring anatomical arch support and cushioning layers provide soft, pillow-like support that enhances comfort and helps ease pain on the heel, ball of the foot, knees, hips, and back caused by flat feet, overpronation, plantar fasciitis, bunions, arthritis, neuropathy and diabetes.
Like Walking on A Cloud - Light-weight soles with Ergonomic-Stride™ design and air cushioning soften step, enhance stability and add spring to your step.
Superior Comfort & Protection - Soft, seam-free interior lining eliminates friction against the skin, easing pressure on sensitive feet, bunions and Hammer-Toes.
Orthotic friendly design – Extra depth design with removable orthotic insoles (¼" thick in the forefoot area) provide ample space for custom made orthotics.
Adjustable fit - Two sets of removable spacers (1/16" and 1/8" thick). - Allow the adjustment of the space inside the shoe for a perfect fit.
Arch Support
Removable Insoles
Orthotic Friendly
Cushioned Heel
Extra Depth
Deep Toe-Box
Wide Toe-Box
Heel Cup
Shock Absorbing
Soft Uppers
Orthofeet Women's Shoe Sizing Chart
Widths
---
Diabetes
Plantar Fasciitis
Swollen Feet
Metatarsalgia
Ball of the foot pain
Morton's Neuroma
Neuropathy
Flat Feet
Sciiatica
Knee Pain
Heel Pain
Heel Spurs
Over Pronation
Arch Pain
Corns
Calluses
Arthritis
Osteoarthritis
Rheumatoid Arthritis
Bunions
Hammer Toes
Morton's Neuroma
Achilles Tendinitis
Back Pain
Product Care:
For Suede leather: Use a brush and a cloth.
For Full Grain Leather: Use shoe cream.
Material:
Leather
Collection:
Athletic

60-DAY WEAR TEST Try Risk Free
FREE Returns & Exchanges
Hassle-Free, 60 Day Return Policy
---
Lyonel Gilmet
"These are the boat feet-friendly shoes my feet have met in years! After trying multiple options over my 79 years, I believe I have found "THE go-to source" for comfort, support, and healthy feet. The insert footbeds are so well-designed I move them to other shoes when I need to wear dress shoes."
David A. Davis
"Thanks to Pacific Palisades, my feet, heels knees and ankles are feeling much better and still improving. I started feeling relief from basically the moment I started wearing my new shoes. I have been wearing them for a little over a week now and my heels, knees, arches, and ankles are much improved and continuing to improve."
Angel Sanchez
"Best "tennis shoes" ever!!. I suffer of scoliosis, neuropathy, diabetic, chronic lower back pain, sciatica plus have two spinal surgeries with 8 titanium rods, 8 titanium screws, 4 spacers, 4 lumbar vertebrae fused and a spinal controlled stimulator. No shoe had help before. Spent money in shoe insoles, gel insoles and nothing until your shoes came up in a Google search as best shoes for many conditions; including what I have. This purchase was one of the best decisions I have made. Thank you!!!"
Stuart Gleich
"I will say that both pairs of my OrthoFeet shoes are my most comfortable and th ones I wear most often for all phases of my daily life. Thank you OrthoFeet for making what would be less tolerable 24/7, much more tolerable/acceptable."
Michael Murtagh
"Tried new shoes, my primary doctor, plastic inserts, various foam inserts, brace, and special socks to the tune of $500. Nothing compares to Pacific Palisades. Back to walking normally after six months of heel pain."
Russel P.
"Best shoes I ever bought. I came down with plantar fasciitis and had to stop my walking routine, 3 miles a day. Inserts and other shoes didn't help. Couldn't go for my walk anymore. I bought and tried these shoes and I'm back to walking, Thank you very Much!"
Roy Racine
"I'am a 68-year old mild diabetic. This is the best shoe I have found for my feet. I buy at least 2-pair per year, keeping the newest pair for dress while using the older pair for everyday use. I have tried more expensive shoes for Diabetics and have found none that feel as good as the Orthofeet 640. I have been wearing these shoes for the past 12- years or so and plan on wearing them for many more years to come, GOD WILLING. Wears this shoe: Sixteen hours per day, seven days a week."
John Geiger
"Being Diabetic and having severe Neuropathy in my feet I have finally found a shoe that is not only comfortable but lives up to its manufactures claims.The Mens Orthofeet 640 is the best buy I have made for my feet in years. And the added satisfaction is in the fact that it's a sneaker that looks like a sneaker, not some ortopedic shoe with its oversized, swollen looks, big soles and bulky mass. This is a great shoe and I recommend it highly. "
Barb Acworth
"These shoes are great. They are one of the most comfortable we have worn and they accommodate orthotics fantastically. We bought our first pair through our podiatrist."
Eric G.
"I bought these shoes to use on a vacation in Italy. My wife and I went on a tour that was all over Italy, from Venice to Capri, and with plenty of walking day events. These shoes are the most comfortable walking shoes I ever owned. They fit perfectly and made my feet feel in shape even after a full day of waling tours. Pavement, sidewalks, dusty roads, grass, rocks and beaches; all were traversed in comfort! Definitely worth the money and will add more to my closet."
Kenneth Nunn
"Finally worked my way through the other brands of walking/athletic shoes to settle on Orthofeet as the one that helps me the most. My foot problems are too numerous to describe plus being 50 lbs. overweight driving my situation, I suggest the buyer get over the price and concentrate on comfort, your feet are like your eyes, life is most uncomfortable when neither one works properly. I'm using this brand for casual as well as activity footwear and probably will use them for the near future."
Robert Brozekat
"I have much difficulty in finding shoes that are comfortable and fit my 13 N feet. These shoes are very comfortable, provide a lot of support, and look good too! They provide my feet adequate room in the toe box."
Bettye Evans
"Got my husband these shoes last week and he loves them! His feet have been giving him so much trouble lately. He said these are truly so comfortable. I actually enjoy walking with them on."
Luiz Diaz Jr.
"I had some misgivings about spending so much for a pair of tennis shoes but I have to say it was money well spent. These are the most comfortable shoes I own. My heel pain is almost nil when I wear them and am looking at purchasing another pair. I did have to use the 2 spacers that were included but now the fit is very good."
Philip Whitworth
"This is the first pair of shoes I have ordered from Ortho Feet and the first pair of Bio Fit. I am very pleased with the shoes. I especially like the spacers that come with the shoes and am in fact using them for a better fit. I also like the room in the toe box and the cushioning provided by the insoles. I look forward to more shoes that fit me so well."
---

The primary focus of the OrthoFeet brand is to offer the ultimate comfortable and functional shoes, orthotic insoles and socks. By combining athletic footwear technology and therapeutic detailing, OrthoFeet footwear offer the highest level of comfort and protection for sensitive feet.

Finding the right pair of shoes can be a tiring process, especially when faced with a foot ailment.

Orthofeet is also offering innovative high heels, which are biomechanically engineered to offer the world's most comfortable heels.

OrthoFeet employs biomedical engineers to build innovative footwear products, designed to alleviate the symptoms associated with various foot conditions, such as Plantar Fasciitis, Heel and Foot pain, bunions, corns, calluses, and neuroma, and products for individuals with diabetes, arthritis and Neuropathy.
Bioheels allow users to customize the support under the arch and to adjust the space inside the shoe, providing a perfect fit and eliminating foot slippage at the heel.

OrthoFeet products have been proven to help millions of people looking for comfort shoes, diabetic shoes, therapeutic shoes, arthritic shoes, orthotic shoes, foot orthotics, removable insoles, seam-free socks, non-binding and non-constrictive socks.