#1 Recommended Shoes by Kevin Orthopedic Institute
Sale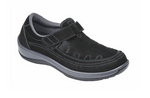 I have been using Orthofeet footwear and foot orthotics for my patients for over 15 years, and I can attest that they offer the best solution for people with sensitive feet, including those with foot pain, diabetes and arthritis. These shoes are designed with unique ergonomic features that cannot be found in any other brand. My patients love them, and in fact I wear them myself daily, as they are the most comfortable shoes I have ever worn.
- Steven Gershman, DPM
ORTHOPEDIC SHOES
DIABETIC SHOES
MONK STRAP SHOES FOR WOMEN
WIDE SHOES FOR WOMEN

Walk Comfort & Pain Free or Your Money Back!
Enjoy exceptional comfort and fit with Orthofeet's Joelle - Black Stretchable women's walking shoes that offer a non-binding fit, extra room for toe movement, and maximum protection against pressure points. Their anatomical orthotic insoles and ergonomic soles provide comfortable support and superior cushioning, making Joelle - Black Stretchable exceptional women's walking shoes for plantar fasciitis, heel pain and ball of the foot pain. Joelle - Black Stretchable are certified by Medicare and are qualified as women's therapeutic shoes under code A5500 of the Diabetic Shoe Bill, offering an excellent solution for those who are looking for women's diabetic walking shoes.
Superior Comfort & Fit - Stretchable design offers a relaxed, comfortable fit and helps relieve pressure on Bunions, Hammer-Toes and sensitive feet.
Comfortable Orthotic Support - Premium orthotic insoles, featuring anatomical arch support and cushioning layers provide soft, pillow-like support that enhances comfort and helps ease pain on the heel, ball of the foot, knees, hips, and back caused by flat feet, overpronation, plantar fasciitis, bunions, arthritis, neuropathy and diabetes.
Easy Gait - Light-weight soles with Ergonomic-Stride™ design and air cushioning soften step and enhance stability. They add spring and comfort to your step for a "Walking on a cloud" experience.
Protective Interior - Soft, seam-free interior lining eliminates pressure points and friction against skin, offering superior comfort and protection.
Orthotic friendly design - Extra depth design with removable orthotic insoles (¼" thick in the forefoot area) provide ample space for custom made orthotics.
Adjustable fit - Two sets of removable spacers (1/16" and 1/8" thick). - Allow the adjustment of the space inside the shoe for a perfect fit.
Arch Support
Removable Insoles
Orthotic Friendly
Cushioned Heel
Extra Depth
Deep Toe-Box
Wide Toe-Box
Heel Cup
Shock Absorbing
Soft Uppers
Mesh
Synthetic
Orthofeet Women's Shoe Sizing Chart
Widths
---
Diabetes
Plantar Fasciitis
Swollen Feet
Metatarsalgia
Ball of the foot pain
Morton's Neuroma
Neuropathy
Flat Feet
Sciiatica
Knee Pain
Heel Pain
Heel Spurs
Over Pronation
Arch Pain
Corns
Calluses
Arthritis
Osteoarthritis
Rheumatoid Arthritis
Bunions
Hammer Toes
Morton's Neuroma
Achilles Tendinitis
Back Pain
Product Care:
Clean with washcloth. Use a small amount of mild soap and water. Air dry. Do not machine wash.
Material:
Synthetic
Collection:
Athletic

60-DAY WEAR TEST Try Risk Free
FREE Returns & Exchanges
Hassle-Free, 60 Day Return Policy
---
Donal Ashmore
"I am very pleased with my shoes. The inserts helped my feet even better. Love the velcro strap to make it adjustable depending on the thickness/thinness for my socks and they are great for my exercise class, too. Finally found a great shoe."
Sarah Kallsen
"I purchased the Serene-Black shoes and love them. Not your typical orthotic shoe. Stylish and very comfortable with good support. Thank You!"
Donna McAtee
"For the first time in a long time I have no pain when I walk. I have a Morton's Neuroma in my left foot and I am a Nurse. Will be ordering more shoes. Thank you!"
Elaine Balum
"I have NEVER been disappointed with the comfort of Ortho feet shoes. It is the only show I can wear an entire day to teach and now to travel, (since I retired)! I have a wide foot and appreciate the room and comfort!"
Sandra St. Clair
"I received my shoes several days ago, they are the most comfortable shoes I have ever worn. I stand all day on concrete floors and have had a lot of trouble with my left knee. The last few days my knee has been great no pain. I also have a hip implant on the right side and the left hip has been bothering me and is getting close to replacement time. Since I have been wearing the new shoes I have had very little hip pain. I am so thankful for these shoes, what a difference they make."
John Ferguson
"We've tried many shoe brands and these are by far the best for my wife, plenty of room for her toes, she has mortons toe, and bunions and she's on her feet for 10 hrs a day at Walmart ,and no complaints and you know what that means, happy."
Janice Peterson
"This is my second pair of shoes from you and l love them. I have multiple foot issues and these are so comfortable that l wear them all the time. I got half size larger as recommended and it gives good toe room."
Diane Nein
"I have been wearing these shoes every day without pain in my hip or feet. I ordered wide width and this is great. The problem I have had with other shoes is that I cannot fit my orthotics in them. Shoes are usually too tight and my feet go to sleep. I did find that that with the Serene shoes, can wear them with my orthotics and have no pain and my feet feel great all day. I will very likely buy more shoes from this company. Best yet, the design does not look like a typical orthopedic shoe. Great value. Thanks!"
Debra Matthews
"Day one of owning these shoes, I was able to wear them all day with no pain. I have flat feet and suffer from neuropathy due to spinal issues. The shoes feel secure on my feet and the arch pain is gone. I had a pair of custom arch supports, but they always caused pain in my right foot. I do not use them anymore due to the support and comfort of your shoes. I'm so glad that you carry the smaller sizes; I usually wear a 5; I have found that your 5 1/2 fit me perfectly. I also love the inserts to help get a custom fit. I had been purchasing a much more expensive shoe that has a good reputation, but your shoes are far superior and cost $40-$50 less. Thank you so much for great shoes!"
Dona Jenkins
"I was looking for a stylish shoe to address osteoarthritis knee issues. This shoe is comfortable, nice looking and helps with relieving knee pain by minimizing impact when walking. Highly recommend it."
Angela Qualls
"I have purchased the Serene shoe in black last week. It is a very comfortable shoe, the sole is strong and comfortable. The insole is padded for more comfort and the leather stretches for maximum support. I am very satisfied with my shoes, and glad i decided on this pair. All in all they are affordable, comfortable and attractive."
Hallie Owen
"I never had shopped here before. The generous width of these Ortho shoes make my toes so much more comfortable. My knees are bad, so these shoes give more comfort to them too. The shoes are sturdy and well made. I'm sure I'll buy more Orthos in the future."
Lori Wilson
"I am really impressed with the amount of comfort and support that these shoes give me. I am on my feet on concrete all day and I had been having problems with my heals and knees since I have gotten these shoes the amount of pain has decreased."
David Whitcomb
"I have neuropathy in both feet so the type of shoe I wear is very Important. I ordered the Serene T-strap and it was extremely comfortable from the vey first. I love the Velcro t-strap, it keeps the shoe securely on your foot. I love them and will re-order them."
Mitzi Macdonalds
"I already own two pair of your Naples fisherman sandal so I was not surprised that Serene would be great. It is light weight, fits my orthotic and supports my foot. I certainly intend to buy more of these. I am also very happy with the spacers you supply. I am using the 1/16 inch spacer in the Serene shoe to make the fit perfect. I never had to break in this shoe. It was comfortable from day one."
---

The primary focus of the OrthoFeet brand is to offer the ultimate comfortable and functional shoes, orthotic insoles and socks. By combining athletic footwear technology and therapeutic detailing, OrthoFeet footwear offer the highest level of comfort and protection for sensitive feet.

Finding the right pair of shoes can be a tiring process, especially when faced with a foot ailment.

Orthofeet is also offering innovative high heels, which are biomechanically engineered to offer the world's most comfortable heels.

OrthoFeet employs biomedical engineers to build innovative footwear products, designed to alleviate the symptoms associated with various foot conditions, such as Plantar Fasciitis, Heel and Foot pain, bunions, corns, calluses, and neuroma, and products for individuals with diabetes, arthritis and Neuropathy.
Bioheels allow users to customize the support under the arch and to adjust the space inside the shoe, providing a perfect fit and eliminating foot slippage at the heel.

OrthoFeet products have been proven to help millions of people looking for comfort shoes, diabetic shoes, therapeutic shoes, arthritic shoes, orthotic shoes, foot orthotics, removable insoles, seam-free socks, non-binding and non-constrictive socks.