#1 Recommended Shoes by KevinRoot Medical
Sale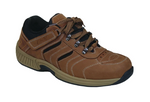 Shreveport - Brown, Tie-Less Lace (Men's)
I have been using Orthofeet footwear and foot orthotics for my patients for over 15 years, and I can attest that they offer the best solution for people with sensitive feet, including those with foot pain, diabetes and arthritis. These shoes are designed with unique ergonomic features that cannot be found in any other brand. My patients love them, and in fact I wear them myself daily, as they are the most comfortable shoes I have ever worn.
- Steven Gershman, DPM
ORTHOPEDIC SHOES
DIABETIC SHOES
MONK STRAP SHOES FOR WOMEN
WIDE SHOES FOR WOMEN

Walk Comfort & Pain Free or Your Money Back!
Shreveport orthotic hiking shoe offers a non-binding fit, extra room for toe movement, and maximum protection against pressure points. It features an innovative Tie-less lacing system, which integrates laces and Velcro straps, offering an easy way to fasten and unfasten on both sides of the shoe without the need for tying laces. Additionally, the anatomical orthotic insole and ergonomic sole offer precise support and excellent cushioning, making every step you take soothing with comfort.
Orthotic support - premium orthotic insoles, featuring anatomical arch support and multiple cushioning layers, improve foot and leg alignment, enhancing comfort and help ease stress and pain on the heel, ball of the foot, knees, hips, and back caused by flat feet, overpronation, plantar fasciitis, bunions, arthritis and diabetes.
Tie-Less Lacing System - Innovative design that incorporates laces with tab eliminates the need for tying laces.
Two-Way Fastening System enables fastening on both side of the shoe- a great advantage for persons who cannot reach the outside part of the shoe.
Orthotic friendly design– Extra depth design with removable orthotic insoles (that are ¼" thick in the forefoot area) provide ample space for custom made orthotics.
Easy Gait- Lightweight cushioning sole with Ergonomic-Stride(TM) design softens step and helps propel the foot forward.
Arch Support
Removable Insoles
Orthotic Friendly
Cushioned Heel
Extra Depth
Deep Toe-Box
Wide Toe-Box
Heel Cup
Shock Absorbing
Soft Uppers
Orthofeet Women's Shoe Sizing Chart
Widths
---
Diabetes
Plantar Fasciitis
Swollen Feet
Metatarsalgia
Ball of the foot pain
Morton's Neuroma
Neuropathy
Flat Feet
Sciiatica
Knee Pain
Heel Pain
Heel Spurs
Over Pronation
Arch Pain
Corns
Calluses
Arthritis
Osteoarthritis
Rheumatoid Arthritis
Bunions
Hammer Toes
Morton's Neuroma
Achilles Tendinitis
Back Pain
Product Care:
For Suede leather: Use a brush and a cloth.
For Full Grain Leather: Use shoe cream.
Material:
Leather

60-DAY WEAR TEST Try Risk Free
FREE Returns & Exchanges
Hassle-Free, 60 Day Return Policy
---
Jay Dickinson
"Very easy on and off thanks to the velcro and lace combo. Comfortable walking shoes. I have a hard time finding a comfortable walking shoe, but these are unusually easy on my knees and arthritic feet. Highly recommended."
Kim Levasseur
"My husband loves these shoes. They keep him balanced and his knees do not hurt. This is rhe second purchase I have bought from Ortho Feet. I bought him a pair of slippers for Christmas and he loves them. He had surgery on 12/26/18 and the nurses were very impress with the slippers . He was able to walk very steadily and felt very sure of himself."
Jay Dev Varma
"Our Feet are a valuable part of our body/life. Taking good care of them is a major necessity.
One of the ways to take care of them is "Comfortable Shoes". This pair that Orthofeet sent is the most comfortable shoes I have ever experienced."
Chante Meyer
"I bought these for my husband. He was to the point where he couldn't where but one pair of shoes due to his hammertoe getting worse. And he loved them. Says they are wonderfully comfortable. He couldn't believe it. Thank you, Orthofeet!!"
Mark Flanagan
"Finally a shoe that provides some relief. I work 11 hour days in the retail industry on hard concrete floors and operate machines which have dead man pedals which require you to put most of your weight onto one foot. At the end of the day my left foot would hurt so bad sometimes it would almost bring me to tears. These shoes have almost completely eliminated that pain. Most I've ever spent on a pair of work shoes but well worth the money! Will definitely buy again."
Kathi Davis
"These shoes immediately helped my husband. He is on his feet all day long and it was becoming extremely painful just to walk. The difference was amazing. Now instead of coming home limping and in pain, he arrives after work with a spring in his step."
Roger Stobert
"Very roomy and comfortable from the moment I put them on. Walked quit a bit shopping the first time I put them on and it was like I had been wearing them for months. Absolutely no break in time. No sore feet, no blisters. Will consider this my brand of choice in the future."
Danny Vernon
"So far so good. I have bad feet, years of climbing in and out of semi trucks and trailers, plus working on concrete, have taken their toll. Trying to find something comfortable has been a challenge, but saw your ad thought I'd try them out and so far they are working well, thank you. My wife has a pair also and they are working for her also, we will be return shoppers."
Lindley Fowler
"I've only had my Shreveport sneakers less than a week, and already, they're the shoes I grab to put on each morning. I suffer from knee pain due to arthritis and foot discomfort mainly from wearing shoes that don't have proper support. I have found that wearing these shoes have helped both my foot and knee pain. I'm a believer and will order more of this shoe brand."
Joseph Bartruff
"I feel like I am walking on pillows or if you stretched your imagination, walking on a cloud would be a great analogy. Except for a brief break-in period, the shoes were fitted properly and made walking easier and virtually pain free. I have to have my hip replaced. It should be easier to walk and it is. These shoes are worth the price."
Don Bartig
"I was looking for comfy boots to wear in the woods, hunting,etc. These are not waterproof but I will give them a try. I ordered them a little larger than I wanted but heavy socks should take care of that. Compared to places like Cabela's, Sheel's,etc these are great because I can buy them for my wide feet. Price was also very reasonable for an outdoor shoe with orthotic supports."
James Voss
"I suffer from neuropathy and have numbness in both feet. I've had difficulty finding a good walking shoe until I purchased these. They give me great support and comfort. I look forward to walking now."
Ralph Shibler
"This is my 2nd pair of these shoes and they are great. Comfortable and help eliminate pain from an ankle that was damaged in an accident. The first pair lasted over a year with almost daily use in a job where I walk all day long. I still use the first pair as well. My only wish is that they would come in black."
Gary Drugley
"Love this brand and this shoe in particular. My foot pain has all but been eliminated - something the $250 diabetic shoes and high end walking shoes could not do. The brand has fantastic shoes, user friendly web site, outstanding support staff -- what more can I say - I have ordered 3 pairs in the last month since receiving my first pair and love them all."
Stanley White
"This is the second pair of shoes I've got from Orthofeet. I'm now a certified believer. It's great to be able to find a well made and comfortable shoe for my sick feet. Wore these for 3 days straight right out of the box....no break-in stiffness. Good looking and comfy too. I'm going to be a steady customer."
---

The primary focus of the OrthoFeet brand is to offer the ultimate comfortable and functional shoes, orthotic insoles and socks. By combining athletic footwear technology and therapeutic detailing, OrthoFeet footwear offer the highest level of comfort and protection for sensitive feet.

Finding the right pair of shoes can be a tiring process, especially when faced with a foot ailment.

Orthofeet is also offering innovative high heels, which are biomechanically engineered to offer the world's most comfortable heels.

OrthoFeet employs biomedical engineers to build innovative footwear products, designed to alleviate the symptoms associated with various foot conditions, such as Plantar Fasciitis, Heel and Foot pain, bunions, corns, calluses, and neuroma, and products for individuals with diabetes, arthritis and Neuropathy.
Bioheels allow users to customize the support under the arch and to adjust the space inside the shoe, providing a perfect fit and eliminating foot slippage at the heel.

OrthoFeet products have been proven to help millions of people looking for comfort shoes, diabetic shoes, therapeutic shoes, arthritic shoes, orthotic shoes, foot orthotics, removable insoles, seam-free socks, non-binding and non-constrictive socks.