#1 Recommended Shoes by KevinRoot Medical
Sale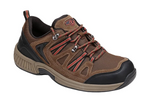 Sorrento Outdoor Shoe (Men's)
I have been using Orthofeet footwear and foot orthotics for my patients for over 15 years, and I can attest that they offer the best solution for people with sensitive feet, including those with foot pain, diabetes and arthritis. These shoes are designed with unique ergonomic features that cannot be found in any other brand. My patients love them, and in fact I wear them myself daily, as they are the most comfortable shoes I have ever worn.
- Steven Gershman, DPM
ORTHOPEDIC SHOES
DIABETIC SHOES
MONK STRAP SHOES FOR WOMEN
WIDE SHOES FOR WOMEN

Walk Comfort & Pain Free or Your Money Back!
Orthofeet Sorrento is a lightweight outdoor shoe that offers a non-binding fit, extra room for toe movement, and maximum protection against pressure points. Its anatomical orthotic insole and ergonomic sole offer precise support and excellent cushioning, making every step you take soothing with comfort.
Comfortable Orthotic Support - Premium orthotic insoles, featuring anatomical arch support and cushioning layers provide soft, pillow-like support that enhance comfort and help ease pain on the heel, ball of the foot, knees, hips, and back caused by flat feet, overpronation, plantar fasciitis, bunions, arthritis, neuropathy and diabetes.
Like Walking on A Cloud - Light-weight soles with Ergonomic-Stride™ design and air cushioning soften step, enhance stability and add spring to your step.

Superior Comfort & Protection - Soft, seam-free interior lining eliminates friction against the skin, easing pressure on sensitive feet, bunions and Hammer-Toes.
Orthotic friendly design – Extra depth design with removable orthotic insoles (¼" thick in the forefoot area) provide ample space for custom made orthotics.
Adjustable fit - Two sets of removable spacers (1/16" and 1/8" thick). - Allow the adjustment of the space inside the shoe for a perfect fit.
Arch Support
Removable Insoles
Orthotic Friendly
Cushioned Heel
Extra Depth
Deep Toe-Box
Wide Toe-Box
Heel Cup
Shock Absorbing
Soft Uppers
Orthofeet Women's Shoe Sizing Chart
Widths
---
Diabetes
Plantar Fasciitis
Swollen Feet
Metatarsalgia
Ball of the foot pain
Morton's Neuroma
Neuropathy
Flat Feet
Sciiatica
Knee Pain
Heel Pain
Heel Spurs
Over Pronation
Arch Pain
Corns
Calluses
Arthritis
Osteoarthritis
Rheumatoid Arthritis
Bunions
Hammer Toes
Morton's Neuroma
Achilles Tendinitis
Back Pain
Product Care:
Clean with washcloth. Use a small amount of mild soap and water. Air dry. Do not machine wash.
Material:
Leather & Synthetic

60-DAY WEAR TEST Try Risk Free
FREE Returns & Exchanges
Hassle-Free, 60 Day Return Policy
---
Daryl Taylor
"This is my second paid of Sorrento Outdoor Shoes, and the 4th paid of shoes I have ordered from Orthofeet. Having Plantar Fasciitis, it was hard to stand and walk comfortably. Finding Orthofeet and shoes that were designed to help alleviate foot paid has been a tremendous help."
Mark Slusz
"I have been wearing Orthofeet shoes now for a couple of years, and I must say they are the very BEST. I am on my feet my entire shift at work. These shoes keep my feet cushioned, comfortable, and supported, especially in the arch which is so very important. I highly recommend Orthofeet shoes."
Dr. Peter Stube
"Most comfortable shoes I have found, by far. Once I found Orthofeet and bought a pair I was so delighted I now own three pairs. All fit well on my surgically repaired feet and are incredibly comfortable. Thank you Orthofeet."
Domenick Albano
"The shoes are as advertised very comfortable and do ease the pain from planter fasciitis very please to have found a shoe that I could wear all day without any discomfort. I'm on my feet all day long walking 5-8 miles a day on my job in my building. Theses shoes make it easy I would be more pleased if I could find a work shoe with the same comfort."
Jose Quintero
"I suffer from arthritis and colapse arch due to an accident. It's been over a week I got my shoes and I tell you what. These are miracle shoes. My pain went down from 100% to 10%. I've never worked this comfortable in years. Thank you so much!!!"
Mark T.
"I walk all day long at my job. I also am a diabetic with bunion problems. This is the only shoe that keeps me comfortable. My foot is not bound up, because width is perfect. Fit like a glove! Worth every penny. Outstanding Product!!!"
Paul Dudek
"At age 78 my feet were getting so sore that walking for any extended distance was too painful. My wife and I typically walked for 45 minutes at least three times a week for health reasons. In desperation I found OrthoFeet online and ordered a pair of the Sorrento Outdoor Shoe. Best decision I have made regarding foot-ware. I am back to walking the distance with little or no pain. They are the most comfortable shoes I have ever worn."
John Hochmuth
"My first experience with OrthoFeet was a pair of slippers that made my PF condition tolerable while going through therapy. Since then I have purchased 3 pair of shoes. The Sorrento Outdoor shoes have become my go to, everyday shoes. Great for walking, working in the yard or washing the car...they're waterproof. In time, all of my shoes will have the name OrthoFeet on them...except for my golf shoes...they don't make them."
Dave Meginnis
"I was so impressed with the fit and comfort of the Sorrento Outdoor Shoe that the next week I placed an order for the Alpine Brown Orthotic Sandal!! Plus, I'm impressed with the value!!"
William Nye
"These shoes are super comfortable and extremely easy to put on. The toe box accommodates my bunions and hammer toes and the footbed cradles my feet wonderfully. These are very impressive, comfortable shoes!!"
Joseph De Balzo
"I have tried many different walking shoes during my lifetime (80 years), The Sorrento Outdoor Shoe, by far, is the most comfortable I have ever worn. Perfect for a wide foot and one aching knee. Looking forward to many miles of comfortable secure walking."
Dennis Littley
"I am so happy I have found these shoes before my trip to Europe. I am walking much better since I started wearing them and even stairs are easier.
The shoes are comfortable and my knee and back pain is getting better already. Thank you for making such a great shoe at an affordable price!"
Donna Miller
"The Sorrento shoes are my husband's 6th pair of Orthofeet shoes. They are waterproof as he wears them fishing and for general use. Just like all the others they help support his bad knees and back. The comfort and support is fantastic. Buy these for sure or any other Orthofeets."
David Wilson
"Just received these today more comfortable than my slippers i have been wearing Orthofeet shoes for years and these have to be my favorite. Plus i am so glad you have finally made a pair of waterproof shoes."
Jeffrey Howard
"My feet were hurting so bad I could hardly walk because of plantars facetious. Legs hurt, knees hurt, walking was a real chore, really exhausting. I got these shoes and within hours of putting them on I could feel the change. After two weeks, I'm tired but not because not because of pain. Because I'm walking and outside doing things I want to do. These shoes are a life changer!"
---

The primary focus of the OrthoFeet brand is to offer the ultimate comfortable and functional shoes, orthotic insoles and socks. By combining athletic footwear technology and therapeutic detailing, OrthoFeet footwear offer the highest level of comfort and protection for sensitive feet.

Finding the right pair of shoes can be a tiring process, especially when faced with a foot ailment.

Orthofeet is also offering innovative high heels, which are biomechanically engineered to offer the world's most comfortable heels.

OrthoFeet employs biomedical engineers to build innovative footwear products, designed to alleviate the symptoms associated with various foot conditions, such as Plantar Fasciitis, Heel and Foot pain, bunions, corns, calluses, and neuroma, and products for individuals with diabetes, arthritis and Neuropathy.
Bioheels allow users to customize the support under the arch and to adjust the space inside the shoe, providing a perfect fit and eliminating foot slippage at the heel.

OrthoFeet products have been proven to help millions of people looking for comfort shoes, diabetic shoes, therapeutic shoes, arthritic shoes, orthotic shoes, foot orthotics, removable insoles, seam-free socks, non-binding and non-constrictive socks.