#1 Recommended Shoes by KevinRoot Medical
Sale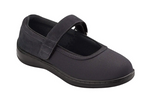 Springfield - Black Women's Mary Jane Stretchable (Women's)
I have been using Orthofeet footwear and foot orthotics for my patients for over 15 years, and I can attest that they offer the best solution for people with sensitive feet, including those with foot pain, diabetes and arthritis. These shoes are designed with unique ergonomic features that cannot be found in any other brand. My patients love them, and in fact I wear them myself daily, as they are the most comfortable shoes I have ever worn.
- Steven Gershman, DPM
ORTHOPEDIC SHOES
DIABETIC SHOES
MONK STRAP SHOES FOR WOMEN
WIDE SHOES FOR WOMEN

Walk Comfort & Pain Free or Your Money Back!
Springfield - Black Mary Jane shoes with arch support offer a stretchable, non-binding fit, extra room for toe movement, and maximum protection against pressure points. The anatomical orthotic insole and ergonomic sole offer precise support and excellent cushioning, making every step you take soothing with comfort.
Superior Comfort & Fit - Stretchable design offers a relaxed, comfortable fit and helps relieve pressure on Bunions, Hammer-Toes and sensitive feet.
Comfortable Orthotic Support - Premium orthotic insoles, featuring anatomical arch support and cushioning layers provide soft, pillow-like support that enhances comfort and helps ease pain on the heel, ball of the foot, knees, hips, and back caused by flat feet, overpronation, plantar fasciitis, bunions, arthritis, neuropathy and diabetes.
Easy Gait - Light-weight soles with Ergonomic-Stride™ design and air cushioning soften step and enhance stability. They add spring and comfort to your step for a "Walking on a cloud" experience.
Protective Interior - Soft, seam-free interior lining eliminates pressure points and friction against skin, offering superior comfort and protection.
Orthotic friendly design - Extra depth design with removable orthotic insoles (¼" thick in the forefoot area) provide ample space for custom made orthotics.
Adjustable fit - Two sets of removable spacers (1/16" and 1/8" thick). - Allow the adjustment of the space inside the shoe for a perfect fit.
Arch Support
Removable Insoles
Orthotic Friendly
Cushioned Heel
Extra Depth
Deep Toe-Box
Wide Toe-Box
Heel Cup
Shock Absorbing
Soft Uppers
Mesh
Synthetic
Orthofeet Women's Shoe Sizing Chart
Widths
---
Diabetes
Plantar Fasciitis
Swollen Feet
Metatarsalgia
Ball of the foot pain
Morton's Neuroma
Neuropathy
Flat Feet
Sciiatica
Knee Pain
Heel Pain
Heel Spurs
Over Pronation
Arch Pain
Corns
Calluses
Arthritis
Osteoarthritis
Rheumatoid Arthritis
Bunions
Hammer Toes
Morton's Neuroma
Achilles Tendinitis
Back Pain
Product Care:
Clean with washcloth. Use a small amount of mild soap and water. Air dry. Do not machine wash.
Material:
Synthetic

60-DAY WEAR TEST Try Risk Free
FREE Returns & Exchanges
Hassle-Free, 60 Day Return Policy
---
Deborah Corak
"I am able to stand up straighter, and my toes can spread out, which makes walking much easier. The shoes are a relief!"
Laura Jurkovic
"I purchased these shoes for my elderly mother who's arthritis has gotten so bad that her feet are misshapen. Currently, she can only wear gymshoes. Well, my cousin is getting married in September and she can no longer get into dress shoes. When I put these on her feet she cried in relief. Although not proper dress shoes, perfectly acceptable shoes to wear to a wedding."
Cathy Carter
"Great shoes for swollen feet. Your feet will feel as though you're walking on air. No tightness or heavy feeling at all. When your feet feel better you feel better."
Anne Madison
"I have found a great deal of comfort in my Orthofeet sneakers, but you really can't dress up to go out and wear a pair of pink and white athletic shoes. I was a little reluctant to try the Springfield, but--surprise! They are basically the same shoe internally as the sneakers. Same great support, same cushioning and padding, same ability to adjust for two different foot sizes. Comfortable, and while they're not glamour shoes, I can wear them with a dress or suit. Very satisfied."
Kathlynne Lauterback
"I am so happy that I purchased these shoes. My knees and feet don't hurt as much at the end of the day. They look nice too. The fashion police at work are ok with them too."
Marilyn Agee
"We love these shoes. My mom has advanced osteoporosis and has fallen in love w this shoe. It's her second pair and she walks better without so much pain."
Barbara T.
"Because I am diabetic and also have a 2w foot, I cannot wear just any shoe. I first bought these in black and took them to Disney World with me in January. The first day I wore a different shoe and by the end of the day, my feet were so sore and swollen, I had difficulty even getting them off! I wore the Mary Jane for the rest of the week and walked from 8am to 10pm every day without a problem. The shoe is soft and stretched a bit so my swollen feet were not a problem. I loved them so much that I recently bought 2 more pair in different colors. I also like them because I can wear them with skirts, jeans, and dress pants and feel properly dressed."
Lucetta Dunn
"I have bunions, hammertoes, and arthritis. I thought I wouldn't ever be able to wear closed-toed shoes again but these are great. Roomy, secure, great arch support, and extra inserts if needed to make them truly a custom fit. I've worn them for three days in a row with good results, no discomfort and less leg/foot fatigue than ever. Bravo. I did take the advice of other reviewers and order a half size larger--good call. I will look for even more style with this comfort in future Orthofeet orders."
Jane Eschweiler
"For years I have wished for stretchy shoes. I just got a pair from Orthofeet, and my feet are in bliss. They do indeed refrain from squeezing on delicate parts of my toes and other pain points. I am enchanted at this comfort. Thanks."
Carolyn Ogden
"These are the shoes I've spent years and way too much money searching for. They are oh so comfy to wear and help with my equilibrium problems so much, are comfy and sturdy without looking "clunky," are easy to get on and wonderfully adjustable thanks to the two sets of inserts accompanying them, and are my only "go to" shoes for all purposes. In them I feel not only totally comfortable but more in charge of my balance than I have felt since this problem first presented itself. I also notice that my arthritis pains in my feet are much fewer now that I have my Orthofeet Springfields. I would and am recommending Orthofeet to any and all who have problems of any kind with their feet."
Martha Rivers
"These shoes wear so good. My feet were feeling great at the end of the day. Can't say enough. I believe I could walk a very long way in these shoes. Thank you so much for putting the ad on FB. I'm going to order a pair of tennis shoes in the next few weeks. Love them so much. Thank you, love them."
Naomi Tropp
"I have a bunion on my left foot and arthritis in both feet and have had a terrible time finding shoes in which I can walk without pain. When I received these shoes, I immediately put them on and wore them the rest of the day in total comfort. I'm now considering buying more shoes from Orthofeet. I usually wear a 9 to 9.5, but ordered up and got a size 10 and they fit perfectly."
Sayeeda Hodo
"It took me several weeks to wear the OrthoFeet Springfield shoes due to bad weather. I finally had to a chance to wear them and I loved the fit and comfort of the shoes. They wear well and are really good for walking. I would recommend OrthoFeet to other customers."
Judy Nowark
"I was very hesitant at first to invest the money in these shoes but after recently starting a new job in my senior years, that requires me to be on my feet all the time I went for it. I've worn them to work twice with no " new shoe" issues. They are very supportive and my usual foot and back pain have diminished already. I'm very pleased!!!"
Carol Nuckles
"I love my new shoes. Wore them to church this Sunday and my feet felt so good. This pair was not quite the style I thought. Really thought these would be perfect for my shorts and jeans. They are more of a dressy shoe. Still worked out for the best. My next pair I order will be the casual look. Will definitely get another pair! Thank you!"
---

The primary focus of the OrthoFeet brand is to offer the ultimate comfortable and functional shoes, orthotic insoles and socks. By combining athletic footwear technology and therapeutic detailing, OrthoFeet footwear offer the highest level of comfort and protection for sensitive feet.

Finding the right pair of shoes can be a tiring process, especially when faced with a foot ailment.

Orthofeet is also offering innovative high heels, which are biomechanically engineered to offer the world's most comfortable heels.

OrthoFeet employs biomedical engineers to build innovative footwear products, designed to alleviate the symptoms associated with various foot conditions, such as Plantar Fasciitis, Heel and Foot pain, bunions, corns, calluses, and neuroma, and products for individuals with diabetes, arthritis and Neuropathy.
Bioheels allow users to customize the support under the arch and to adjust the space inside the shoe, providing a perfect fit and eliminating foot slippage at the heel.

OrthoFeet products have been proven to help millions of people looking for comfort shoes, diabetic shoes, therapeutic shoes, arthritic shoes, orthotic shoes, foot orthotics, removable insoles, seam-free socks, non-binding and non-constrictive socks.