#1 Recommended Shoes by KevinRoot Medical
Sale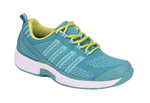 Coral-Turquoise Stretchable (Women's)
I have been using Orthofeet footwear and foot orthotics for my patients for over 15 years, and I can attest that they offer the best solution for people with sensitive feet, including those with foot pain, diabetes and arthritis. These shoes are designed with unique ergonomic features that cannot be found in any other brand. My patients love them, and in fact I wear them myself daily, as they are the most comfortable shoes I have ever worn.
- Steven Gershman, DPM
ORTHOPEDIC SHOES
DIABETIC SHOES
MONK STRAP SHOES FOR WOMEN
WIDE SHOES FOR WOMEN

Walk Comfort & Pain Free or Your Money Back!
Enjoy exceptional comfort and fit with Orthofeet's Coral-Turquoise Stretchable women's athletic shoes that offer a non-binding fit, extra room for toe movement, and maximum protection against pressure points. Their anatomical orthotic insoles and ergonomic soles provide comfortable support and superior cushioning, making Coral-Turquoise Stretchable extraordinary women's sneakers for plantar fasciitis, heel pain and bunions. Coral-Turquoise Stretchable are certified by Medicare and are qualified as women's therapeutic shoes under code A5500 of the Diabetic Shoe Bill, offering an excellent solution for those who are looking for women's diabetic sneakers.
Superior Comfort & Fit - Stretchable design offers a relaxed, comfortable fit and helps relieve pressure on Bunions, Hammertoes and sensitive feet.
Comfortable Orthotic Support - Premium orthotic insoles, featuring anatomical arch support and cushioning layers provide soft, pillow-like support that enhances comfort and helps ease pain on the heel, ball of the foot, knees, hips, and back caused by flat feet, overpronation, plantar fasciitis, bunions, arthritis, neuropathy and diabetes.
Easy Gait - Light-weight soles with Ergonomic-Stride™ design and air cushioning soften step and enhance stability. They add spring and comfort to your step for a "Walking on a cloud" experience.
Protective Interior - Soft, seam-free interior lining eliminates pressure points and friction against skin, offering superior comfort and protection.
Orthotic friendly design - Extra depth design with removable orthotic insoles (¼" thick in the forefoot area) provide ample space for custom made orthotics.
Adjustable fit - Two sets of removable spacers (1/16" and 1/8" thick). - Allow the adjustment of the space inside the shoe for a perfect fit.
Arch Support
Removable Insoles
Orthotic Friendly
Cushioned Heel
Extra Depth
Deep Toe-Box
Wide Toe-Box
Heel Cup
Shock Absorbing
Soft Uppers
Mesh
Synthetic
Orthofeet Women's Shoe Sizing Chart
Widths
---
Diabetes
Plantar Fasciitis
Swollen Feet
Metatarsalgia
Ball of the foot pain
Morton's Neuroma
Neuropathy
Flat Feet
Sciiatica
Knee Pain
Heel Pain
Heel Spurs
Over Pronation
Arch Pain
Corns
Calluses
Arthritis
Osteoarthritis
Rheumatoid Arthritis
Bunions
Hammer Toes
Morton's Neuroma
Achilles Tendinitis
Back Pain
Product Care:
Clean with washcloth. Use a small amount of mild soap and water. Air dry. Do not machine wash.
Material:
Synthetic
Collection:
Athletic

60-DAY WEAR TEST Try Risk Free
FREE Returns & Exchanges
Hassle-Free, 60 Day Return Policy
---
Mona Trump
"Fast delivery, excellent packaging, very comfortable, love the color, stretching the fabric did not rub against the top of the toes, but the size was wrong and the exchange ensued easily."
Jeanine Harris
"I usually go through 2 pairs of expensive sneakers a year...and still have foot pain....Not true with Orthofeet! Guaranteed for 1 full year.... NO PAIN! I will never buy from another company ever!"
Linda Sidell
"Very comfortable. They felt great the minute I put them on. Lots of Room for my toes. Really comfortable arch, which I need. Great for walking. Love the color and the yellow laces."
Ellen Silverberg
"I've always had foot pain and, lately found the only shoes I could tolerate were Crocs. After reading the reviews for these Orthosneakers, I decided to give it a try. Well, I'm just delighted! I have never been so comfortable in a shoe and find that my feet don't hurt after walking. Glory hallelujah! Thank you Orthofeet."
Lolita Carter
"I live with foot pain. I have recently had foot surgery for the pain. These shoes are getting me through the recovery. Love them. They are so comfy. They give in all directions which is great for the foot I had surgery on because there's no pressure from swelling by the end of the day."
Barbara Barnes
"No more cheap and ill-fitting shoes for me. I'm telling you——CHANGE YOUR MIND ABOUT SKIMPING ON THE COST OF SHOES!! My feet are thanking me!! OrthoFeet is my Home link to foot wellness!"
Alfred Foster
"I never thought I would find a shoe that would be as comfortable as these are. I was skeptical at first, but decided to go for it. I will be getting more in the future!! Good job, OrthoFeet!!!"
Gema Corea
"I purchased these shoes as a gift for my mother on Christmas. She absolutely loves them! She has even asked me to buy her another pair. She suffers from fibromyalgia and rheumatoid arthritis which causes her a lot of pain on her feet and she is constantly looking for shoes to alleviate the pain. These shoes have improved the pain in her feet and there are even days in which she doesn't have pain or feel tiredness."
Paulette Burros
"I've been told by my Neurologist said that I have one of the worse case of Neuropathy for some one that does not have sugar diabetes, then my Pediatric told that I need to buy some diabetic shoes. So I hit the internet, found your shoes. She said they needed to be mesh on the top. It's like walking on clouds. I couldn't have found a better Ortho feet Advantage."
Sue Naugton
"Orthofeet shoes are the most comfortable shoes I've ever owned. I can wear these athletic shoes all day and not feel any discomfort. Even my back feels better with these shoes. I'm very thankful for Orthofeet shoes."
Sandy Boring
"These shoes are awesome quality and they are so comfortable. I needed them because I have heel spurs and was going on vacation and needed them in a hurry. They came in 3 days! Love them."
Cynthia Gray
"For nearly a year I have purchased several pairs of Orthofeet shoes (Tahoe, Breeze, Chattanooga, Naples and Coral). Each of them are comfortable - some more so and the Coral - Gray and Turquoise are the most comfortable of all. I wish they came in more colors."
Tami Nachazel
"Just arrived but fit better than any other extra wide shoes I have tried. I have found my new shoe source and finally have relief from my plantar faciitis. Plus they are much more stylish than other ortho shoes."
Mandy Loftus
"These shoes are amazing. No need to break in, put them on they were so comfortable! I'm on my feet 10-11 hours walking on concrete. My feet don't hurt anymore when I get home from work. I absolutely love these. Definitely will be a continued buyer! Thank you so much Orthofeet!"
Emily Hoelzle
"Love these shoes!!! Very comfortable and cute. Also, don't look to old for a recent 30yr old like me. I have a hard time finding shoes that fit bc my feet 2 different sizes but the 10.5 fit great with my heel lift. Haven't worn them all day yet but I'm hoping they live up to my expectations with comfort because I have neuropathy and arthritis from back surgeries and knee problems. Thanks Orthofeet for great quality shoes."
---

The primary focus of the OrthoFeet brand is to offer the ultimate comfortable and functional shoes, orthotic insoles and socks. By combining athletic footwear technology and therapeutic detailing, OrthoFeet footwear offer the highest level of comfort and protection for sensitive feet.

Finding the right pair of shoes can be a tiring process, especially when faced with a foot ailment.

Orthofeet is also offering innovative high heels, which are biomechanically engineered to offer the world's most comfortable heels.

OrthoFeet employs biomedical engineers to build innovative footwear products, designed to alleviate the symptoms associated with various foot conditions, such as Plantar Fasciitis, Heel and Foot pain, bunions, corns, calluses, and neuroma, and products for individuals with diabetes, arthritis and Neuropathy.
Bioheels allow users to customize the support under the arch and to adjust the space inside the shoe, providing a perfect fit and eliminating foot slippage at the heel.

OrthoFeet products have been proven to help millions of people looking for comfort shoes, diabetic shoes, therapeutic shoes, arthritic shoes, orthotic shoes, foot orthotics, removable insoles, seam-free socks, non-binding and non-constrictive socks.