#1 Recommended Shoes by KevinRoot Medical
Sale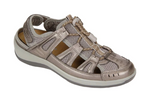 Verona Pewter Women's Sandal (Women's)
I have been using Orthofeet footwear and foot orthotics for my patients for over 15 years, and I can attest that they offer the best solution for people with sensitive feet, including those with foot pain, diabetes and arthritis. These shoes are designed with unique ergonomic features that cannot be found in any other brand. My patients love them, and in fact I wear them myself daily, as they are the most comfortable shoes I have ever worn.
- Steven Gershman, DPM
ORTHOPEDIC SHOES
DIABETIC SHOES
MONK STRAP SHOES FOR WOMEN
WIDE SHOES FOR WOMEN

Walk Comfort & Pain Free or Your Money Back!
Verona pewter are pretty closed-toe sandals for women that are engineered with unique features to enhance comfort from heel to toe. These unique orthopedic sandals for women are crafted with removable orthotic insoles, soft uppers with stretch padded with foam, non-slip cushioning soles and innovative two-way strap system, making Verona your first choice when looking for the best walking sandals for women.

You may try them risk free and see for yourself why Verona are regarded as one of the world's most comfortable sandals for women.

Ideal for the following sandal categories: women's bunion sandals, strappy sandals for women, flat sandals for women, women's wide width sandals, comfortable walking sandals for women.
Orthotic support - Ortho-Comfort TM premium orthotic insoles, featuring anatomical arch support and multiple cushioning layers help improve foot and leg alignment, enhancing comfort and easing stress and pain on the heel, ball of the foot, knees, hips, and back caused by flat feet, over-pronation, plantar fasciitis, bunions, arthritis and diabetes.
Orthotic friendly design – Extra depth design with removable orthotic insoles that are ¼" thick in the forefoot area provide ample space for custom made orthotics.
Easy gait - Light-weight Ergonomic-Stride(TM) sole with air cushioning softens step, and adds spring to your step.
Protective Interior - Soft lining with extra foam padding eliminates pressure points, and helps reduce friction against skin.
Comfort fit - soft, non-binding upper eliminates pressure points and enhances comfort.
Adjustable fit - two sets of removable spacers (1/16" and 1/8" thick) allow the adjustment of the space inside the shoe for a perfect fit.
Heel-Strap enables to adjust the grip around the heel, eliminating slippage, and accommodating both slim and wide heels.
Arch Support
Removable Insoles
Orthotic Friendly
Cushioned Heel
Extra Depth
Deep Toe-Box
Wide Toe-Box
Heel Cup
Shock Absorbing
Soft Uppers
Mesh
Synthetic
Orthofeet Women's Shoe Sizing Chart
Widths
---
Diabetes
Plantar Fasciitis
Swollen Feet
Metatarsalgia
Ball of the foot pain
Morton's Neuroma
Neuropathy
Flat Feet
Sciiatica
Knee Pain
Heel Pain
Heel Spurs
Over Pronation
Arch Pain
Corns
Calluses
Arthritis
Osteoarthritis
Rheumatoid Arthritis
Bunions
Hammer Toes
Morton's Neuroma
Achilles Tendinitis
Back Pain
Product Care:
Clean with washcloth. Use a small amount of mild soap and water. Air dry. Do not machine wash.
Material:
Synthetic

60-DAY WEAR TEST Try Risk Free
FREE Returns & Exchanges
Hassle-Free, 60 Day Return Policy
---
Ann Hollaway
"I have been looking for a cool and comfortable walking shoe for 20 years. I usually resort to sandals, because I require a narrow shoe width;I require a half/size; my middle toes are much longer than my big toes, and I have a high arch. These shoes actually fit and because they are somewhat open on the sides, my usually hot feet can breathe. I am delighted with this purchase."
Doreen Phillips
"Superb. Quality and service awesome. Exchanged one pair as I needed larger, to use with socks, and exchanged another because the style was not what I liked. Replacements were perfect. Efficient and prompt. But above all exactly what I was hoping for. Cannot recommend highly enough. With this level of service there is no risk, and you cannot go wrong. Bought four pairs."
Maryann Kathrein
"I have bought multiple pairs of OrthFeet over the years. Never a problem. I suffer from bunions and flat feet so this brand of shoe works wonders for my foot comfort. I'm glad I took the advice from the website and ordered 1/2 size larger than normal. As a result they fit perfectly. Very stylish, comfortable and durable sandal!"
Norma Bradley
"So delighted with these Verona Sandals. They are comfortable, fun and fit my custom orthotic inserts. Bunions and hammer toes are happy. I finally figured out that since many of Orthofeet shoes have adjustable straps or are stretchable, I don't need a wide to compensate for bunions."
Deborah Steiner
"I was glad to get the fitting instructions with these sandals. I tried several different ways of using the inserts provided to get a good fit. I am very satisfied with these shoes - even got a few compliments already on their looks."
Julia Etzel
"These are the most comfortable sandals I've experienced in a very long time. From the minute I put them on there was instant comfort. I recommend these sandals for anyone that has Plantar fasciitis."
Beth K.
"I am NOT a sandal person. Most sandals provide no support, have skinny little straps and thongs that chafe, rub, and don't hold the sandal on securely, and finally I really hate it when pebbles and dirt get through the sandal and you step on them. OUCH!!! The Veronas don't have ANY of these problems! They have excellent arch support, there is enough substance to the sandal that they stay on securely and the strap don't rub or chafe, even after walking around all day. And after 2-3 weeks of wearing them, I haven't had a single instance of pebbles getting through the sandal. I'm really pleased with these Veronas and all the other pairs of shoes I've purchased from Orthofeet."
Nancy Huber
"I recently purchased these ridiculously comfortable sandals. I have bunions and need a lot of arch support, too. I got the size 8 Wide sandals. I normally wear a size 7.5, but the description said they run slightly short. 8 is just right. So I wore these for the first time this weekend, walking many, many city sidewalks, and also standing a lot, and my feet did not hurt at all. I didn't even think about my feet. That is amazing to me, as they usually give me grief at some point every day. I hope these are made in different colors someday!"
Angela Johnson
"I received my shoes and was anxious to try them out. I wore them inside my house for a few hours and my feet felt wonderful. The fit is awesome and this is a good looking shoe. I proceeded to wear outside on pavement and still my feet felt wonderful. After having foot and ankle surgery last October, I have not been able to find a comfortable fitting shoe until now. I will definitely be purchasing more shoes from this Company. I have also noticed that the Neuropathy in my feet is so much better."
Miriam Rosen Gerber
"These are my go-to shoes when I know I'll be doing lots of walking! First time in years I have had shoes that are comfortable, stylish, and good for me. I'm a diabetic with significant neuropathy and these give me the relief I need. Thank you!"
Jane Jackson
"I really like the shoes and have gotten many compliments on them. I can wear them for extended time while chasing my 13 month old grandson, and my feet do not hurt. I especially like the fact that while they give great support, they look good too!"
Judith Skiff
"This shoe feels so good on my foot. Supportive yet cushioned and flexible. The size fits my foot perfectly. I have a plate in my foot and this is still comfortable. I thinks it;s the most comfortable shoe i've ever worn. And it looks good."
---

The primary focus of the OrthoFeet brand is to offer the ultimate comfortable and functional shoes, orthotic insoles and socks. By combining athletic footwear technology and therapeutic detailing, OrthoFeet footwear offer the highest level of comfort and protection for sensitive feet.

Finding the right pair of shoes can be a tiring process, especially when faced with a foot ailment.

Orthofeet is also offering innovative high heels, which are biomechanically engineered to offer the world's most comfortable heels.

OrthoFeet employs biomedical engineers to build innovative footwear products, designed to alleviate the symptoms associated with various foot conditions, such as Plantar Fasciitis, Heel and Foot pain, bunions, corns, calluses, and neuroma, and products for individuals with diabetes, arthritis and Neuropathy.
Bioheels allow users to customize the support under the arch and to adjust the space inside the shoe, providing a perfect fit and eliminating foot slippage at the heel.

OrthoFeet products have been proven to help millions of people looking for comfort shoes, diabetic shoes, therapeutic shoes, arthritic shoes, orthotic shoes, foot orthotics, removable insoles, seam-free socks, non-binding and non-constrictive socks.