#1 Recommended Shoes by KevinRoot Medical
Sale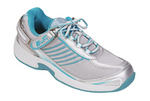 Verve-Turquoise Tie - Less Lace (Women's)
I have been using Orthofeet footwear and foot orthotics for my patients for over 15 years, and I can attest that they offer the best solution for people with sensitive feet, including those with foot pain, diabetes and arthritis. These shoes are designed with unique ergonomic features that cannot be found in any other brand. My patients love them, and in fact I wear them myself daily, as they are the most comfortable shoes I have ever worn.
- Steven Gershman, DPM
ORTHOPEDIC SHOES
DIABETIC SHOES
MONK STRAP SHOES FOR WOMEN
WIDE SHOES FOR WOMEN

Walk Comfort & Pain Free or Your Money Back!
Enjoy exceptional comfort and fit with Orthofeet's Verve - Turquoise women's athletic shoes that feature a unique Tie-Less Lacing System that eliminates the need for tying laces and a Heel Strap that allows to adjust the grip around the heel. What's more, these shoes come with premium orthotic insoles, ergonomic soles, non-binding uppers, wide toe-box, and soft, protective interior, making Verve - Turquoise extraordinary women's sneakers for plantar fasciitis, heel pain, foot pain, and an excellent solution for arthritis sneakers, diabetic sneakers and diabetic walking shoes. Certified by Medicare and qualified as women's therapeutic shoes under code A5500 of the Diabetic Shoe Bill.
Orthotic support - premium orthotic insoles, featuring anatomical arch support and multiple cushioning layers, improve foot and leg alignment, enhancing comfort and help ease stress and pain on the heel, ball of the foot, knees, hips, and back caused by flat feet, overpronation, plantar fasciitis, bunions, arthritis and diabetes.
Tie-Less Lacing System - Innovative design that incorporates laces with tab eliminates the need for tying laces.
Two-Way Fastening System - enables fastening on both side of the shoe - a great advantage for persons who cannot reach the outside part of the shoe.
Heel - Strap enables adjusting the grip around the heel, eliminating slippage and accommodating wide feet and braces.
Orthotic friendly design – Extra depth design with removable orthotic insoles (that are ¼" thick in the forefoot area) provide ample space for custom made orthotics.
Easy Gait - Lightweight cushioning sole with Ergonomic-Stride(TM) design softens step and helps propel the foot forward.
Arch Support
Removable Insoles
Orthotic Friendly
Cushioned Heel
Extra Depth
Deep Toe-Box
Wide Toe-Box
Heel Cup
Shock Absorbing
Soft Uppers
Mesh
Synthetic
Orthofeet Women's Shoe Sizing Chart
Widths
---
Diabetes
Plantar Fasciitis
Swollen Feet
Metatarsalgia
Ball of the foot pain
Morton's Neuroma
Neuropathy
Flat Feet
Sciiatica
Knee Pain
Heel Pain
Heel Spurs
Over Pronation
Arch Pain
Corns
Calluses
Arthritis
Osteoarthritis
Rheumatoid Arthritis
Bunions
Hammer Toes
Morton's Neuroma
Achilles Tendinitis
Back Pain
Product Care:
Clean with washcloth. Use a small amount of mild soap and water. Air dry. Do not machine wash.
Material:
Synthetic
Collection:
Athletic

60-DAY WEAR TEST Try Risk Free
FREE Returns & Exchanges
Hassle-Free, 60 Day Return Policy
---
Wendy Rutherford
"I have been searching for shoes to wear to work for years. I have chronic posterior tibial tendonitis and flat feet. I work as a nurse, in my feet 8-12 hours a day. These are truly amazing. No pain so deep it burns since I started wearing them for work. No more legs cramps. I'm going to get more for off duty time."
Patricia Hynoski
"When I first received the shoes, I feared they might be too narrow (by sight). However, I wore them around the house for a day & then felt comfortable enough to wear outside for my walk. No discomfort whatsoever! I wore them to the gym, did a few miles on the treadmill, no discomfort. These shoes fit true to size & are a very good buy for the price. Highly recommend."
Rosamari Conti
"My mom loves these shoes! She has foot drop and damaged nerves and needs to wear AFO leg braces with her shoes. On a whim, I found this company (and these shoes) and the extra space in the "toe box" (front part of the shoe) along with the extra open-wide space to slide her feet into the shoes makes these a winner! Everyone is noticing how much better she's walking. She's happy, I'm happy, and I am SO thankful to Orthofeet!"
Jean Yates
"I walk 8.5 miles each day and these shoes last me 4 to 5 months, which is very good compared to other brands. And they are comfortable, having several ways to adjust them. Can't go wrong with this product."
Sue
"I loved this shoe. I really liked that I could use the Velcro on both sides. I have trouble tying shoes so that was a plus. I also liked that I could use my own orthotic insole and add the ones provided if I needed too. All in all a great shoe. The video included in the shoe order was also very helpful."
Patricia Robbins
"I've been looking for this kind of fit and comfort for 15 years! So glad I noticed your website! My chiropractor approves, too!"
Gail Libert
"I have neuropathy and gout and have a very hard time finding comfortable shoes, but I followed your suggestion to go a half size larger and the shoes are the most comfortable I have had in years.i thank you and my feet thank you."
Sandi Kreisler
"My new Verves are comfortable and so easy to close , they look like they tie with laces but you just tighten with Velcro and my co-workers gave me compliments on how attractive they are!!"
Deveda Pelotte
"I haven't had my sneakers long enough yet to give a complete review, but I can say I really like their looks, and their lightness! I have been wearing them at work and I am really happy with the comfort, and I really like the velcro straps so that I do not have to keep retying them. I definitely would, and have recommend them to co-workers with foot problems."
Kim Careri
"This is a great work shoe/sneaker. I am a nurse and work full time and on my feet all day , my bunions were killing me! These felt great right out of the box."
Kathleen E.
"I decided to buy these after all the good reviews. These are wonderful. I usually have trouble keeping any shoe on my feet all day long without them falling asleep. The fit is perfect, but do size up a whole size as they recommend. If you have any trouble with your feet you must try these. You won't be sorry. I hope they keep making these I would definitely buy it again."
Mary Bonawitz
"I was skeptical when the ad read that I should order one size up on this shoe but I did what it suggested. I was also skeptical as I never wore with a Velcro strap at the rear. However, this is the first time I put on a shoe that I wanted to wear the entire day. It was comfortable, did not rub anywhere, did not slip anywhere, and felt the same with a thin sock or with a heavier sock. My podiatrist prescribed orthotics fit great and I am sure I will buy another pair."
Linn Krafjack
"I ordered these shoes because I have a bunion, and they FIT and are great right out of the box! I did after a days use add one of the layers that was sent with the shoes, That 's outstanding that you received those with your purchase. I would Recommend these shoes to anyone"
Mary Hilt
"I have diabetic neuropathy and with that are painful feet. I have spent hundreds on shoes trying to get some comfort so I can go on walks again - these shoes are amazing! I still have some discomfort, but that does not stop me from walking. I highly recommend these shoes and I will be back in the fall to get some for the winter months. You cannot go wrong with these shoes! Love them dearly. Thanks so much for offering such a great pair of shoes that are enriching my life and health and all at a more than reasonable price."
Terri Powers
"I ordered this shoe (in a different color), it came very quickly & it is the most comfortable shoe in the world, I have problems with sneakers because I have arthritis on the top of my feet so tie shoes are usually very uncomfortable. I almost always wear backless sneakers from another manufacturer & they are comfortable but not practical when I go to the gym. I got these sneakers in the mail on a Saturday & wore them all day for a back yard bbq & my feet felt great. The strap system on these makes all the difference in the world. Will not hesitate to order from this company again."
---

The primary focus of the OrthoFeet brand is to offer the ultimate comfortable and functional shoes, orthotic insoles and socks. By combining athletic footwear technology and therapeutic detailing, OrthoFeet footwear offer the highest level of comfort and protection for sensitive feet.

Finding the right pair of shoes can be a tiring process, especially when faced with a foot ailment.

Orthofeet is also offering innovative high heels, which are biomechanically engineered to offer the world's most comfortable heels.

OrthoFeet employs biomedical engineers to build innovative footwear products, designed to alleviate the symptoms associated with various foot conditions, such as Plantar Fasciitis, Heel and Foot pain, bunions, corns, calluses, and neuroma, and products for individuals with diabetes, arthritis and Neuropathy.
Bioheels allow users to customize the support under the arch and to adjust the space inside the shoe, providing a perfect fit and eliminating foot slippage at the heel.

OrthoFeet products have been proven to help millions of people looking for comfort shoes, diabetic shoes, therapeutic shoes, arthritic shoes, orthotic shoes, foot orthotics, removable insoles, seam-free socks, non-binding and non-constrictive socks.