#1 Recommended Shoes by KevinRoot Medical
Sale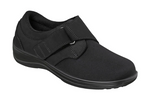 Wichita - Black Stretchable (Women's)
I have been using Orthofeet footwear and foot orthotics for my patients for over 15 years, and I can attest that they offer the best solution for people with sensitive feet, including those with foot pain, diabetes and arthritis. These shoes are designed with unique ergonomic features that cannot be found in any other brand. My patients love them, and in fact I wear them myself daily, as they are the most comfortable shoes I have ever worn.
- Steven Gershman, DPM
ORTHOPEDIC SHOES
DIABETIC SHOES
MONK STRAP SHOES FOR WOMEN
WIDE SHOES FOR WOMEN

Walk Comfort & Pain Free or Your Money Back!
Enjoy exceptional comfort and fit with Orthofeet's Wichita-Black Stretchable women's casual shoes that offer a non-binding fit, extra room for toe movement, and maximum protection against pressure points. Their anatomical orthotic insoles and ergonomic soles provide comfortable support and excellent cushioning, making Wichita-Black Stretchable superior women's orthopedic shoes for a variety of conditions, including plantar fasciitis, diabetes, neuropathy and arthritis.
Superior Comfort & Fit - Stretchable design offers a relaxed, comfortable fit and helps relieve pressure on Bunions, Hammer-Toes and sensitive feet.
Comfortable Orthotic Support - Premium orthotic insoles, featuring anatomical arch support and cushioning layers provide soft, pillow-like support that enhances comfort and helps ease pain on the heel, ball of the foot, knees, hips, and back caused by flat feet, overpronation, plantar fasciitis, bunions, arthritis, neuropathy and diabetes.
Easy Gait - Light-weight soles with Ergonomic-Stride™ design and air cushioning soften step and enhance stability. They add spring and comfort to your step for a "Walking on a cloud" experience.
Protective Interior - Soft, seam-free interior lining eliminates pressure points and friction against skin, offering superior comfort and protection.
Orthotic friendly design - Extra depth design with removable orthotic insoles (¼" thick in the forefoot area) provide ample space for custom made orthotics.
Adjustable fit - Two sets of removable spacers (1/16" and 1/8" thick). - Allow the adjustment of the space inside the shoe for a perfect fit.
Arch Support
Removable Insoles
Orthotic Friendly
Cushioned Heel
Extra Depth
Deep Toe-Box
Wide Toe-Box
Heel Cup
Shock Absorbing
Soft Uppers
Mesh
Synthetic
Orthofeet Women's Shoe Sizing Chart
Widths
---
Diabetes
Plantar Fasciitis
Swollen Feet
Metatarsalgia
Ball of the foot pain
Morton's Neuroma
Neuropathy
Flat Feet
Sciiatica
Knee Pain
Heel Pain
Heel Spurs
Over Pronation
Arch Pain
Corns
Calluses
Arthritis
Osteoarthritis
Rheumatoid Arthritis
Bunions
Hammer Toes
Morton's Neuroma
Achilles Tendinitis
Back Pain
Product Care:
Clean with washcloth. Use a small amount of mild soap and water. Air dry. Do not machine wash.
Material:
Synthetic

60-DAY WEAR TEST Try Risk Free
FREE Returns & Exchanges
Hassle-Free, 60 Day Return Policy
---
Elizabeth Wilson
"I love my shoes from Orthofeet, they are very comfortable and soft. I have lots of room in that shoe and at the end of the day my feet feel so much better."
Linda Bacchi
"The shoes were for my daughter. She loves the comfort, the fit is true to size. She is walking without pain, the first time in two years. She is on her feet all day long at work and walked home and felt great. She loves the design. They are stylish and cute. Orthofeet are now her shoes. Happy Daughter, Happy Mom"
Carri McGill
"My feet are so happy! My heel pain is very minimal when wearing these shoes. I am able to walk without limping !!! It's like walking on pillows. Thank you Orthofeet."
Vivian Wong
"Very nice pair of shoes. My mom loves those - comfortable with x-wide wide to fit in her bunions and calluses. No more feet pain and no break-in needed. This is the third pair of shoes from OthoFeet. I do wish that x-wide wide comes in more styles."
Anne F.
"I have neuropathy in my hands and feet, as well as a congenital condition of malformed bones for which I must wear special orthotics. These are the first shoes I have ever found that are VERY comfortable and fit my orthotics without putting pressure on my feet. Wonderful shoes! And they look good too."
Phyllis Wolfinger
"Standing 6 - 10 hours a day bartending....whew I needed shoes that would not make my feet hurt so bad that I would limp the last hour of work. Found the perfect shoes at Orthofeet!! I have a wide foot and so I ordered the XXWide Wichita Black Stretchable shoes and very happy that I did. Thank you Orthofeet!!!"
Penney W.
"I purchased these for a three-week trip to Italy and Greece. These are the first shoes that I could comfortably wear on all walking tours over cobblestone streets and many steps. The extra space in the toe area was especially good for my hammertoes, the non-slip soles helped me with balance, and the velcro closure made it easy to remove the shoes at security checkpoints when necessary. Bravo!"
S. L. Montag
"I have a few foot problems (Morton's Neuroma, bunion, hammer toe, very wide foot) that makes buying comfortable shoes problematic at best. I purchased my first pair of this shoe on another website at least three years ago for far more money. I was doing one of my random searches and saw this same shoe listed. I also read the reviews because I was curious about how others felt about the shoe. One woman even described Morton's Neuroma in her review, which is how I put a name to my "felt like I was walking on a pebble" problem with the ball of my foot. In any event, I purchased this my second pair and plan on walking more comfortably. BTW, the last pair last two years so this price is absolutely perfect."
Sue H.
"I have been suffering from weak ankles for most of my life. Then in the past 2 years I developed a Morton's Neuroma. I have been dancing for exercise and this was very uncomfortable. I bought my first pair of these shoes and it was a sensation of total relief. They have a roomy box area which allows your toes to spread out. I can wear both my soft and my hard ankle braces in them, they have velcro closures which allow for any swelling as the day goes on and they are stylish. I joke and call them my 'Frankenstein shoes' but they actually look like boots and I have gotten many compliments on them. At this point in my life, comfort is THE word. I wear mostly black jeans and pants with them and they look great. I would recommend these shoes for anyone who is having foot issues. You should feel instant relief."
Linda L. Hartman
"These are such a great fitting, comfortable shoe
I stand on my feet for 8 hours, 4 days a week. These are such a great fitting, comfortable shoe. I don't want to take them off at night. I have low back pain and arthritis of the hip and knee and boy these feel great and after 8 hours of standing."
Anna Moore
"I have had so many foot injuries that the only comfort can be found in your shoes. I wear them in the house and have sneakers which are also comfortable. These sneakers are the only ones, besides the oxfords that give me the comfort I need."
David G.
"My mom wears an orthotic brace, her other shoes bind across the upper arch and constrict the toes. These are cushioned and the Velcro strap allow a great fit. I ordered larger shoes to insure that there would be adequate room, they are large but because she isn't able to walk they are fine and she doesn't have to worry about pain from the shoes being tight."
Melissa Cornell
"The most comfortable shoes I have ever worn!
For years I have been going to stores trying to find shoes wide enough to fit my feet. I bought these thinking that they would probably be a disappointment too. Happily, I was wrong. I LOVE THESE SHOES!!!!!!"
Barbara Jean Spinuzzi
"That is the pair I ordered, and I LOVE them! So comfortable, and I have so much trouble getting shoes I can wear for more than 15 minutes. Wore these to go grocery shopping, and came home with no tired, burning feet, for the first time in YEARS!!!"
Karen Holley
"These shoes are very comfortable. I can wear them all day without my feet hurting. I have a hard time finding shoes to fit my feet and i like the way this company allows free returns. I have recommended Orthofeet shoes to some of my friends."
---
The primary focus of the OrthoFeet brand is to offer the ultimate comfortable and functional shoes, orthotic insoles and socks. By combining athletic footwear technology and therapeutic detailing, OrthoFeet footwear offer the highest level of comfort and protection for sensitive feet.

Finding the right pair of shoes can be a tiring process, especially when faced with a foot ailment.

Orthofeet is also offering innovative high heels, which are biomechanically engineered to offer the world's most comfortable heels.

OrthoFeet employs biomedical engineers to build innovative footwear products, designed to alleviate the symptoms associated with various foot conditions, such as Plantar Fasciitis, Heel and Foot pain, bunions, corns, calluses, and neuroma, and products for individuals with diabetes, arthritis and Neuropathy.
Bioheels allow users to customize the support under the arch and to adjust the space inside the shoe, providing a perfect fit and eliminating foot slippage at the heel.

OrthoFeet products have been proven to help millions of people looking for comfort shoes, diabetic shoes, therapeutic shoes, arthritic shoes, orthotic shoes, foot orthotics, removable insoles, seam-free socks, non-binding and non-constrictive socks.