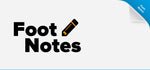 From the desk of Kevin B. Rosenbloom 
Here's a dose of what I'm pondering and enjoying this week ...


Common Foot & Ankle Tendon Transfers
Here is a quick and concise overview of tendon transfers. Whether you're an orthopedic surgeon and want a brief video to share with patients or you're a conservative clinician, this video gives a nice mechanical overview of how tendon transfers can resolve problems from severe Achilles tendon ruptures to genetic pathology such as CMT. Take a look:
Watch here
READ...
Is iCloud HIPAA compliant?
Posted By HIPAA Journal on Aug 1, 2019
With electronic information being stored by nearly everyone, it's important to know what electronic storage service is HIPAA compliant. It came to my attention by a client this week that icloud by Apple is NOT HIPAA compliant. This brief article explains why icloud for backing up storage is NOT HIPAA compliant. Apple does not sign business associate agreements (BAA) so icloud can not be used to back up any private health information. Read more about this here: Read here
Eliud Kipchoge broke the two-hour marathon record but what about the shoes?
The sub-two-hour marathon has been accomplished! In this episode of the podcast Solemen, Simon Bartold and Kevin Kirby talk about the shoe worn by the runner Eliud Kipchoge while he broke the 2-hour marathon and ran a marathon in 1 hour 59 minutes and 40 seconds. A lot of controversies has surrounded this shoe. This podcast provides and educated inside scoop.
Listen here
CLINICIAN CORNER
Question from a podiatrist:
XTERN clip Installation and Medicare reimbursement
Q: I see the TurboMed Xtern comes with 5 clips, and there is a shoe installation service that Kevin Orthopedic offers. Am I required for medicare to install the clip onto the patient's shoe or should the patient pay for the installation of the clip on to the patient's shoe? 
A:
The DMEPOS supplier should install one of the clips on the patient's shoes as part of the billing code L1951. Instructions for use and assuring the patient understands how to use the functional XTERN are documented in the proof of delivery signed by the patient. See page 8 of the compliance packet
here
. 
Regarding the extra 4 clips, I recommend charging your patient to install the extra clips in your clinic as a separate service for the extra shoes. Alternatively, refer the patient to a shoe repair store locally where the clips can be installed with an industrial sewing machine. In most cases, an example of the clip installed is enough demonstration of how the shoe repair technician should install the excess clips. Another great option is to refer the patient to www.footdropsolved.com where the patient can purchase installation service and send shoes directly to Foot Drop Solved at https://www.footdropsolved.com/collections/all/products/fitting-service
Want to receive more messages like this? SIGN UP
Read, listen and watch important industry information to help your clinic with your orthotic business.